Red, White, and Black
A Massachusetts home melds New England heritage with Scandinavian minimalism
For this historic Colonial in Lexington, Massachusetts, Sally DeGan of SpaceCraft Architecture was tasked with transforming a quintessentially American home into something more in keeping with the Scandinavian tastes of a family of expatriates. Of the renovation process, DeGan explained, "The challenge was to retain the vintage charm of the house while introducing a more modern touch and functional layout."
Before beginning construction, DeGan worked with the family to identify the home's "vintage" features that were worthy of preservation: the original glass windows, ceiling beams, cabinetry, and the lone fireplace. The inclusion and recontextualization of these architectural details resulted in a home that was modern without being stark.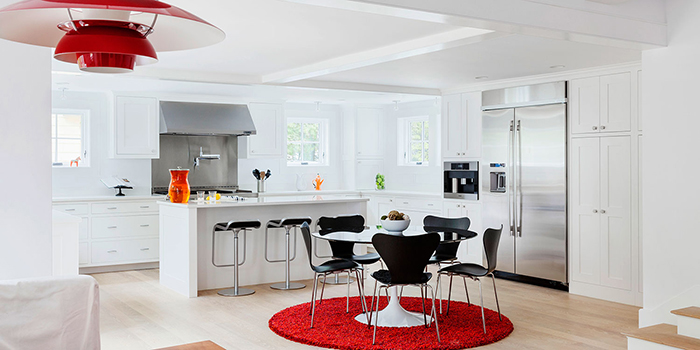 Photograph by Greg Premru.
In the kitchen, a Saarinen Dining Table appears especially modern, centered amidst the home's natural wood cabinetry and beamed ceiling. "It adds fantastic contrast and utility to an [otherwise traditional room]," DeGan explains of the choice table. Arne Jacobsen's iconic Series 7 Chairs surround the black marble countertop. The kitchen's modern appliances pair nicely with the floor rug and nearby Henningsen pendant, which introduce a specific tone of luscious red that appears sporadically throughout the home.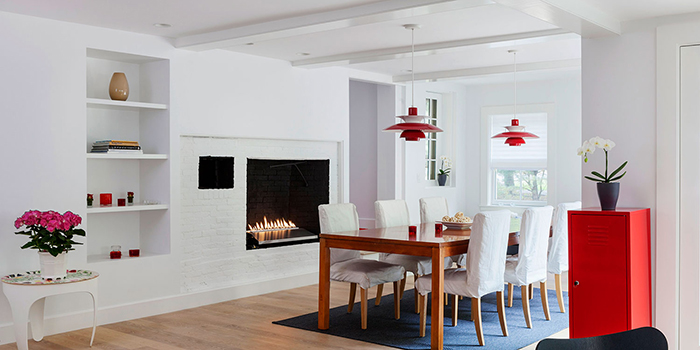 Photograph by Greg Premru.
In love with the textural irregularity of aged brick, DeGan had the firebox recoated with a layer of charcoal-black paint while the surrounding paneling was painted bright white, providing a point of contrast. With the installation of a stainless-steel insert, the hearth was transformed into a fireplace that was both contemporary and traditional.
Having arrived without much in the way of furnishings, the family asked DeGan's firm to source new furniture as part of the remodel. The cherrywood dining table in the dining room evokes the regional craftsmanship of New England while honoring the aesthetic values of Danish design. Rumpled canvas chair covers are used in lieu of upholstery, reminiscent of the anti-statement décor of the Antwerp-based designer Martin Margiela. Two Valentino-red PH5 pendant lamps—designed by the lighting pioneer Poul Henningsen—provide a pop to the room's black and white color palette.
By showcasing old and new and juxtaposing different elements, the project becomes exemplary of how to create a harmonious whole while referencing two disparate aesthetic traditions.
Project Credits:
Design: Sally DeGan & SpaceCraft Architecture
Photography: Greg Premru