A Motley Approach in Westchester County
Vicente Wolf lends his signature cosmopolitan style to this family abode in New York state
After the sixties catapulted a variety of different cultures into the sphere of consumer conscious, the market was primed for interior designer's Vicente Wolf's particular blend of heritage and contemporary design. Originally categorized as "High-Tech" due the perceived novelty of his slick interiors, the classification feels slightly misleading in this day and age, when the term connotes the increasingly rapid integration of technology with our daily lifestyle. Today, it would be more accurate to say that Wolf's particular brand of minimalism reads cosmopolitan due to his characteristic juxtaposition of materials, cultures, and eras of the furniture he both designs and sources.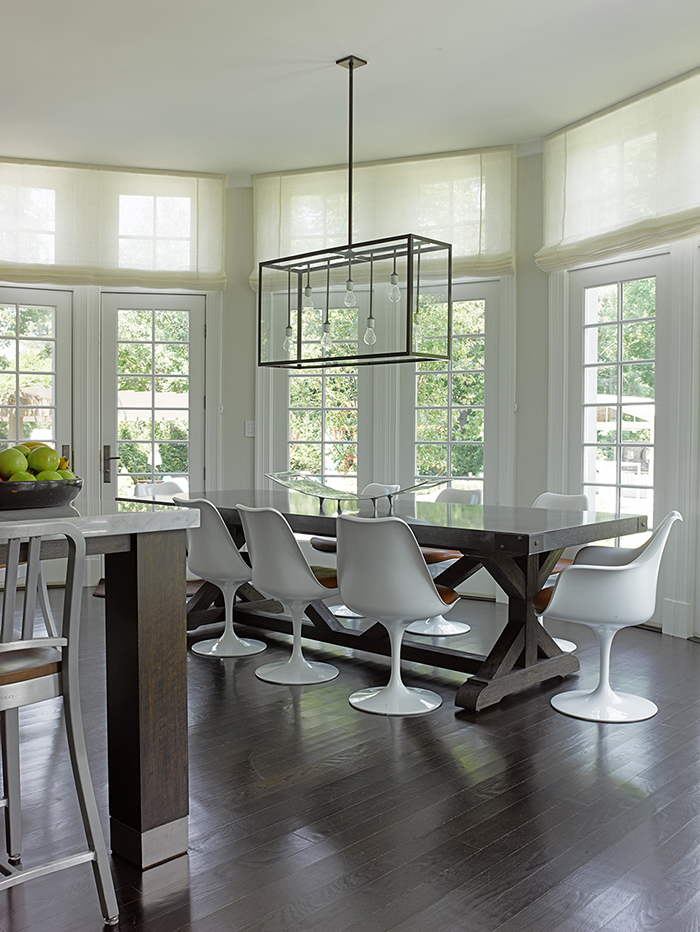 Photograph by Vicente Wolf.
For one of his most recent projects, Wolf has applied his tried-and-true technique to a home in Westchester County. "I love the yin & yang of the traditional wood dining top with the slickness of the Saarinen Tulip Arm Chair," he explains of the residence's dining room, "it adds a sculptural quality." Wolf has been utilizing Knoll furniture for decades, both to hearken back to a particular era in history and to evoke a feeling of timeless design. In this particular case, "Knoll fits within the [architectural] objective because of the poetic and literal line of the Tulip Chair."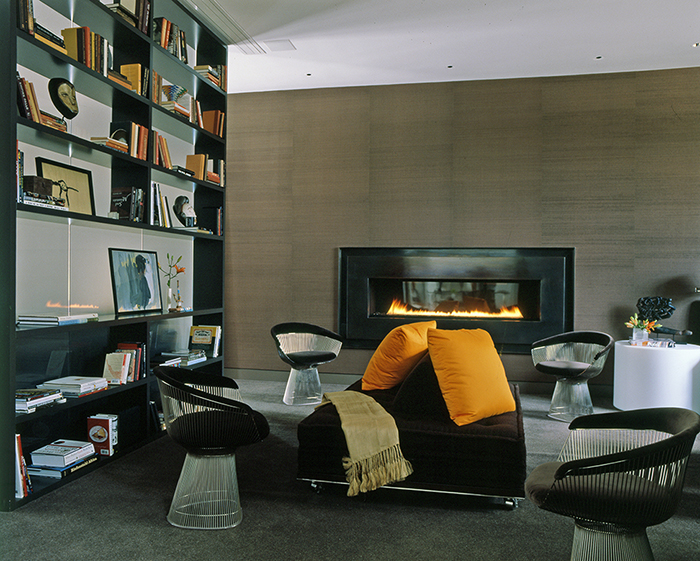 Photograph by Vicente Wolf.
In the sitting room, Wolf has arranged four black velvet Platner Arm Chairs—his personal favorite of Knoll's products—around a sofa, in lieu of a coffee table, to maximize the potential for conversation. The yellow pillows leap out like the flames in the nearby fireplace, while the positioning of the seating evokes the intimacy of a campfire conversation.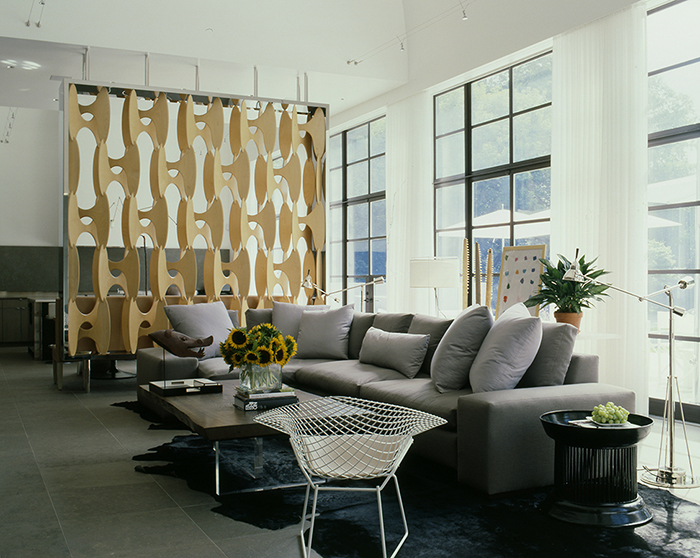 Photograph by Vicente Wolf.
At first glance, the amoebic form of the living room's divider—evocative of the painter Joan Miro's cheerful and scientific style—appears at odds with the cast-iron boar head and black cowhide rug, both of which would be equally at home in a modern hunting lodge. However, tonally the birchwood median and bright-white Bertoia Diamond Chair provide the necessary lift to offset the stark interior, while the chair's interlacing steel rods introduce yet another textural element, enabling this motley approach to design to speak volumes rather than scream.
Project Credits:
Design: Vicente Wolf
Photography: Vicente Wolf