Features
Architectural Digest Features Eero Saarinen Pedestal Collection for Knoll
AD
recounts story behind the iconic design and spotlights on Instagram
In its October 2019 issue, Architectural Digest featured the story behind the Pedestal Collection ⁠⁠— architect Eero Saarinen's iconic design for Knoll. Saarinen famously wanted to "clear up the slum of legs" underneath tables and chairs. A skilled design problem solver, he worked with Knoll to bring his innovative idea to fruition. "Soon after its 1957 introduction, the Pedestal table was everywhere, from Modern homes across the nation to commercial interiors," writes Senior Design Editor Hannah Martin.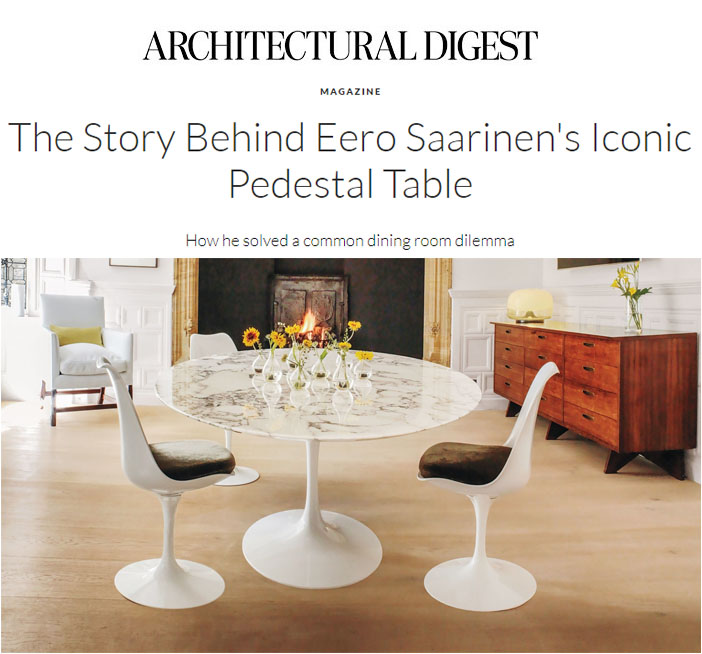 Commenting on the design's innovative concept , Shelley Selim, Curator at the Indianapolis Museum of Art and Miller House and Garden, states, "Anyone who has been stuck sitting at one of the legs of a circular table can appreciate the functionality of the pedestal base. Plus, the legion of knockoffs always look so clumsy in comparison."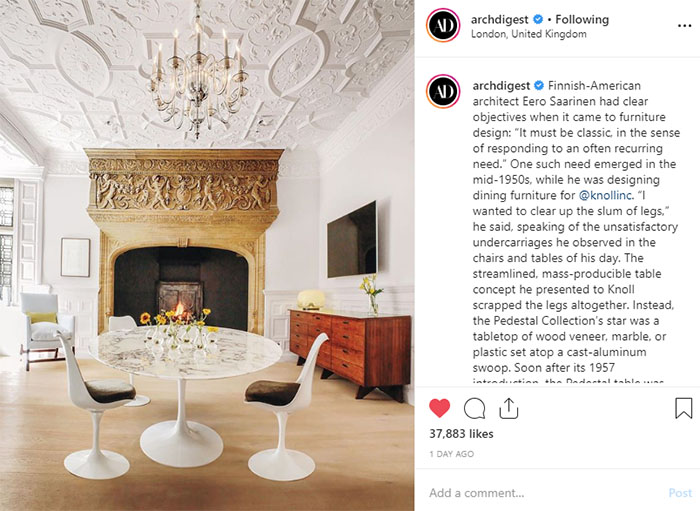 The editorial also highlighted notable interiors using Saarinen's design, such as the architect's own Miller House in Columbus, Indiana and the Mies van der Rohe-designed Four Seasons Restaurant in New York City. Additionally, Martin spotlighted the "recently reborn" TWA Hotel at New York's John F. Kennedy International Airport, originally designed by Saarinen in 1962 as the TWA Flight Center, featuring the design throught its space.
Additionally, Architectural Digest spotlighted the Saarinen Pedestal Dining Table and Tulip Chairs on its Instagram in an interior designed by AD100 architect Axel Vervoordt.