Features
Clever Features Ollo in Home Office Chair Roundup
Home office chair lauded for its friendly and affordable residential design
Clever, Architectural Digest's Millennial-focused digital publication that explores urban and small-space living, featured Ollo in its roundup of home office chairs suited to residential living. "The prospect of decorating the workspace in your home, whether it's an alcove under the stairs, a corner of your dining area, or its very own room, is an opportunity for design expression that might have gone overlooked," comments Kristine Hansen, Contributing Editor at Clever.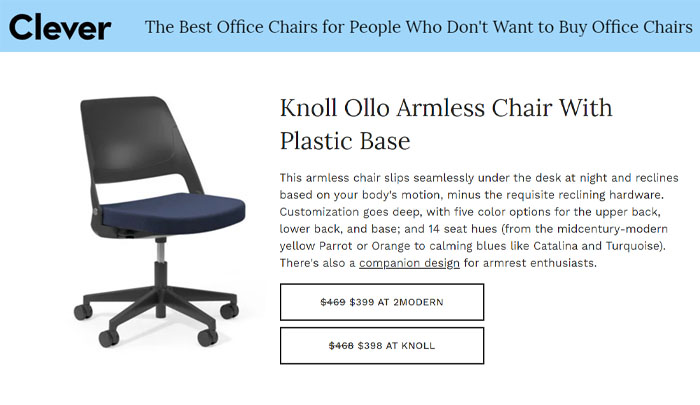 Of the Ollo chair, she writes, "This armless chair slips seamlessly under the desk at night and reclines based on your body's motion, minus the requisite reclining hardware. Customization goes deep, with five color options for the upper back, lower back, and base; and 14 seat hues (from the midcentury-modern yellow Parrot or Orange to calming blues like Catalina and Turquoise)," adding, "There's also a companion design for armrest enthusiasts."
Introduced in 2019 and designed by Glen Oliver Loew, Ollo offers the necessary elements of a home office chair—synchronized recline, height adjustment and flexibility—in a residential-friendly design and lighter package, meshing seamlessly with any interior and allowing people to sit comfortably throughout the day. Ollo is Ready-to-Ship in 1-3 days at knoll.com.