Features
Fabiana Stubrich, Knoll Regional Director, Wins 2019 Volunteer of the Year
Awards presented by the Canadian chapter of CoreNet Global at the 2019 Annual REmmy Awards
At the November 19th 2019 Annual REmmy Awards Gala, the Canadian Chapter of CoreNet Global recognized and honored leadership excellence, innovation and sustainable design and social responsibility in corporate real estate and workplace management. Awards were presented at the Omni King Edward Hotel in Toronto.
For the most part, awards are handed to different workplaces across a range of square footage that represent innovation and excellence in the commercial real estate industry. This year Cliff Radosevic, Executive Managing Director of Cushman & Wakefield took to the stage to present the one award that recognizes an individual. That award was the 2019 Volunteer of the Year and was given to Fabiana Stubrich, Knoll Regional Director, Mexico & Latin America.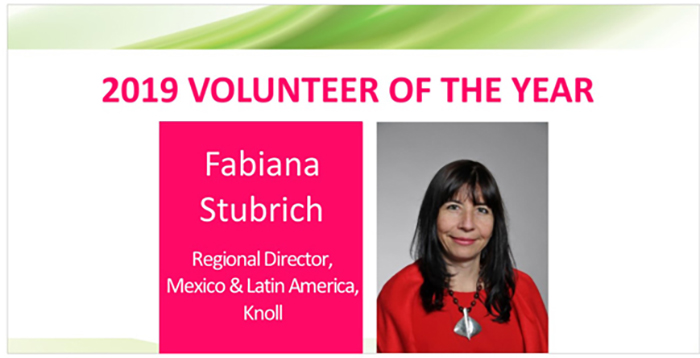 Stubrich was a CoreNet Canada Leadership Council member from 2008 to 2014, during which she brought "an unmatched level of enthusiasm and energy to Council meetings," said Radosevic. After stepping down from the Leadership Council, Stubrich remained highly involved, eventually joining the REmmy committee.
As a member of CoreNet since 2005 she has stated, "The biggest value of my membership and participation in CoreNet Canada is the opportunity to build relationships with my colleagues in the industry. Real estate professionals are a close-knit community, and CoreNet Canada affords us the venue to share ideas, celebrate accomplishments, and collectively advocate for the advancement of the profession."