Features
Knoll Chicago Celebrates Design and Diversity at New Fulton Market Space
Design Illinois Career Fair, Arquitectos Chicago and Space Continuum events held
Eight months after its opening at Knoll Design Days 2019, Knoll at Fulton Market in Chicago has quickly become a gathering place for the Chicago designer community. On February 14, Knoll hosted the Design Illinois Career Fair 2020 for the University of Illinois College of Fine & Applied Arts. The next Thursday, February 20, Arquitectos Chicago, a society of Hispanic professional architects, held its annual meeting on the 6th floor, and to round out February as Black History Month, Knoll hosted a panel discussion to celebrate the opening of Space Continuum, Knoll's new Minority Business Dealer in the Chicago region.
Celebrating Designers and Diversity
The Design Illinois Career Fair 2020 for the University of Illinois College of Fine and Applied Arts connected over 40 employers with students in graphic design and industrial design programs. Julie Rundell, assistant director for Career Services for the College of Fine and Applied Arts, explained that "the goal of the career fair was multi-fold. First it was to help students find internships and full-time employment opportunities, but it also provided an excellent networking opportunity for students to start thinking about and building connections in their field. In addition, it was great practice for them to be able to talk about their work and honing their soft skills."
The College chose Knoll to host the event because, as Julie explains: "it is the right atmosphere for designers to be in and show their work. It helps for students to be in beautiful space. I like having [fairs] in showrooms because it exposes students to designs and designers who they may not have had first-hand exposure to. The reason why we went forward with Knoll is because you guys are incredible hosts and have made a commitment to investing in future designers."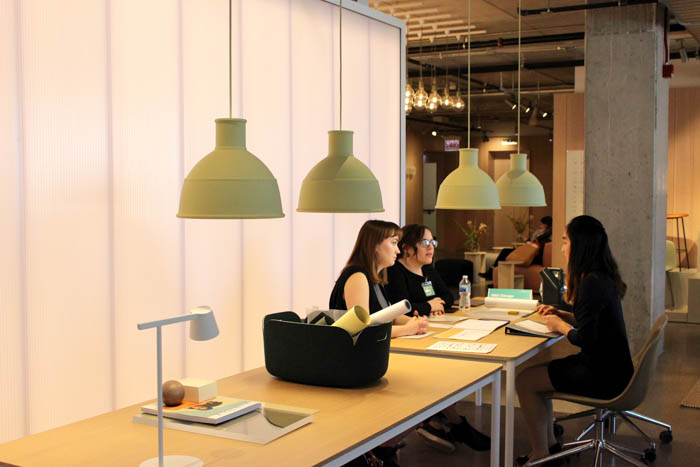 Employers were able to interview students during the University of Illinois Design Career Fair.
Arquitectos Chicago hosted its annual meeting where the group discussed its accomplishments of 2019 and introduced the 2020 board. Arquitectos Chicago is a non-profit organization that was founded to provide support to Latino architects in the Chicago region. It now awards annual scholarships, has an intern development program and connects architects to industry resources.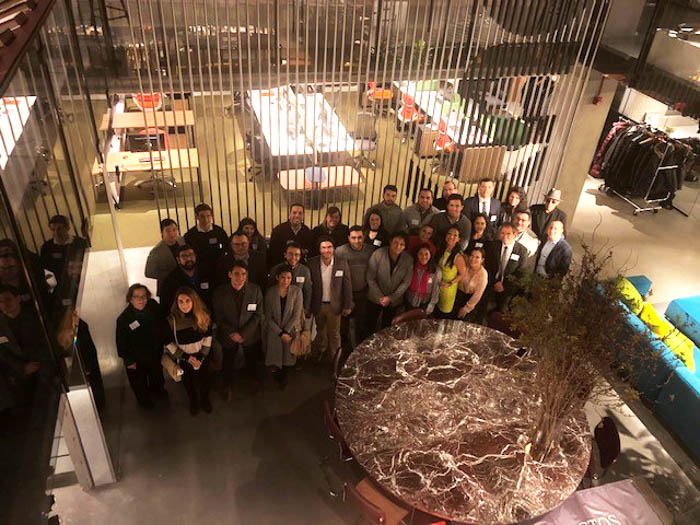 The Society Of Hispanic Professional Architects – Chicago
To honor Black History Month, Rachel Walker, Operations Manager, Knoll at Fulton Market, organized a panel discussion to celebrate Knoll's new Minority Business Dealer, Space Continuum. The panelists included John Johnson, principal at Space Continuum; Michael Davis, principal at Shive-Hattery; Roman Simmons, Architectural Visualization Specialist at Knoll; and Brian Ross, owner of Ross Management & Consulting, LLC. The discussion centered on the achievements, challenges and struggles of African Americans in design, architecture and real estate. The goal of the event was not only to celebrate the past but develop an ongoing discussion about how to improve diversity in these industries in the future.
Following the panel discussion, Jennifer Sulentic, Knoll Chicago Regional Director, commented, "I want to say I also feel honored and privileged that I was able to champion John Johnson at Space Continuum becoming a part of the Knoll family," explaining that having a minority business dealer "is not only the right thing to do, that is in the best business interest of Knoll, but also brings opportunities and introduces us to things, and people, and places that we otherwise would not even be." Attendees described the atmosphere created by the Knoll team as welcoming and open to conversations that might otherwise be uncomfortable.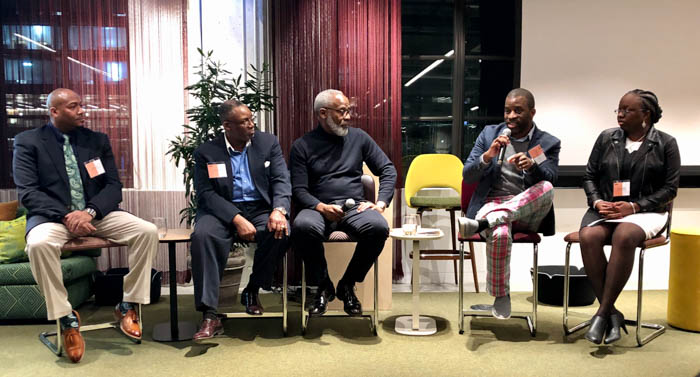 From Left: Brian Ross, John Johnson, Michael Davis, Roman Simmons, and Rachel Walker.