Galvanize 1.0
Project Case Study: Incubator Space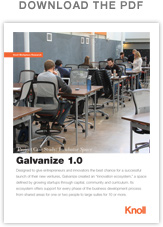 Drivers
Capital, Community, and Curriculum
Looking to be a "community and creative hub of entrepreneurs and energy," the importance of Galvanize's mission goes far beyond the space. Galvanize reinvents how startup companies function and provides the much-needed capital and education to get their ideas off the ground.
"Galvanize is a community that brings together the ingredients to create a recipe for break out companies," says Jim Deters, Galvanize's Managing Director and Founder. "We bring together innovators into our container. The container needs to be alive and inspiring and that has to do with architecture and design and your physical space."
"Compelled to Come"
"Our goal was to create a space where people were compelled to come because they know it's better. They learn more, are more relevant and have better ideas," says Blake Mourer, principal at Open Studio Architecture, the architect of the space.
Armed with these objectives, the Galvanize team — Galvanize, Open Studio and The Nichols Partnership, Inc., the project's developer — collaborated with Knoll's workplace strategy group through the planning and development of the space.
"We only think and dream big," says Christopher Crosby, Executive Vice President of The Nichols Partnership, Inc. "We wanted to work with partners who shared that same passion and vision."
DOWNLOAD "GALVANIZE 1.0" TO READ THE FULL PAPER