Features
ReGeneration by Knoll Makes Gear Patrol's List of the 14 Best Office Chairs for 2019
The popular ergonomic work chair claims the titles of Best All-Around and Best Value Office Chair
For a third consecutive year, Gear Patrol's annual round-up of the best office chairs for 2019 featured ReGeneration by Knoll. The annual guide explores ergonomics, price, aesthetics and features, selecting the best 14 office chairs available today. In a world where the health benefits of standing and taking frequent breaks have been highly promoted, Gear Patrol editor, Will Price, points out that sometimes one just needs to sit down and get the job done. To do that, Price notes the importance of having a work chair that keeps you going, maximizing productivity and efficiency without sacrificing comfort. Exceeding Price's criteria for what makes a standout work chair, ReGeneration by Knoll made the short list, claiming its titles as the Best All-Around Office Chair and the Best Value Office Chair.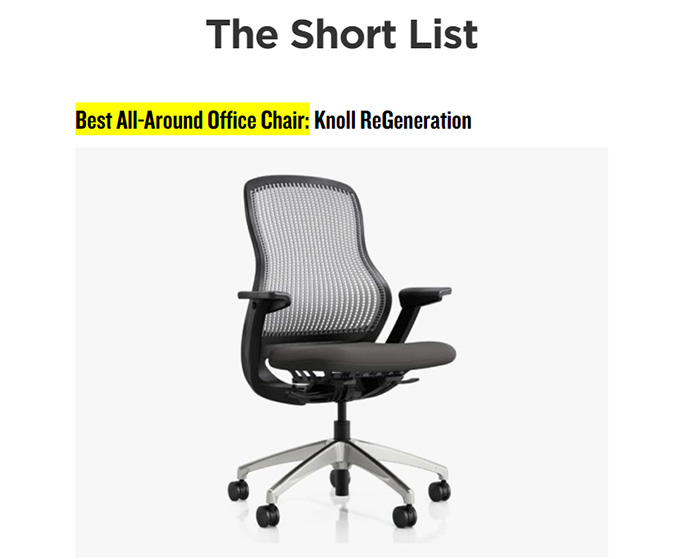 "ReGeneration is the affordable update to the legendary Generation Chair," writes Price regarding ReGeneration's status as Best All-Around, "Knoll is the master of the office chair, and the more accessible version of its lauded office seating boasts the most useful functionality, comfort, extra options and looks at the most reasonable price point."
He also praises the entire Generation line of seating as "a revelation." He states, "Ergonomic, good looking and sold at price points low and high, Knoll covers the spectrum of what you need now and in the future." A welcome addition to the modern workplace and suitable to almost any need.
Gear Patrol is an award-winning digital, social and print publication that reaches nearly two million young, affluent users seeking inspiration for a life well lived. Independently published in New York, Gear Patrol editors, writers, and photographers produce a daily magazine of immersive stories, product-forward editorial, and reports from far flung places.