Hans Knoll Centennial

Today, May 8th 2014, Knoll is celebrating the 100th birthday of our founder, Hans Knoll.
Knoll designer and celebrated architect Eero Saarinen wrote of his longtime collaborator and champion: "Hans Knoll has made a great and lasting contribution to the cultural world. No one man has done so much to change the interiors of our buildings. In America we feel his impact especially in institutional and commercial buildings into which contemporary design has hardly penetrated. … It was he who gave his clients confidence in good design. Within his huge, flowering organization he dealt with each employee in a personal, human way. To designers he gave generously of his own creative imagination, encouraging them to undertake new and better things. He always freely gave credit to his designers, yet he – who played a big part in their work – never took any credit himself. The generosity, the enthusiasm, the inspiration and the concern for human beings which he brought to everything he touched will long be remembered by all of us.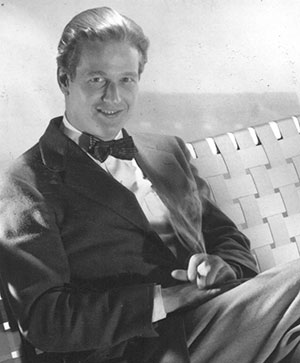 German-born Hans Knoll was a member of a prominent furniture-making family. His father Walter C. Knoll, one of the modern furniture pioneers in pre-Hitler Germany, produced early Mies van der Rohe designs in his Stuttgart factory. With his background in the production of furniture and his zeal for good design, Hans was ready in 1938 to form the Hans G. Knoll Furniture Company in small space on East 72nd Street. Hans originally intended to import European designs but because of difficult conditions, he shifted his ambitions toward domestic products.
As Hans expanded the scope of his company to include interior design projects, he hired a young Danish designer named Jens Risom in 1941 to help with space planning. The state of custom interior design led Risom to design new pieces of furniture for specific projects – the original Knoll furniture. At the same time, Hans created the company's first manufacturing plant in an old dance hall in East Greenville, Pennsylvania.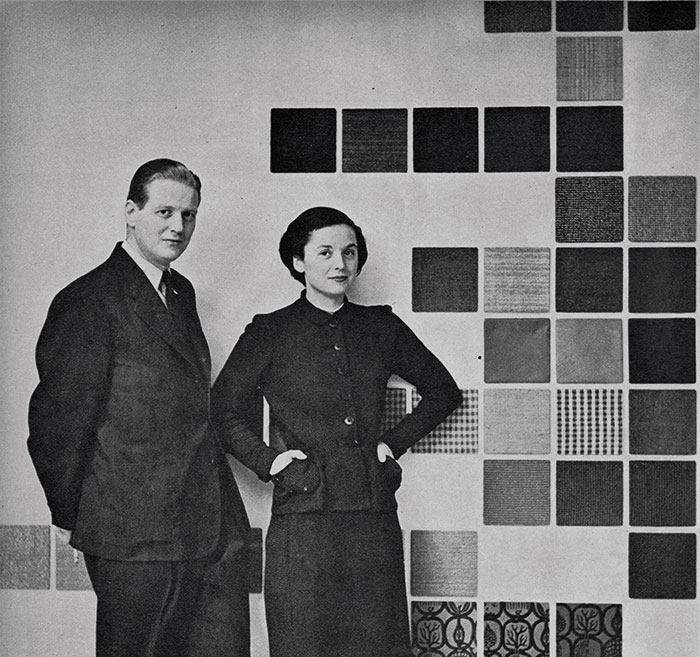 But it was Hans Knoll's association with Florence Schust, beginning in 1943, that propelled the company toward unparalleled excellence. (Florence and Hans were married in 1946.) Over the next nine years, and until Hans's untimely death in a 1955 auto accident, the company grew substantially both in the US and abroad, with the establishment of the Knoll Planning Unit, Knoll Textiles, and a myriad of now iconic commissions. Photograph: Tony Vaccaro, 1951.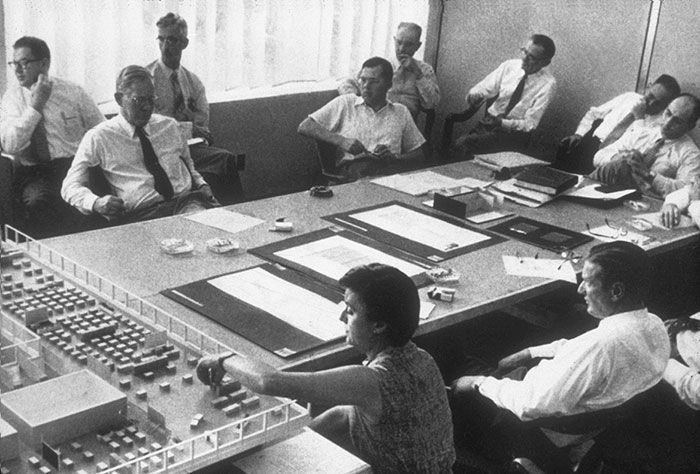 Planning Unit pioneer Florence Knoll and Hans Knoll at bottom present their proposal for the Connecticut General Life Insurance Company offices, ca. 1953.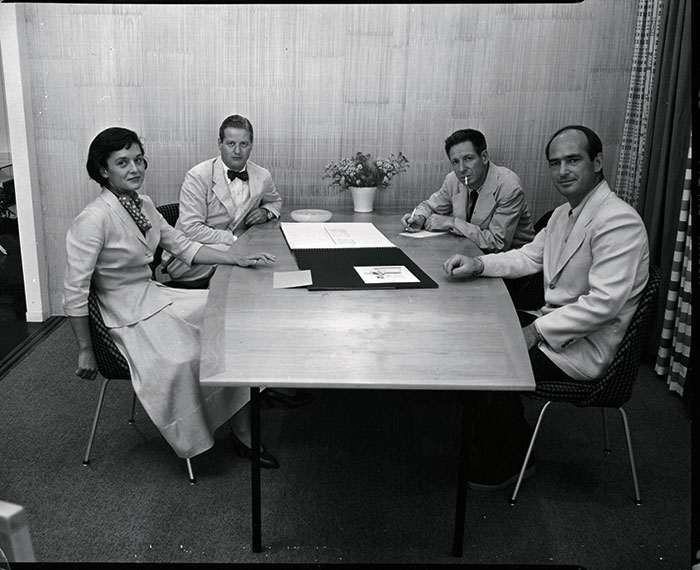 Finally, a ca.1952 photograph Florence Knoll and Hans Knoll with Knoll graphic designer Herbert Matter and Knoll designer Harry Bertoia.
Happy 100th Hans!