Features
Woodmere Art Museum Welcomes a Hidden Bertoia Sculpture to its Grounds
After 16 years spent hidden in a storage shed in northern Philadelphia, a 12-by-14-foot sculpture by artist and designer Harry Bertoia returned to public view this month, finding its new home on the grounds of the Woodmere Art Museum in Philadelphia's Chestnut Hill locale.
Titled "Free Interpretation of Plant Forms," the elegant, undulating sculpture was fabricated at Bertoia's backyard studio in Bally, Pennsylvania in 1967. At the invitation of Hans and Florence Knoll, the artist first moved to Pennsylvania in 1950 to begin testing metal designs in a small space within Knoll's production facility. The founders of Knoll, trusting in Bertoia's craftsmanship and curiosity, did not specify that he produce furniture, but only to share with them any interesting results.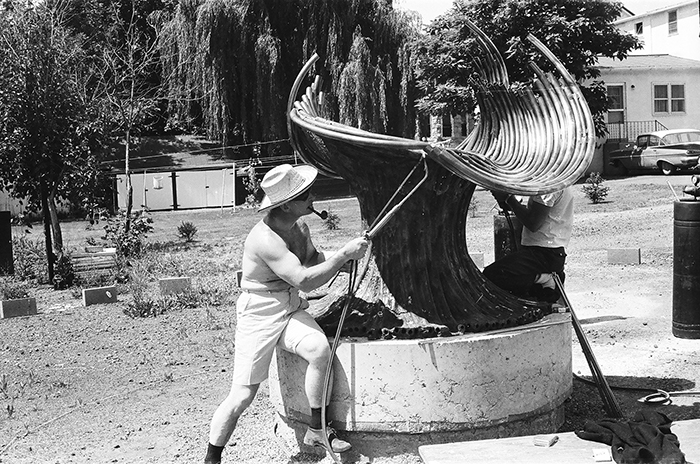 Harry Bertoia with his studio assistant Jim Flanagan weld the copper pipes used to create Free Interpretation of Plant Forms in Bally, PA, 1966. Photograph courtesy of Harry Bertoia Foundation. Photograph by Richard Schultz.
Following the unprecedented success of the five wire-framed chairs that comprise the 1952 Bertoia Collection, the artist shifted his focus, using his earnings to delve exclusively into sculptural investigations. It was during this period that he designed and prototyped many publicly-commissioned sculptures, six of which are the subjects of the museum's summer exhibition Harry Bertoia: Free Interpretations, which opened on July 22. Celebrating the restoration of the eponymous sculpture, the exhibition features a series of monoprints that Bertoia made as studies for larger, three-dimensional works.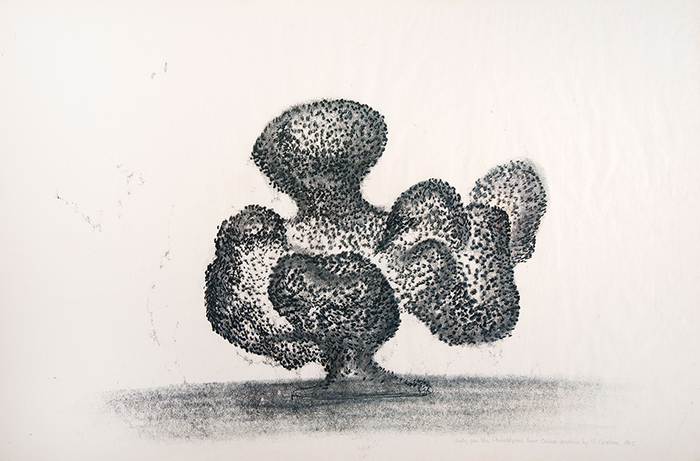 Study for the Philadelphia Civic Center Fountain, 1965, by Harry Bertoia (Woodmere Art Museum: Museum purchase, 2013)
The gaping curves of "Free Interpretations of Plant Forms," made of welded bronze and copper pipe, represent the best of Bertoia: a proclivity for material manipulation and a love of intriguing forms that invite human touch. "It has the presence of a gigantic, living creature that appears both wonderful and strange in its 'protoplasmic' vitality," museum director Dr. William Valeria said in a statement.
Initially designed for Philadelphia's Civic Center and installed at the center of a public fountain, the sculpture's organic, inviting openings remained inaccessible to its viewers. But in its installation at the museum, this distance will collapse.
"The Civic Center was a hard-edged, urban environment, and, by reframing 'Free Interpretation of Plant Forms' as a centerpiece on Woodmere's six green acres in Chestnut Hill, we are changing the way it is experienced," Valeria said. Instead of the original fountain's ring of water jets, the sculpture will be surrounded in a perpetual mist generated by solar-powered pumps.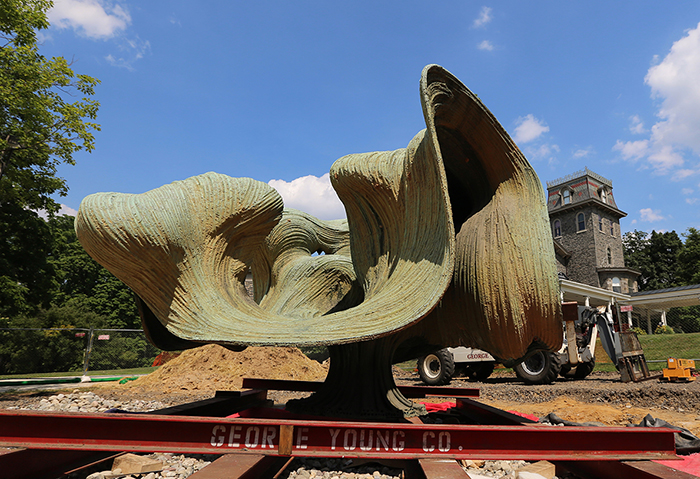 Installation of Bertoia's Free Interpretation of Plant Forms (1967) underway at the Woodmere Art Museum. Photograph courtesy of Woodmere Art Museum. Photography by Darryl Moran.
On October 8, Celia Bertoia delivered a lecture at the museum titled "Harry Bertoia's Monotypes and Plant Forms: A Daughter's Reflections." Recounting memories of her father to a rapt audience, many of whom were personal acquaintances of the sculptor, Celia placed "Free Interpetation of Plant Forms" within the context of Bertoia's prolific career. One among the staggering 30,000 artworks he created, she said, the sinuous fountain sculpture has had a particularly dramatic life, but has finally been installed the in the way it was originally envisioned.

Celia Bertoia reflects on her father's career in celebration of Free Interpretation of Plant Forms (1967) underway at the Woodmere Art Museum.
Opened in 1910, the Woodmere Art Museum specializes in the work of artists based or born in Philadelphia. "Free Interpretations of Plant Forms" finds itself amongst Woodmere's expansive collection of outdoor sculpture that shares Bertoia's recurring conceptual goal—to reveal nature's latent presence in art and industrial design. The exhibition will run through November 6, 2016.