Features
Hunker Highlights Knoll Bauhaus Classics with Shopping Links to knoll.com
Iconic works by Marcel Breuer, Ludwig Mies van der Rohe and Lilly Reich continue to catch the eye of design press
Hunker—a digital architecture, home and design outlet—spotlighted Knoll Classics designed by Marcel Breuer, Ludwig Mies van der Rohe and Lilly Reich during the Bauhaus era. "Bauhaus-loving folks have been lapping up the style since the 1920s because the pieces are both iconic and fresh," opins writer Emma Jane Palin.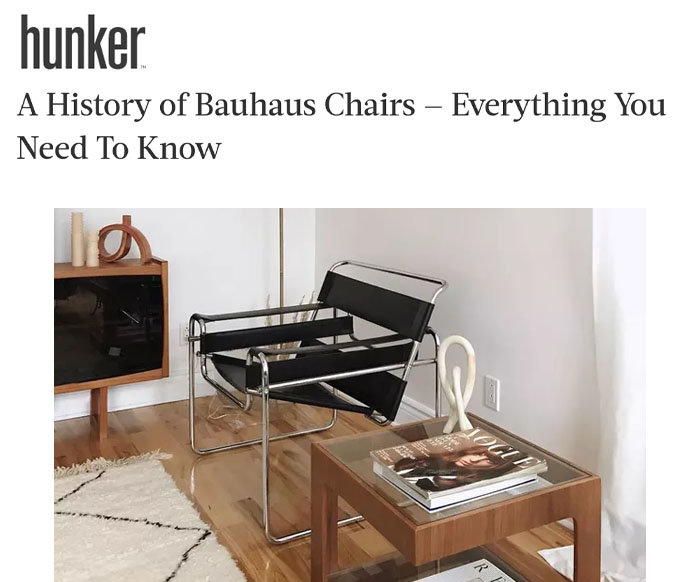 Highlighting its cantilevered tubular steel base and distinctive caned seat, Palin writes, "The Cesca chair, designed by Hungarian-born Modernist architect and Bauhaus pioneer Marcel Breuer, is one of the most iconic pieces of the movement." She also praises Breuer's Wassily chair as an understated and innovative take on the traditional lounge chair.
In addition, Hunker featured the iconic designs of architect Ludwig Mies van der Rohe. Palin spotlighted the Barcelona chair, designed by Mies and Lilly Reich, and its rich history tied to both the Bauhaus and 1929 Barcelona International Exposition. Of Mies' Brno chair, she writes, "Originally released in 1930, this piece is sleek and unobtrusive but such a beauty. It can work equally well in a dining room or lounge area.