Features
Knoll Participates in IFMA Atlanta Workplace 2017
Kylie Roth conducts an educational session on Immersive Planning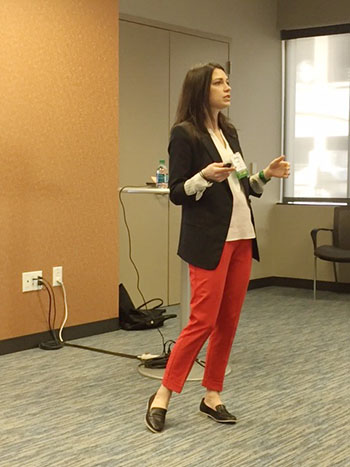 On February 17, Kylie Roth, Knoll's Senior Director of Workplace Research, presented a course at Atlanta Workplace 2017, hosted by the International Facility Management Association (IFMA) Atlanta Chapter. Delivering a talk on a paradigm shift in the modern workplace, Roth outlined the factors that contribute to a new work environment based on experiences.
"Today's clients are looking to build memorable and positive experiences for their workers," Roth explained. "And workers now expect the office to not only provide them a place to work, but also a place to meet socialize, connect and otherwise continue their daily activities."
A new way of thinking about space, dubbed Immersive Planning, can answer evolving needs. Referencing Knoll's recently published research on workplace design, Roth presented Immersive Planning as a new model for the contemporary office, one in which versatile spaces take on multiple programs depending on the needs of the day.
"An Immersive, experience-based workplace supports workers by giving them choice and control," she explained, "offering them mobility in where they want to work and allowing them to adapt the space they need as they see fit."
In order to facilitate this sense of belonging, workplaces should emphasize improvisational, dimensional, and communal spaces. Fluid boundaries and transitional areas, comfortable furniture, and inviting gathering spots all contribute to a pleasing and productive working environment.
The IFMA is the world's largest international association for facility management professionals, with chapters and events nationwide.