Richard Wright
The auction house founder discusses the legacy of modern design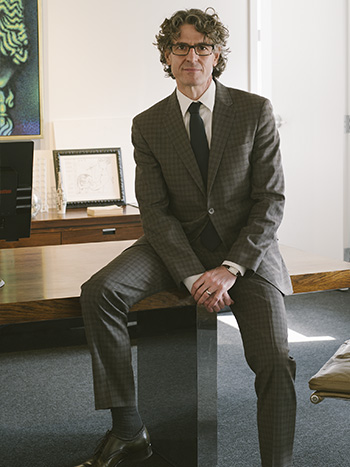 Many a gem of the mid-century modern period has passed through a certain 40,000 square foot warehouse in Chicago, its cultural and material value invariably ballooning in the process. At the helm of the operation is Richard Wright, the founder of the eponymous auction house that has defined its purview as twentieth century design, whatever form that may take. Since 2000, Wright has tested the limits of the traditional auction house, defying precedent in both its digital and physical reach.
The driving force behind the auction one-offs, mobile apps, and catalog overhauls, Richard Wright harbors an undeniable love of all things modern, the desire to share it with the world, and a willingness to take risks. In 2006, he organized the auction of Pierre Koenig's iconic Case Study House #21, its record sale further cementing the fact that modernism, and its contemporary patronage, can involve a nebulous spectrum of objects, seats, and spaces. Knoll Inspiration caught up with the auctioneer to discuss the persistence of mid-century modern, the legacy of Knoll, and the online future of the auction industry.
What were you doing before you began the auction house in 2000?
I started in the business in the late '80s, as a dealer. Right out of college, I discovered the world of (what was at that point) junk, and started buying vintage and post-war pieces. I worked my way up, doing everything from flea markets to antique malls to a little antique store, and then in 1993 I was offered a position at another auction house called Treadway Toomey. They were one of the first auction houses in the country to do regular auctions of modern design—real post-war design. I went out there and ran their modern department for six years, until 1999, after which I left and started my own in 2000. So I've been in it for about 30 years now, and it's been an amazing ride.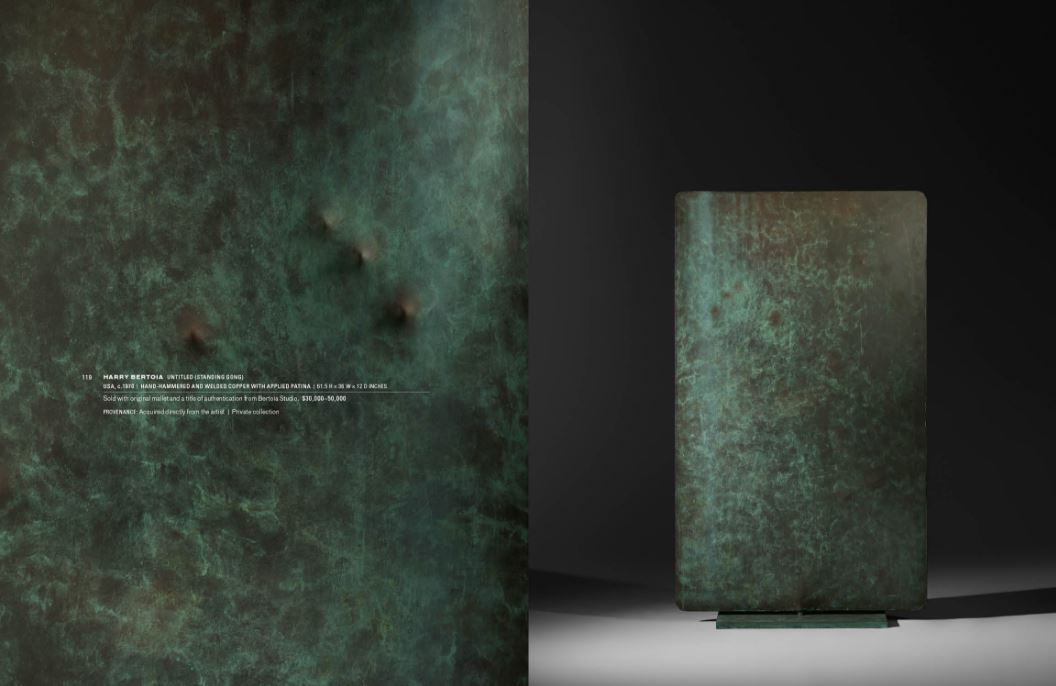 A spread from the slickly designed Wright catalogs, featuring a gong by Herry Bertoia. Image courtesy of Wright.
"We really try to express a point of view in what we offer for sale—and also the way we offer it."

—Richard Wright
What makes Wright different from a traditional auction house?
First of all, we're singularly focused on the twentieth century. And we've just done an awful lot of post-war design. We bring a lot of curation to our auctions; a lot of it was initially built around my eye and now we have a team of people. But we really try to express a point of view in what we offer for sale—and also the way we offer it. We helped to change the auction industry by bringing a higher level of graphic design to auction catalogs. A lot of people followed, but it's always been a key part of what we do. We try to do it now with the web, and to really show a commitment to design throughout everything we do.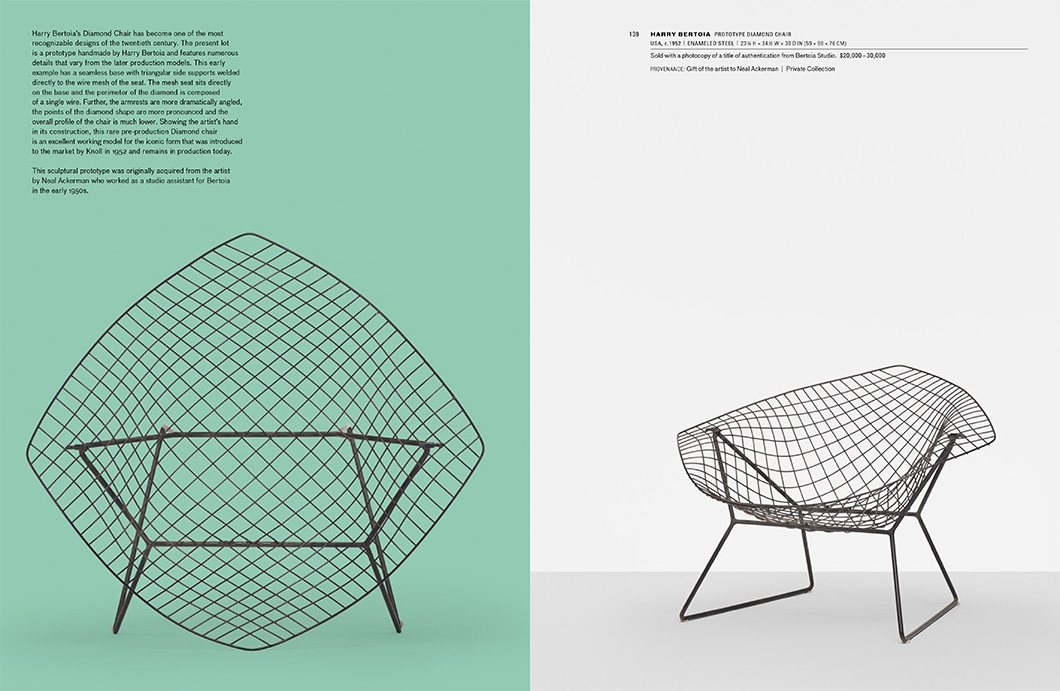 A spread from a Wright catalog celebrates the graphic quality of the Bertoia Diamond Chair. Image courtesy of Wright.
What is the role of the catalog for an age so deeply entrenched in digital media? How do you straddle the boundary between being technologically savvy and having these beautiful, printed catalogs?
I think we're all struggling with that. I would start by saying that I love print—there is something very durable and long-lasting about a great print piece. I think there's a true tactile pleasure that you get from print, and I also believe that it focuses your attention in a way that is almost impossible to do digitally. If I hand you a catalog and you're looking at it, you're looking solely at my catalog.
And we're still committed to that. But digital is becoming more and more important, and the digital medium is a great challenge. We're spending a lot of time and energy and money trying to unlock what's better about the web. The web is deeper; you can drill down further; you can get more information; you can just give more. But it's also so much harder to curate, so much harder to control. I think we're all struggling with it. It's totally exciting in some ways and can be frustrating in others.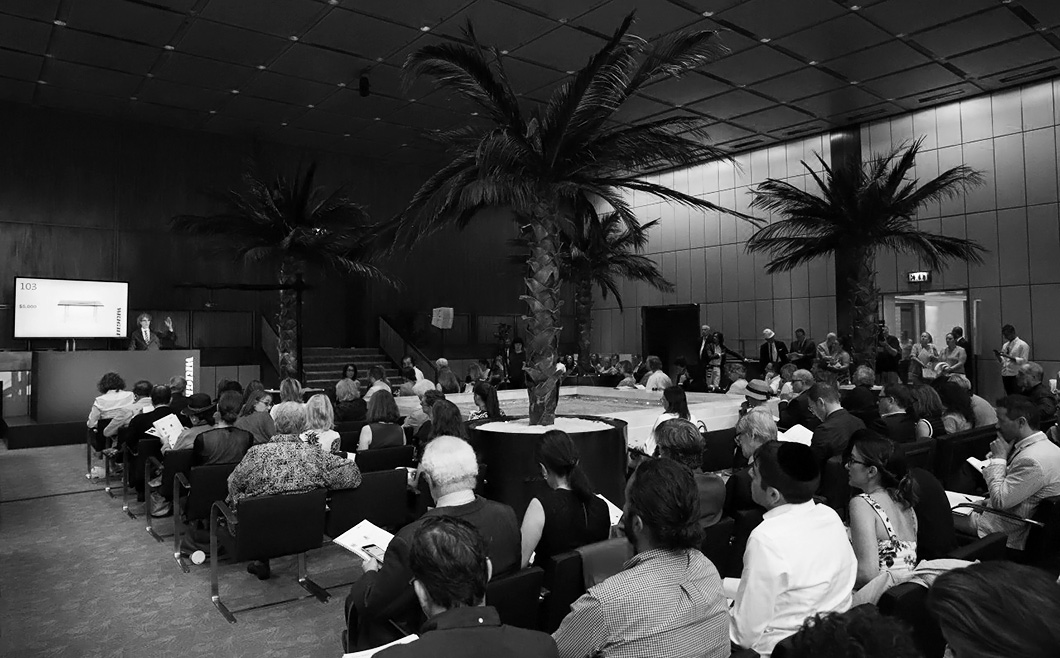 The Four Seasons restaurant auction on July 26, 2016, with the audience seated in Mies van der Rohe's Brno Chairs. Image courtesy of Wright.
I ask about technology because of the auction of the Four Seasons Restaurant in July, during which the Knoll office was attentively checking the Wright app to watch the sales in real-time. It was an intensely voyeuristic moment that was only possible because of the technology.
The Four Seasons is the perfect example; we did a print catalog but it was really just a celebration of the restaurant, so it didn't really work at all to represent the lots. The lots were actually best represented online because we didn't even know the full scope until the restaurant closed and we were still discovering things weeks before the sale. And digitally, you can keep adding and changing information, so it works to your advantage.
"There's a true tactile pleasure that you get from print... it focuses your attention in a way that is almost impossible to do digitally."

—Richard Wright
I think that auction will stand as the highlight of my career—it was one of those great moments. To stand in those rooms in New York City, to sell all those items for over fourteen hours—it just never let up, all day long—it was unbelievable. I felt really proud of it. We had never done anything like that—we had never done an auction that wasn't physically at our auction house; we had never auctioned a restaurant; we had never auctioned so many items at once. It was a big, complex undertaking. But we loved it and it worked. I thought it would do well, but it did triple what my expectations were.
Do you see yourself doing something special like that again?
We would love to do that again. It's not ready to be announced, but we will be doing a project—not in New York, but somewhere else—in a similar vein. I was a little surprised; I was totally open to doing it again but I thought it would be a while until the right thing came along. But we believe the right thing has come along, so stay tuned.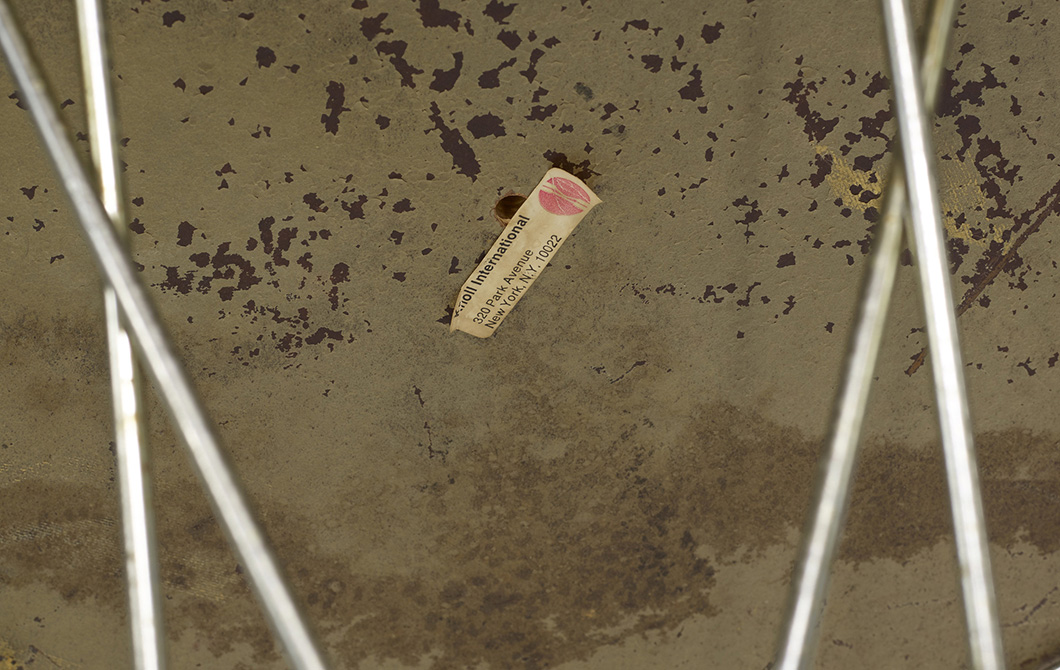 Knoll manufacturer's label on the underside of a dining table by Isamu Noguchi, circa 1965. Image courtesy of Wright.
Many have commented on the "stickiness" of mid-century modern design as a trend that will stay in vogue forever. Do you agree?
I won't speak to "forever," but I think that "stickiness" is built around the quality of the design. There were the theories and historical movements that came before mid-century modern, and obviously there are a lot of things that came after, but there was a sweet spot where you had a balance between the rigorous design thinking that came out of the Bauhaus and a sense of warmth and optimism, along with money and manufacturing opportunities coming out of the war.
It was a bit of a golden age. Design moves on, but it moves on in a more avant-garde, more artistic and maybe more challenging way. I think that mid-century modern is a moment where it gets the balance between being very artistic, not compromising the design, and still appreciated by the masses.
It strikes me that Knoll has been incredibly successful in not getting stuck, leveraging its legacy, and not getting tied to the past. We've sold over 800 pieces of Knoll and I couldn't believe the diversity—it isn't just the Grasshopper Chair and the Womb Chair, the post-war icons. The company was able to stay current as design changed; it's really impressive.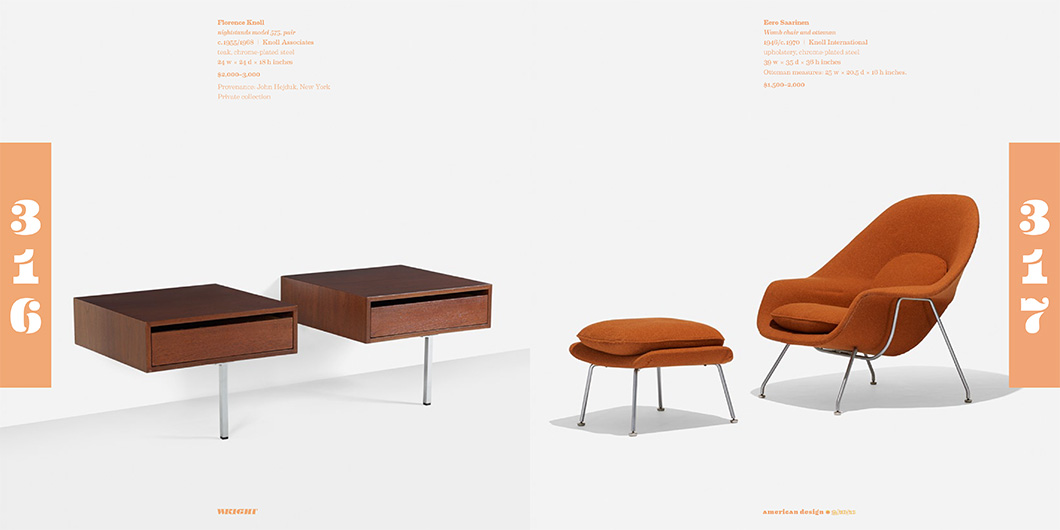 A spread from a Wright catalog, featuring vintage designs by Florence Knoll and Eero Saarinen. Image courtesy of Wright.
What is the weight of the brand in these auctions? Has its significance changed over the years?
Well, it's one of the great American design firms. For me, if you studied mid-century American, the two heavyweights are Knoll and Herman Miller. Knoll is there right at the beginning of the renaissance of great design in America.
The other thing about the longevity of mid-century modern—I do think it was also a golden moment in America. The resonance of that will fade, of course, but there is still a halo around that time. A halo around a time is certainly not going to occur now. [The mid-century] was just a special time for this country where we led the world in design, we led the world in technology, we led the world morally. Obviously, it was more complicated beneath the surface, but I think it was definitely a heroic time in our country. And I think that feeds in, somehow, to the enduring popularity of the work.
"Knoll is there right at the beginning of the renaissance of great design in America."

—Richard Wright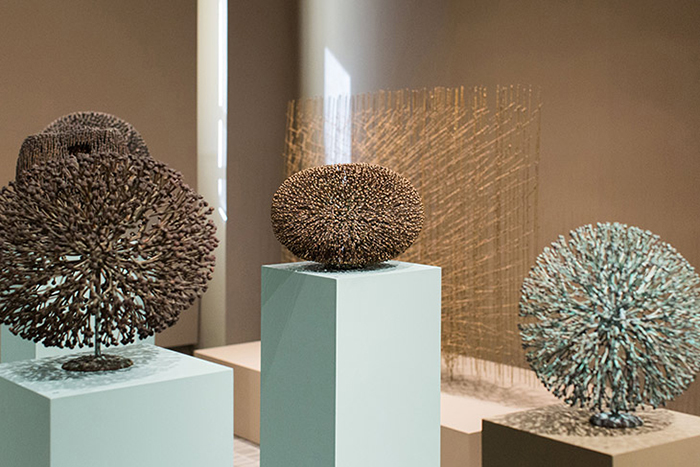 An installation of sculptures by Harry Bertoia at the Wright gallery in New York. Image courtesy of Wright.
You recently expanded Wright's New York presence to include a gallery. What was the impetus behind it?
About three-and-a-half years ago, we opened a space in New York. It's a small space in a beautiful building at 980 Madison. The thinking behind that was to almost balance or counter the equal push to digital, and to acknowledge that there is still something very special about physically seeing the best pieces. We wanted to have a platform to be able to show things in our most important market. New York has always been where we have sold the most things; we've done a lot there before and it seemed like a natural evolution.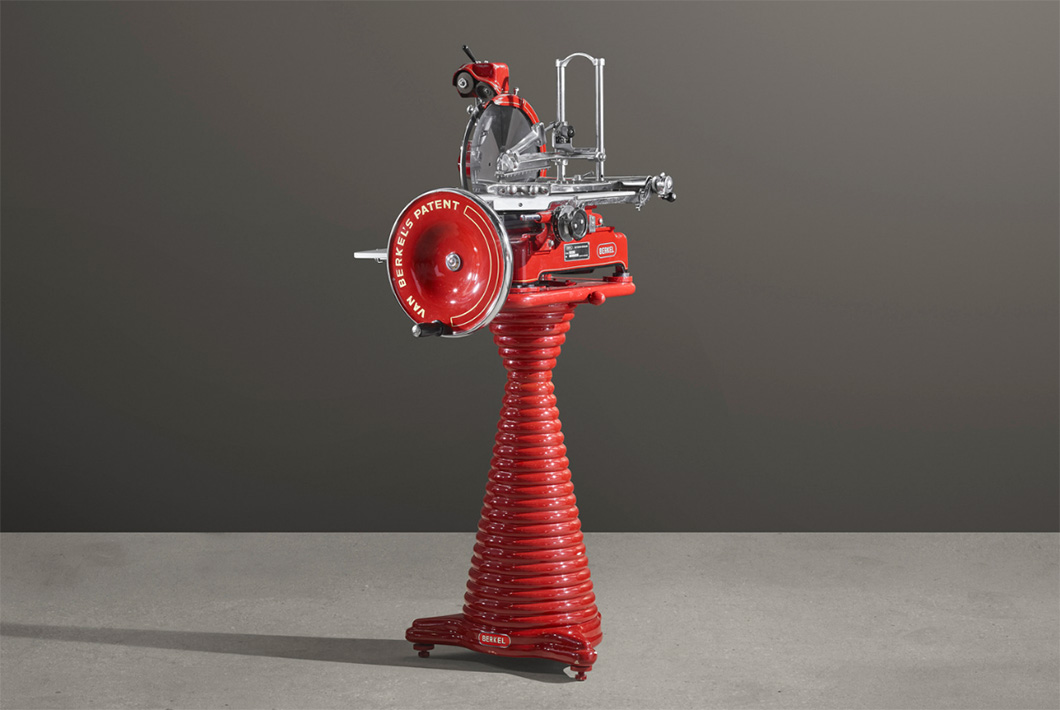 A lot from Design in Motion: The Berkel Meat Slicer. Image courtesy of Wright.
The upcoming "Design in Motion" auction presents a set of vintage slicing machines and other kitchen ephemera. Do you see these as objects to be bought and displayed as art or to be used as they were designed?
I definitely see them being used; I think they function on both levels. They're absolutely well-designed machines that function and are quite good at what they do. Some of them are nearly a hundred years old and still work great. They have tools within them where you can sharpen the blade, so with relatively little maintenance they can last a lifetime. They are singularly beautiful. I went for it based on the design; I did some research, but I just thought they were so great that I jumped at the chance to do it.
To circle back to the difference between what you can gain from print versus what you can do digitally—I can do a small auction like this because I'm not doing a print catalog. So this is digital, and I think the experience is going to work quite beautifully digitally. We're going to have an event here in Chicago—all the work is always available for people to come and physically look at—but the whole idea of it is based on a digital experience.
I love being able to do a curatorial sale like this—it's really a micro-sale—and I can't imagine we'll be doing another auction of slicing machines, no matter how it does. It's kind of just a one-off—we had the chance to get this collection and that was great. Throughout our history, we've tried to take chances and try things that haven't been done before. It doesn't always work, but it usually works once.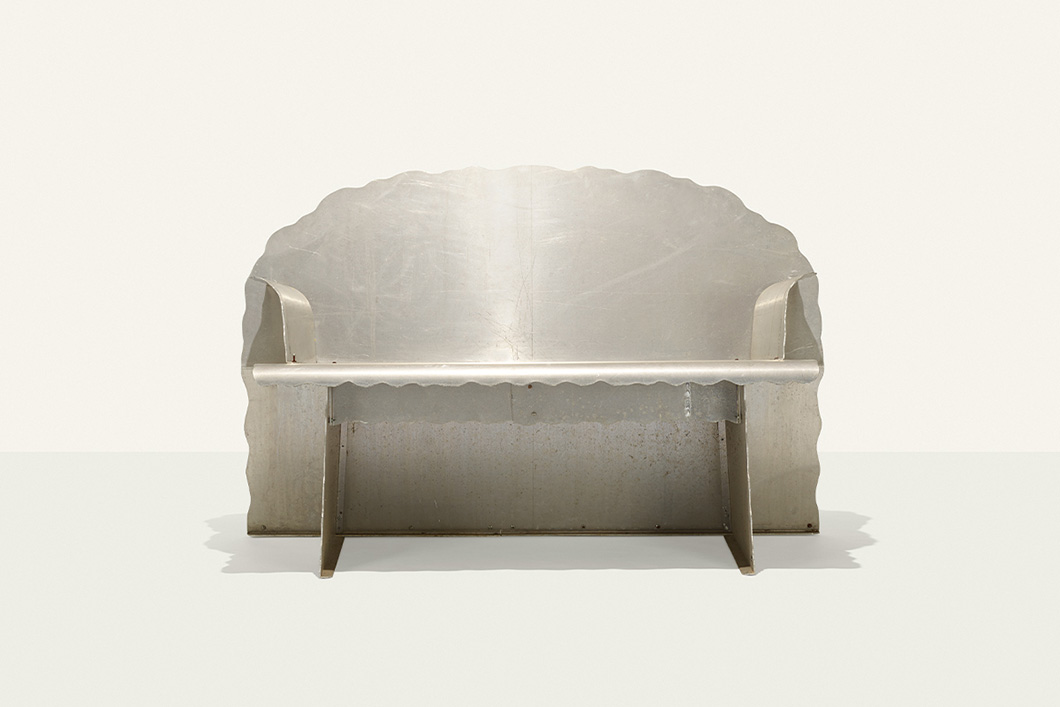 A prototype of the Topiary Bench, designed by Richard Schultz for Knoll. Image courtesy of Wright.
Beyond furniture, art, and vintage meat-slicers, are there any untapped areas within the spectrum twentieth and twenty-first century modern design that you hope to explore?
Totally—I really want to continue to do unusual stories within modernism. I think we'll have a whole series of auctions built around legacy. We're going to be handling prototypes from Richard Schultz, who did some work for Knoll. He is retired and just decided to close his studio—those sorts of sales are important to me. Again, it'll be a digital sale, but it's a great way to capture that information and archive it in a way that's better than print, where it can be very hard to access years later.
We've done architecture in the past and, for the right project, we'd do it again. The meat slicers—it's not happenstance that it's a food-related project; the Four Seasons opened my eyes to some of that. There's some vintage stoves, there are definitely other things in the design world that we'll be looking to explore, and we're always looking for ideas.
The Design Archive of Richard Schultz auction takes place on February 16, 2017.