Features
IPA Holds "Live/Work for the Workforce" Panel at Knoll Showroom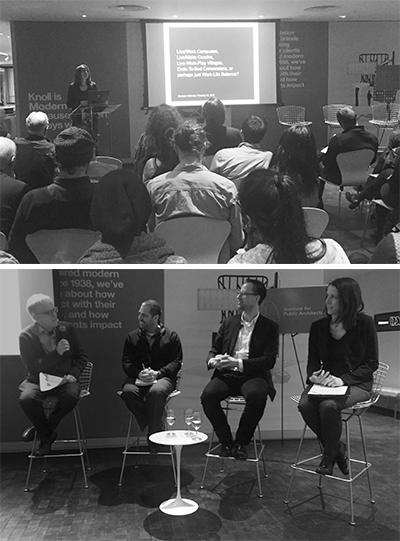 The Institute for Public Architecture (IPA) held a panel discussion on the future of live-work spaces in New York City in the Knoll New York Showroom on February 23, 2016. The panel, titled "Live/Work for the Workforce" was led by Richard Plunz, a professor at Columbia University's Graduate School of Architecture, Planning and Preservation, and a leading authority on urban housing. Panelists included Jeffrey Shumaker of the New York City Department of City Planning, Jared Della Valle of Alloy Development, and the architect Susanne Schindler. The discussion centered around the changing nature of work and possible synergies with the city's housing challenges.
The event kicked off this year's IPA residency, whose theme is Live/Work. The IPA is challenging design professionals to think deeply and creatively about the relationship between work and housing, and to offer responses to Mayor Bill de Blasio's recent call for 3,000 live-work housing units. The IPA has published its call for entries for the Live/Work for the Workforce Summer Fellow Residency here.
Founded in 2009 by architect Jonathan Kirschenfeld, the Institute for Public Architecture is an organization that brings together architects and allied professionals to promote "socially engaged architecture" through research, public programs, and residencies.
A full video of "Live/Work for the Workforce" is available on the IPA's website.