Features
Knoll Ad Heralds New Chicago Space in April Edition of Interior Design
Unique graphic identity showcases modern spirit of Knoll Design Days
As Knoll anticipates the debut of its new Chicago showroom, the Company announced "Knoll Design Days" in the April edition of Interior Design magazine. The new Fulton Market space will display the Knoll constellation of brands – Knoll Office, KnollStudio, DatesWeiser, Spinneybeck | FilzFelt, KnollTextiles and Muuto – to create eclectic and exciting solutions for working and living. Spanning three days, Knoll Design Days will debut new products, host Florence Knoll Women in Design Dialogues and inspire the design community.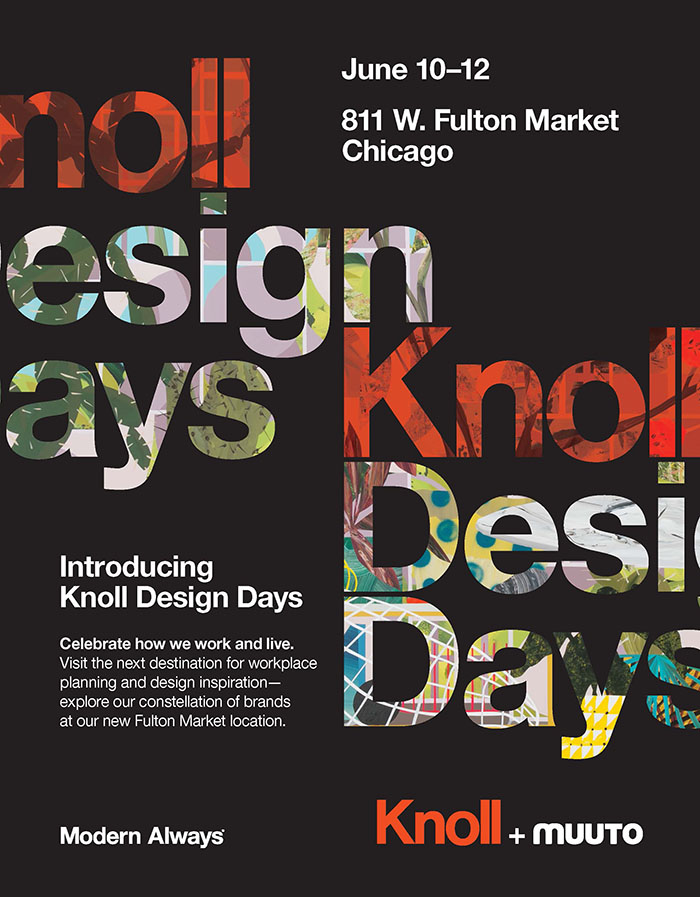 The Interior Design ad features the unique graphic identity of the program, including a mural design by artist Paul Wackers. "The layered approach for the Knoll Design Days identity plays off of our idea that modern design isn't just a style – it's the belief that the intersection of beauty and rationality yields result," states Knoll Graphic Designer Christina Colombo, "Understanding the nature of how we work and live to create inspiring spaces always starts with a playful spirit."
The new Knoll Chicago Showroom at 811 Fulton Market will host Knoll Design Days from June 10-12, coinciding with the industry's annual trade fair.