Features
Knoll at Fulton Market Recognized for Design by Chicago-Based Organizations
The Space is the winner of the Interior Build Out Merit Award by the Chicago Building Congress and an Award of Merit by Engineering News-Record Midwest in the Interior/Tenant Improvement category
The Chicago Building Congress (CBC) recently announced Knoll as the winner of the Interior Build Out category in the 2020 Merit Awards for the Company's work in the design of the Fulton Market Showroom in Chicago. Unlike past years, the ceremony took place virtually, with introductory remarks by Rich Schuster, CBC President.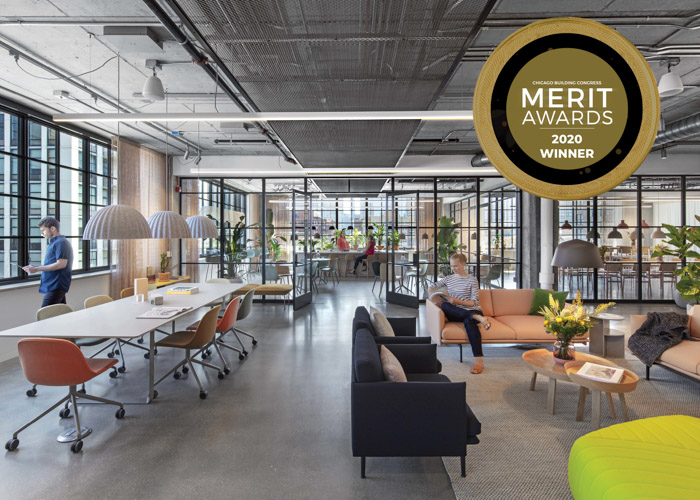 In a clip of an interview discussing the showroom, Jennifer Graham, Architecture & Design Manager, Knoll, commented on the inspiration for the space, "We really wanted to pioneer an effort in a neighborhood that exemplified Knoll's design heritage, and that pioneered the grassroots grit and pioneering spirit that our founder, Florence Knoll, every single day when she was with us at Knoll."
Accepting the award, Andrew Hoppe, Senior Vice President, Clune Construction, congratulated the contributors of the project, "Winning it is a testament to the hard work this team has put in. This space is truly unique and special, and it truly has a profound impact on the Fulton Market district. We're honored that the CBC chose our project as the winner of our category and we thank you for the recognition."
The Chicago Building Congress is Chicago's only vertically-integrated trade association. Its members include real estate professionals, general contractors, subcontractors, engineering firms, architects, labor unions, government entities, material manufacturers and suppliers, and more. The Congress hosts multiple events each year that celebrate Chicago-based building endeavors.
In addition to winning the CBC Merit Award, ENR-Midwest recently announced the region's "32 Best Project Winners for 2020," and Knoll at Fulton Market received an Award of Merit in the Interior/Tenant Improvement category. Engineering News-Record (ENR) is a technical publication that provides its over 60,000 paid print subscribers and online readers, engineering and construction news, analysis and commentary.