Features
Knoll at NeoCon 2018 - Day Two
Ideation and Process with Glen Oliver Loew and a range of enhancements to the Knoll height adjustable desk portfolio
Energy and enthusiasm continued for the second day of NeoCon 2018 at the Knoll Showroom in the Chicago Merchandise Mart. Attendees gathered in the Knoll Showroom to explore Hospitality at Work. The Hospitality at Work Showroom featured five individually themed spaces, illustrating the power of hospitality in today's workplace: Welcoming Environments, User-Directed Experiences, Flexible Solutions, Material Variety and Residential Aesthetic.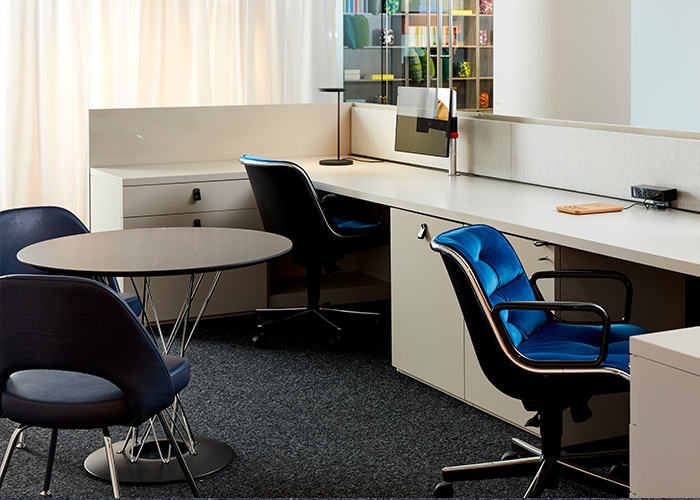 Reff Profiles with DatesWeiser Gallery Surrounds and Pollock Executive Chairs.
Experience the showroom overview here: Knoll NeoCon 2018 Showroom
Design Seminars from Chicago Live Streamed Worldwide
On Day Two of NeoCon 2018, Knoll offered two design seminars: Ideation and Process with Glen Oliver Loew and Rockwell Unscripted ®: Where you Complete the Story. A welcome addition to the Knoll Seating portfolio, Knoll introduced Ollo by Glen Oliver Loew at NeoCon 2018. Loew spoke to attendees about the ideation of his light task chair for Knoll and how the physical design of an object can accommodate spontaneity and interaction in the workplace. Barry Richards, Principal and Studio Leader, Rockwell Group and Tracy Wymer, Vice President Workplace Strategy, Knoll, discussed how today's workplace can respond to a greater need for collaboration and flexibility, particularly how the ideas behind Rockwell Unscripted address the continuous evolution of the workplace.
Replay the design seminars here: Knoll NeoCon 2018 Live Events.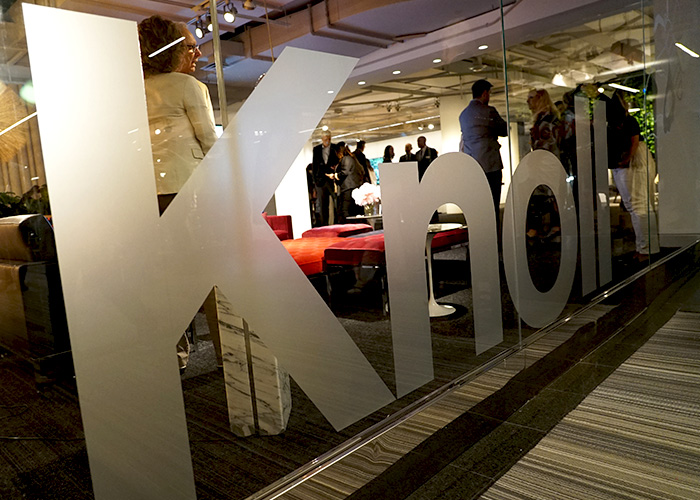 Attendees Engage with New Products and Enhancements
Attendees within the Knoll Hospitality at Work Showroom engaged with new product introductions that offered a holistically dynamic experience within each themed space. Guests of the showroom were in and out of the most recent addition to Rockwell Unscripted – Creative Wall Enclosures. An expansion of the Creative Wall, the Enclosures provided guests with a focused place to meet with colleagues or to take a quick phone call.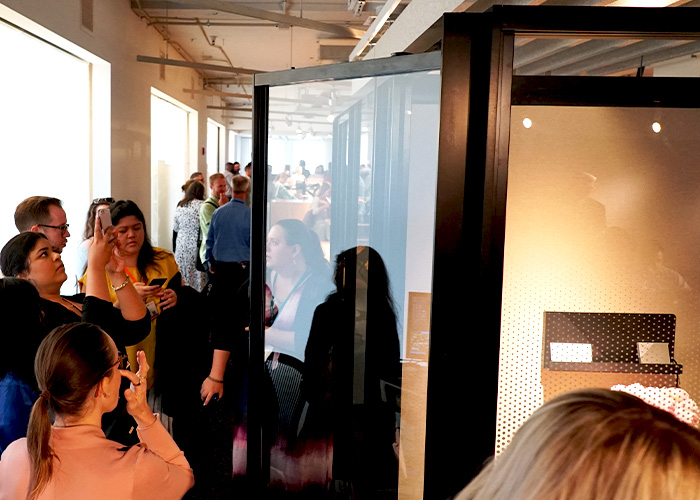 Visitors explore Rockwell Unscripted Creative Wall Enclosures in the Knoll NeoCon 2018 Showroom.
Ollo, the new light task chair designed by Glen Oliver Loew for Knoll, demonstrated its convenient and versatile disposition. Attendees were impressed by Ollo's intelligent design, and its ability to pack a beautifully visual punch with practical, lightweight materials.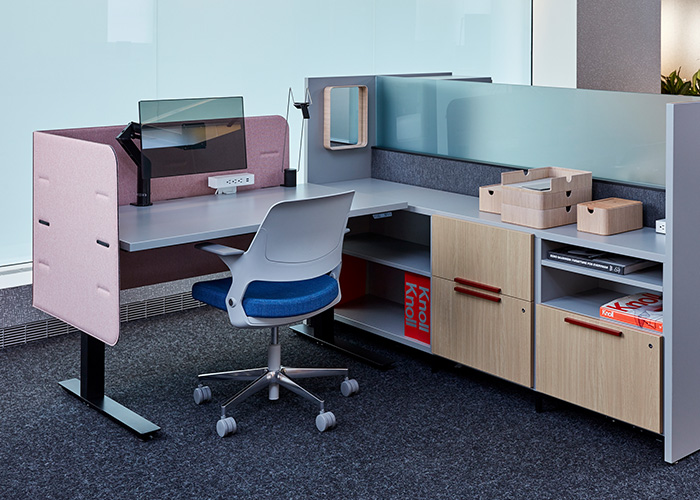 Ollo with k. bench. Also shown: Dividends Horizon with glass end up and Anchor storage.
Guests took note of the sleek, futuristic appeal of the Newson Aluminum Chair as a cutting-edge addition to the Knoll seating portfolio. Additionally, guests were particularly engaged with the additions and enhancements to adjustable height desk and table options from Antenna® Telescope, k. bench and Reff™ Profiles.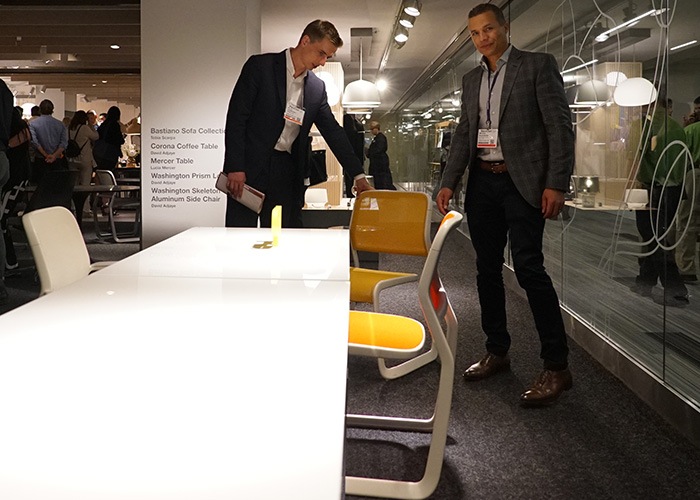 Guests pull up the Newson Aluminum Chair to take a seat in a meeting space vignette within the Knoll Hospitality at Work Showroom.
Knoll Partners with Leading Technology Companies
For the second consecutive year, Knoll has partnered with two forward-thinking companies – Polycom and Density – leveraging technology within the Hospitality at Work showroom. Density, an anonymous people counting system, employed depth-sensing technology that measures the utilization of group space in the showroom. Polycom, an industry leader in enterprise grade business communication solutions, demonstrated the power of presentation, co-creation and videoconference solutions.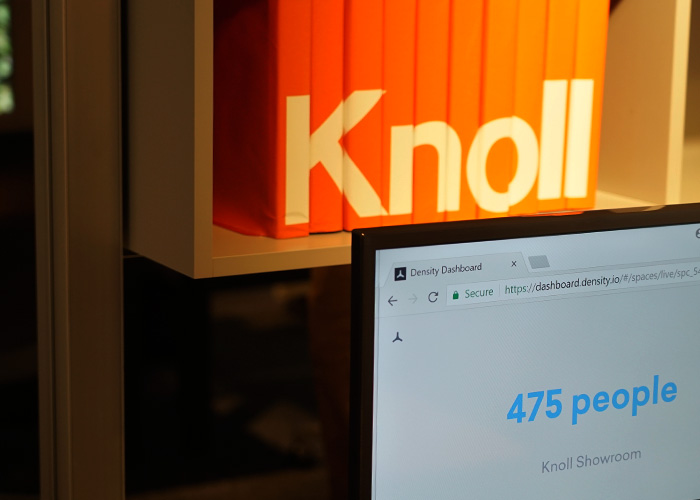 Density, an anonymous people counting system, shows a live update of guests in the Knoll Showroom.
Knoll also partnered with ROL Ergo, a top supplier of custom-made electric sit-stand table desks that improve individual wellbeing within the workplace. ROL Ergo incorporated Intelligent Desk technology into Telescope and Tone height-adjustable tables.