Features
Knoll Chicago Hosts Minority Women in Commercial Real Estate Panel at Fulton Market
Panelists discussed topics from ethnic diversity to gender representation in the commercial real estate industry
Knoll at Fulton Market hosted a panel of local real estate professionals to discuss the role of minority women in the commercial real estate industry. Jayson Rusch, Knoll Sale Representative, and moderator of the event, worked with Jennifer Sulentic, Knoll Chicago Regional Director, to bring together five, highly accomplished Chicago professionals to the new Knoll space, which opened just a few months ago in June 2019. The event took place on
Thursday, November 7.
The panelists included, Ciere Boatright, Vice President of Real Estate and Inclusion for Chicago Neighborhood Initatives; Elle Ramel, Director of Development at Farpoint Development; Smita Sahoo, Design Leader, Vice President at CannonDesign; Navi Sandhu, Vice President of Finance and Development at Fifield Companies; and Steph Smothers, Interior Designer at Sterling Bay.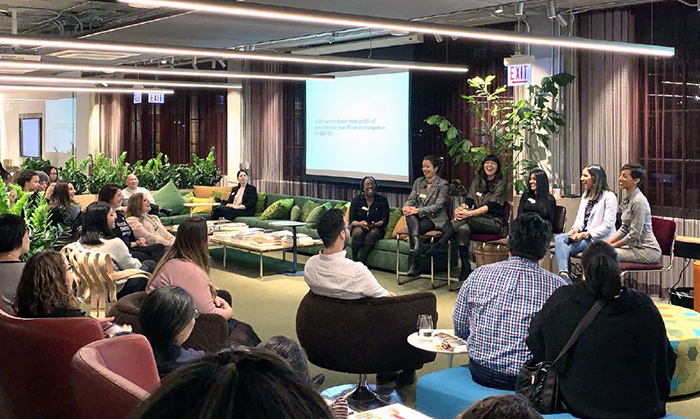 Matt Baker, editor of RE Journals, a leading Midwestern commercial real estate publication, characterized the conversation as one that "yielded interesting responses rooted in the five panelists' varied backgrounds." Panelists shared personal experiences as they related them to prevailing social challenges that are faced in the commercial real estate sector, specifically as women of color.
At the end of the program, Rusch opened up the floor to guests, letting the panelists answer questions from women planning to enter the commercial real estate industry.
Each panelist provided insight into navigating a historically homogenous field and underscored the importance of diversity in effecting systemic change. Learn about the panelists' varying experiences here.