Features
Knoll Dealer Office Resources Recreates Iconic Florence Knoll and Herbert Matter 601 Madison Display
Office Resources display honors Florence Knoll and her commitment to modern design
Office Resources Inc. (ORI), Knoll's premier dealer located in Portland, Maine, recreated Florence Knoll and Herbert Matter's 1948 dynamic showroom display, originally designed for the 601 Madison Avenue Showroom. The Museum of Modern Art also explored Florence Knoll's radical showroom display in a 2011 exhibition titled How Should We Live? Propositions for the Modern Interior. Ahead of their time, Knoll and Matter set out to create a distinctive presentation that captured the essence of modern sensibility. The textural vignette illustrates Florence Knoll's "total design" perspective combining the functional and the aesthetic to create a congruous space. The display features a Womb Chair, designed in 1948 by Eero Saarinen, that sits in front of intricately sprawled yarn that represents the raw material used to create the fabric to upholster the chair.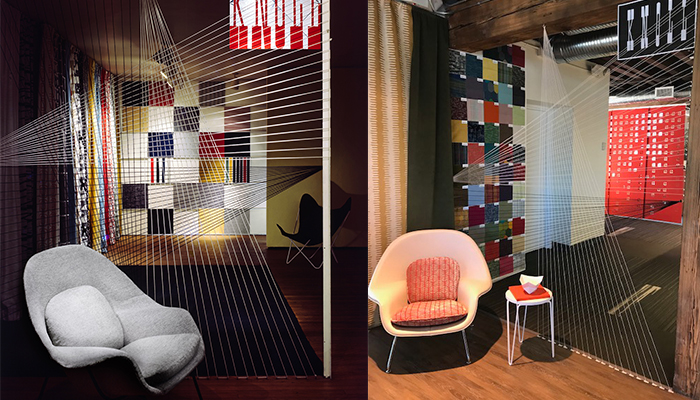 Left: Original display by Herbert Matter and Florence Knoll in 1948. Right: Recreation of the iconic display by Office Resources.
"This presentation showcases how fundamental relationships with both master designers and young talent shaped the way we live and work" states ORI. Florence Knoll and Herbert Matter's display exemplifies the rich tradition of modernity and originality at Knoll.