Features
Knoll Featured in Palm Springs, St. Louis and Portland, Maine Home Design Press
May 2019 issues highlight Pilot Chair and Ottoman; Cyclone Dining Table; and KnollTextiles
Regional press from coast to coast highlighted Knoll designs in their May 2019 issues. Palm Springs Life featured the Pilot Lounge Chair and newly introduced Pilot Ottoman in its "On the Home Front" editorial. "Coachella Valley admirers will not have to book a flight to take a seat and get comfortable," writes editor Lisa Marie Hart of the Pilot Chair and Ottoman's undeniable comfort.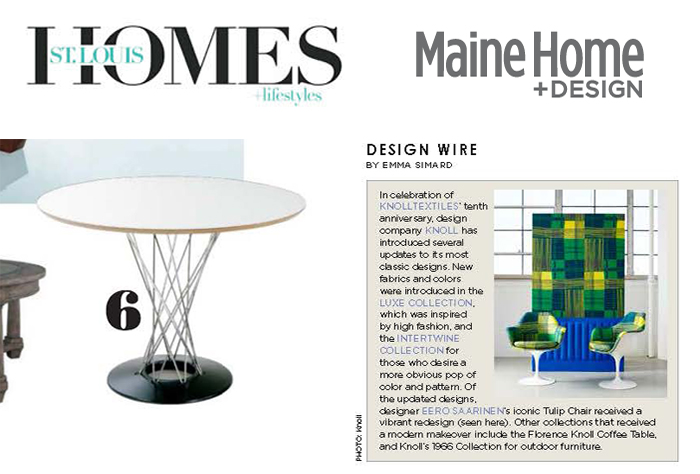 In addition, St. Louis Homes & Lifestyles featured the Cyclone Dining Table. "Architecture doesn't just have to be in your structures," writes editor Moe Godat of Isamu Noguchi's 1955 design for Knoll, "Adding a pop of architecture to your living room will give the space dimension and interest. Experiment in your home with a stunning table base."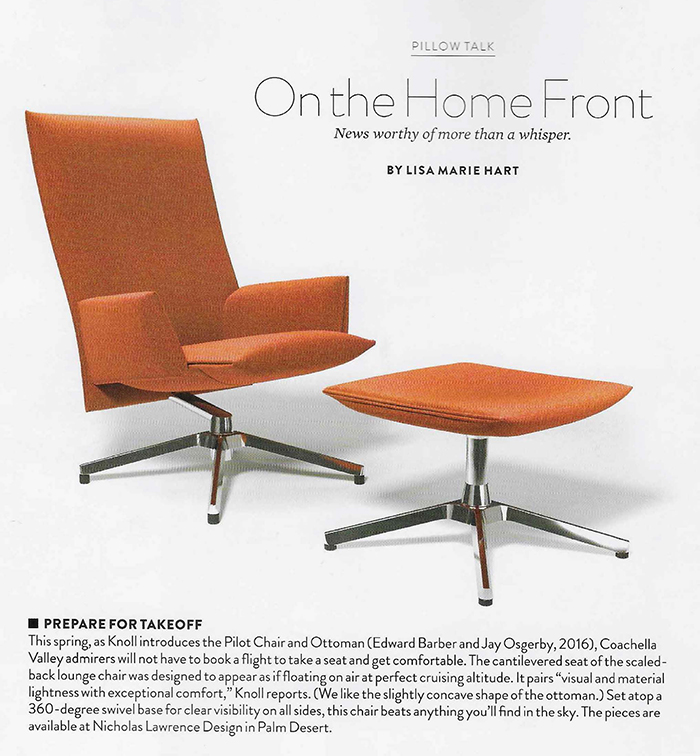 Maine Home + Design also featured the recently introduced Knoll Luxe and Intertwine Collections. Inspired by fashion, both collections are, "for those who desire a more obvious pop of color and pattern," writes editor Emma Simard. She also called out the Florence Knoll Coffee Table and Richard Schultz 1966 Collection as covetable items for a modern home makeover.