Features
Knoll Featured in Western Living, CA Home + Design and Where Traveler Los Angeles
California regional press spotlights Cesca Stools, Pink Bertoia Side Chair and Home Design Shop
Regional press from coast to coast highlighted Knoll designs in their October 2019 issues. Western Living featured the Cesca Stools in its "Shopping Picks" for the season. Style Editor Lucy Lau writes, "Celebrate the Bauhaus school's centennial with Knoll's classic Cesca stool designed by renowned Bauhaus grad Marcel Breuer in 1928—now available in a handy bar height as well as two-toned upholstery options."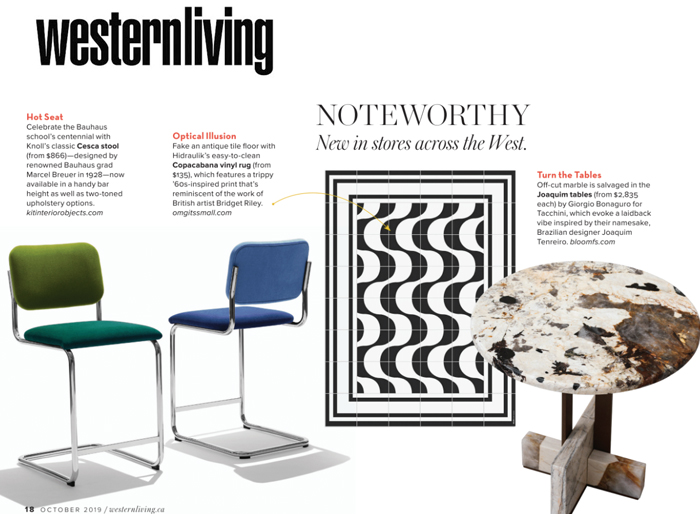 In addition, CA Home + Design featured the commemorative Bertoia Side Chair in pink for Breast Cancer Awareness Month. For the month of October, along with the Florence Knoll Hairpin Table, all net proceeds of the limited-edition classics will benefit Susan G. Komen of L.A. County and Greater New York City. The local chapters in Los Angeles and New York work to develop programming to support local community health outreach, advocacy and other programs.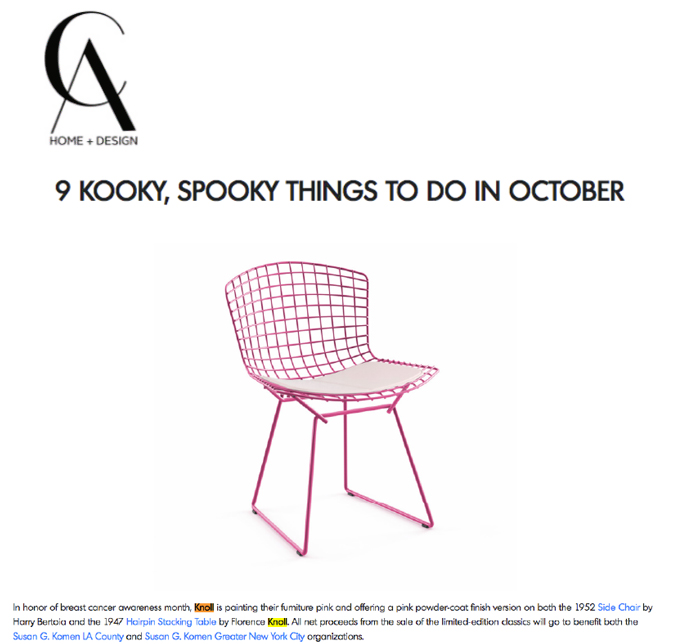 Where Traveler Los Angeles also spotlighted the Knoll Los Angeles Home Design Shop in its "Design Destinations" editorial. "As a magnet for some of the most innovative designers in the world, Los Angeles is full of shops and showrooms that showcase the endless imagination of its residence," writes Editor Teena Apeles of the region's eclectic design community. "Sure, Knoll has its flagship location in New York, but the way its L.A. outpost's modern furnishings are presented reflects a very Southern California attitude: welcoming and laid-back."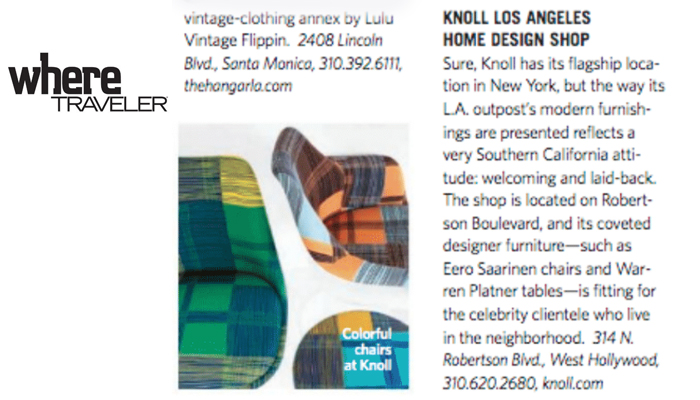 Knoll opened the doors to its Los Angeles Home Design Shop in February 2018, setting a new standard for local interior designers and design enthusiasts. The space continues to prompt each visitor to reimagine Modern living for residential interiors.