Features
Knoll Hardoy Chair Featured in Architectural Digest
Unique history of the Hardoy Chair spotlighted in
AD
"Object Lesson" series
In its June 2019 issue, Architectural Digest highlighted the iconic Hardoy Chair in its "Object Lesson" editorial series. Editor Hannah Martin detailed the origins of the archival piece by designers Antonio Bonet, Juan Kurchan and Jorge Ferrari Hardoy. Barry Bergdoll, Former Chief Curator of Architecture at the Museum of Modern Art, tells AD that the Hardoy Chair is, "the single most recognizable Latin American design." The chair became iconic in the late-1940s and early 1950s due to its portability, comfort and simple design.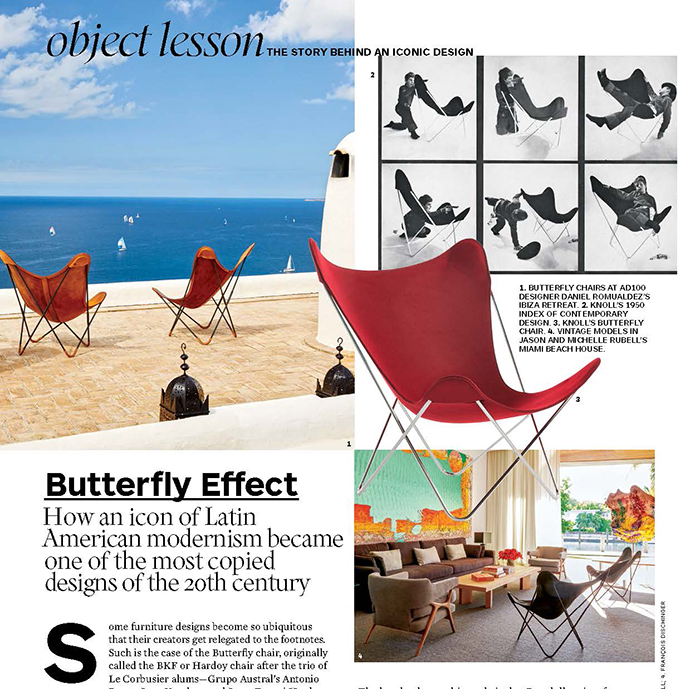 Knoll acquired the rights to produce the chair in 1948, but ceased production after Hans Knoll lost a lawsuit to protect the company's rights to the design. In the 1950s alone, "the design spawned…five million copies." Due to the widespread reproductions, the chair was no longer profitable to manufacture and Knoll ceased production. The Butterfly Chair then entered the public domain.
After almost seventy years, Knoll plans to reintroduce the Hardoy Chair in late-2019, paying homage to the original designers as well as its unique and hidden history.