Features
Knoll and U.S. Customs and Border Protection Partner to Protect Design Heritage
The Company collaborated with CPD to develop processes that combat counterfeit design
As stewards of Florence Knoll's pioneering notion of "total design", Knoll represents coveted icons of Modernism by leading architects, artists and designers—Ludwig Mies van der Rohe, Eero Saarinen, Harry Bertoia, Warren Platner and Florence Knoll herself. Protecting these pieces—those which reflect the cultural zeitgeist and design heritage from the 1920s to the 1960s—is as relevant as ever.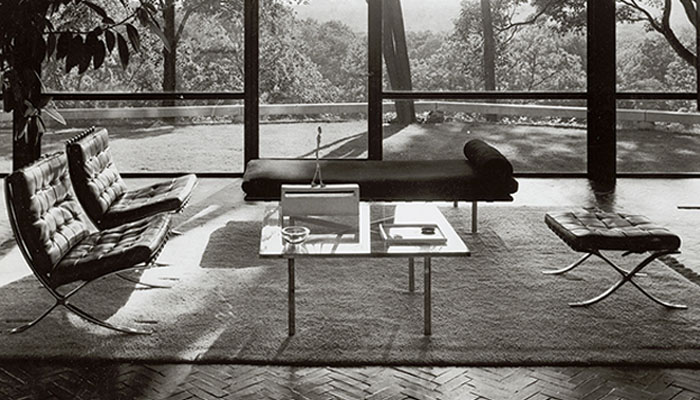 Counterfeit copies of well-known designs became a pervasive problem as online shopping evolved and grew into what it is today. Noticing the issue, Knoll Senior Vice President, Chief Administrator and General Counsel Michael Pollner reached out to the U.S. Customs and Border Protection (CPD) to alleviate the problem in December 2014. In its online magazine, Frontline, the department featured the work between Pollner and Lisa Fong, U.S. Customs and Border Protection Trade Specialist.
"We had recorded our trademarks with CBP, but they weren't getting a lot of attention," Pollner tells Frontline. "We shared some of the intelligence that we had gathered from our enforcement efforts over the years regarding companies that were knocking off Knoll products and importing them to the United States." Lisa Fong, U.S. Customs and Border Protection Trade Specialist, adds, "I had been working with customs exclusively on IPR enforcement for 25 years and this never came up. The majority of seizures had been run-of-the-mill—wearing apparel, handbags, watches, shoes and electronics. It wasn't until Knoll came along that furniture designs were on our radar."
Pollner's inquiry revealed the pervasive nature of the problem, leading to a partnership with the furniture industry to strengthen enforcement efforts; this included a port training program to familiarize CBP officers with Knoll products and recognize fake designs. Marcy Mason, Frontline Editor, writes, "Within weeks, the port of St. Louis targeted and seized a number of suspect shipments. All contained furniture that infringed on the recorded and registered designs in Knoll's Barcelona Collection, designed by Mies van der Rohe and Lilly Reich." The seizures totaled $1.5 million dollars at retail.
Following the panel discussion, Jennifer Sulentic, Knoll Chicago Regional Director, commented, "I want to say I also feel honored and privileged that I was able to champion John Johnson at Space Continuum becoming a part of the Knoll family," explaining that having a minority business dealer "is not only the right thing to do, that is in the best business interest of Knoll, but also brings opportunities and introduces us to things, and people, and places that we otherwise would not even be." Attendees described the atmosphere created by the Knoll team as welcoming and open to conversations that might otherwise be uncomfortable.
Following its collaboration with Knoll, the U.S. Customs and Border Protection continued to partner with more industry manufacturers in order to protect Mid-century Modern design heritage, its designers and the craftsmen at work.