Features
Design Press Celebrates Summer with Knoll
From the recently debuted Newson Aluminum Chair to the reintroduced and reimagined classics, Knoll remains in the headlines this Summer.
Following a wave of introductions, reintroductions and reimagined classics, design press hailing from coast to coast took note of Knoll design this Summer. Debuted at the 2018 Salone Internzionale del Mobile, the Newson Aluminum Chair by industrial designer Marc Newson garnered attention for its forward-looking design. Luxe Life, The Houston Chronicle's lifestyle magazine, highlighted the, "simplicity of design, natural materials and precision craftsmanship" of Newson's chair for Knoll. In addition, Detroit Home also featured the Newson Aluminum Chair and the Modernist heritage honored in its design.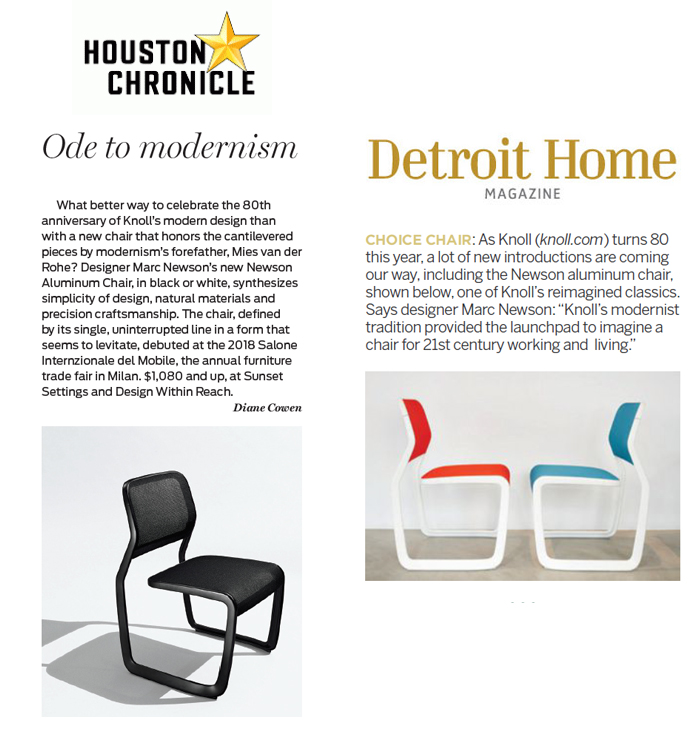 Reminiscent of an active Summer spent outside, Southern Seasons Magazine highlighted the Risom Outdoor Collection as a worthy addition to any home's "Outdoor Oasis" in their July/August 2018 issue. Editors at Southern Seasons also noted the collection's nod to Jens Risom's notion of versatility and resourcefulness. Reengineered for outdoor use, the Risom Outdoor Collection honors the qualities for Risom's original design with an oiled teak frame and Sunbrella® webbing. Sophisticated Living also included the Risom Outdoor Collection in their Summer 2018 issue highlighting the best in outdoor deck design.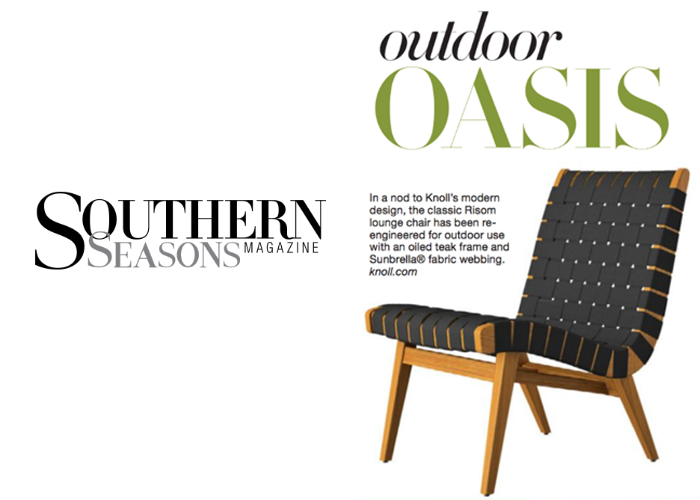 Evocative of naturalism and the Modernist heritage, Rattan is having a resurgence of interest in the design world. The recently reintroduced MR Chair in Rattan is among the notable pieces that employs the material. In their August 2018 issue, House & Home magazine highlighted Mies van der Rohe's classic in the reintroduced material for their "3 Reasons to Try Rattan." Designer Celerie Kemble states that, "the warmth and levity of rattan adds to a room. It should always be in the mix." Additionally, The Houston Chronicle featured the MR Chair in Rattan, noting its form-meets-function emphasis in design. "Think of it as modernism's equivalent to the rocking chair: efficient, ergonomic and comfortable," writes editor Diane Cowen.