Features
Knoll Wins 2019 Supplier of the Year at JLL Management Conference
JLL Supplier of Distinction Awards recognizes top suppliers across the industry
Every year, JLL, a commercial real estate firm, organizes a Management Conference during which the Company presents Supplier of Distinction Awards. This year marks the ninth consecutive year of the industry-recognized event. The highly competitive program recognizes top suppliers who have helped JLL deliver the highest quality of service, value and innovation to its clients. For 2019, Knoll received two awards: Product and Service Excellence and Overall Supplier of the Year.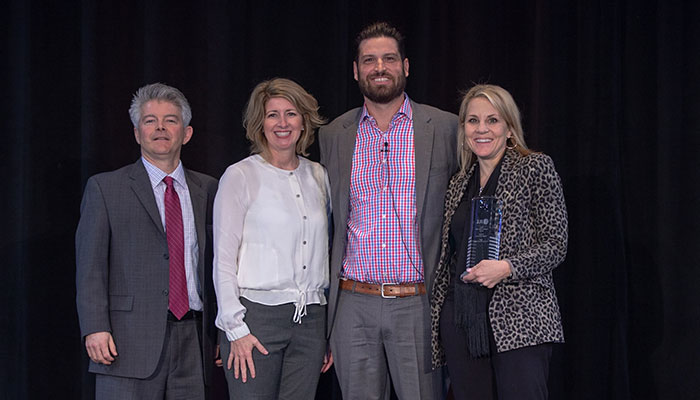 Left to right: David Dykeman, Global Account Executive, Knoll; Paige Roberts, SVP, Sales, Distribution & Customer Service, Knoll; Tim Hamill, SVP, Americas Category Management, JLL; Lauren Hession, Divisional Vice President, Knoll.
For the Product and Service award, JLL cited Knoll for:
99% on time delivery, 99% quality of products and 100% warranty resolution
Exceeding diversity expectations throughout dealer network
Delivery of 13,000 seats and a total of approximately 300,000 units in total for workstations and private offices with a variety of custom client requirements
The second award, Supplier of the Year Award, is given to the supplier demonstrating a strong partnership with JLL, performing across a spectrum of requirements where ambition truly meets success.
JLL recognized Knoll as the Overall Supplier of the Year for:
Shared work with several JLL clients including Bank of America
Innovative partnership and tier-based solutions
Leadership has demonstrated the highest level of professionalism, responsiveness and collaborative partnering
Highest client satisfaction ratings/feedback
JLL is a leader in real estate services, powered by an entrepreneurial spirit, seeking the most ambitious clients and talent. JLL buys, builds, occupies and invests in a variety of assets including industrial, commercial, retail, residential and hotel real estate. From tech startups to global firms, JLL clients span industries including banking, energy, healthcare, law, life sciences, manufacturing and technology.