Features
Knoll Featured in the 2017 Wired Gear Issue
Washington Prism Lounge Chair and HiLo land a spot among Wired's chosen best gear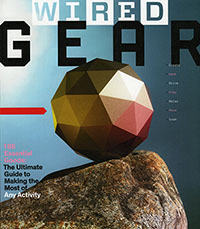 Both the Washington Prism™ Lounge Chair by David Adjaye and HiLo by Seth Murray and Bret Recor were featured in the 2017 Wired gear guide. The Wired gear guide is an annual compilation of the latest and greatest gear broken down into seven categorizes: create, work, drive, play, relax, move, and cook. The Washington Prism was listed under the "relax" category, while the HiLo was listed under the "work" category.
Of the Washington Prism Lounge Chair, Wired noted, "The angular Prism chair, upholstered in a wool blend over molded foam, is aesthetically striking yet shockingly comfy." Adjaye's Prism Chair transforms his architectural and sculptural vision into elegantly poised and contemporary objects for the home. Every side of Adjaye's design is meant to be seen, forming new lines and a constant engagement with the user.
Existing in the in-between world of sitting and standing, HiLo is a small, simple, and playful perch that will change the way you work. The perch keeps you balanced between active and relaxed, fun and functional, sitting and standing. Wired commented, "you can take it along on lunch break, hold pup-up meetings in the hallway, introduce a new angle, and lean in."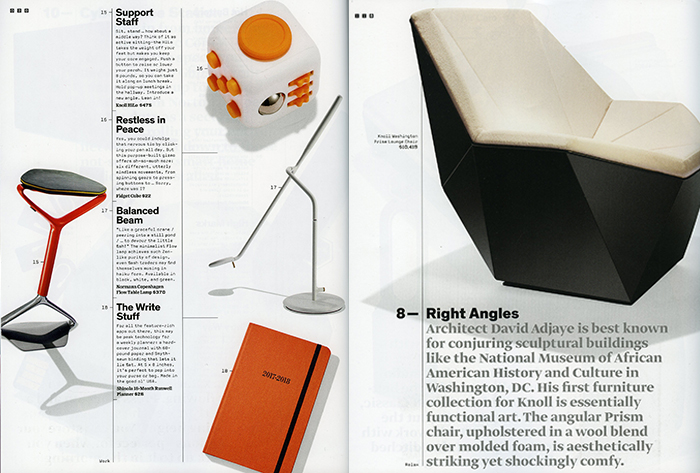 The selected pieces are contemporary examples of designs that resort to the founding Modernist principles that make up Knoll. The Washington Prism Chair and HiLo are both streamlined and simple products that offer utmost functionality. Adjaye's angular lines can be traced back to Florence Knoll's rectilinear geometries, while Murray and Recor's subtle but graceful curves can be seen in the works of Saarinen and Bertoia.
HiLo is set to be available early 2018.