Features
Knoll & Rockwell Group Set the Stage at DIFFA's 19th Annual Dining by Design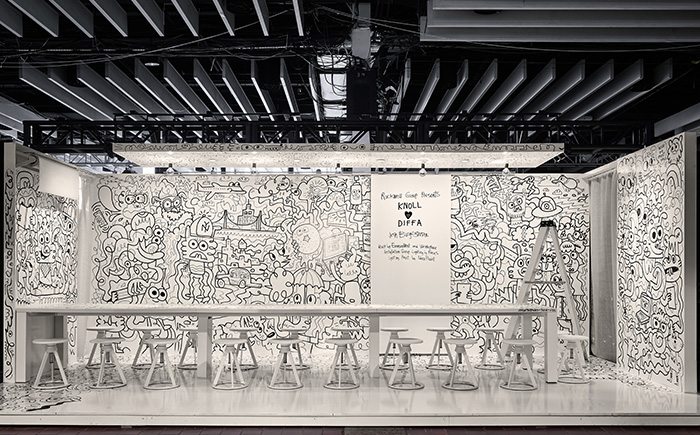 Frank Oudeman 2016 ©
Knoll and Rockwell Group, the interdisciplinary design firm founded by David Rockwell, set the stage for an interactive dining environment that featured live artwork by Jon Burgerman at DIFFA's signature annual event DINING BY DESIGN. The display and artwork was on view from March 17 – 21 during the Architectural Digest Design Show at Pier 92 in New York City.
Conceived of as the "ultimate white board" experience, where every surface was an opportunity to visualize ideas, the space featured 20 white Piton™ Stools surrounding a custom 18-foot-long Reff Profiles™ Table, also in white, within a simple white-walled room with a sliding panel, floating ceiling and raised floor. Rockwell covered all surfaces with IdeaPaint, a dry-erase paint that transforms surfaces into a canvas for collaborative ideation.
The Rockwell Group + Knoll dining space was transformed by live drawing by Jon Burgerman, the New York-based artist credited as a leading figure in the "Doodle" art style. Inspired by New York City, the work of DIFFA, Knoll and Rockwell Group, and the spirit of collaboration, Burgerman drew over the walls, floor, ceiling, table and a roll of white paper that extended over the Reff Profiles tabletop.
DIFFA: Design Industries Foundation Fighting AIDS is one of the largest funders of HIV/AIDS service and education programs in the United States. DIFFA's 19th Annual Dining by Design brought together renowned talent to create dining environments, which set the stage for DIFFA's fundraising for work fighting HIV/AIDS. The event is in its eighth consecutive year.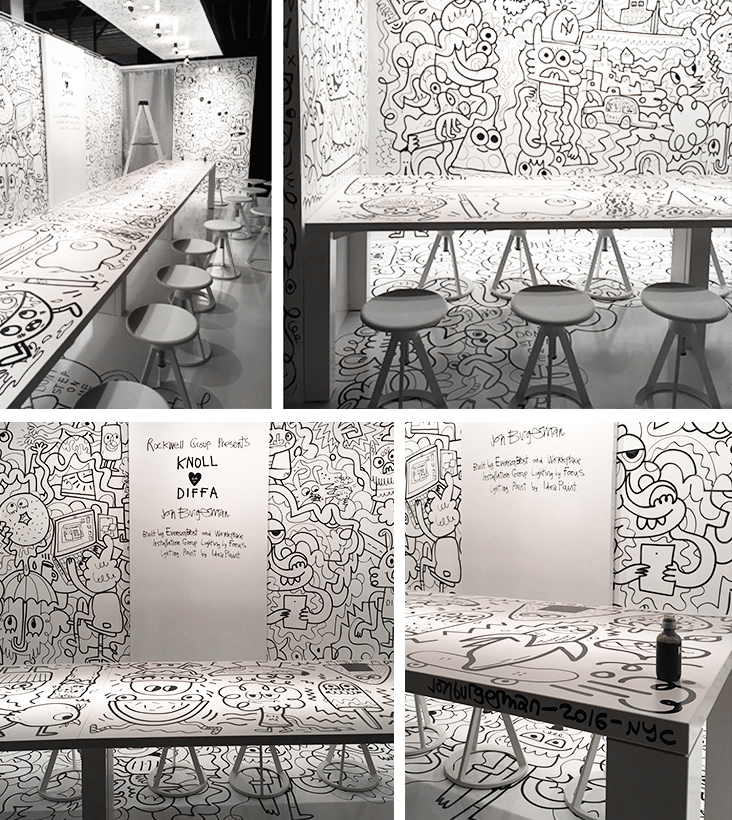 Images by Knoll, Inc.