Features
Mies van der Rohe: The MoMA Collages at the Ludwig Forum, Aachen
An exhibition in the architect's hometown celebrates his penchant for collage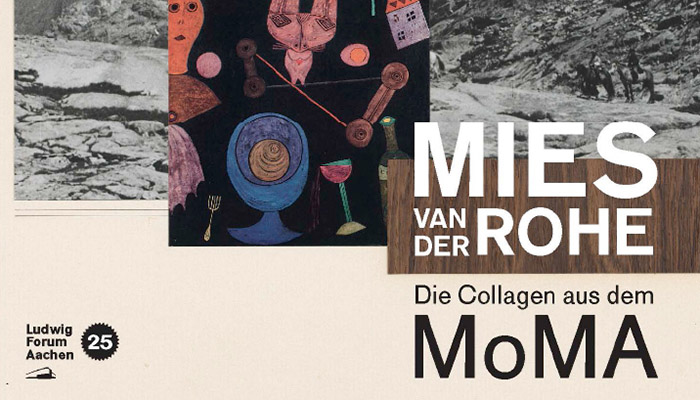 From October 28, 2016 to February 12, 2017, the Ludwig Forum in Aachen, Germany, will host the iconic collages of Mies van der Rohe, on loan from the archives of the Museum of Modern Art in New York. Born in Aachen in 1886, architect Ludwig Mies van der Rohe went on to work at the Bauhaus and eventually in the United States, leaving a trail of exquisite structures and drawings that exemplified his oft-quoted maxim that "less is more."
Of Mies' architectural renderings, the sparse but evocative photomontages produced by his office between 1910 and 1965 have become the most celebrated and widely recognized, and are now on display in Europe for the first time. Influenced by Dada, Constructivism, and De Stijl, Mies drew extensively on these new pictorial techniques to visualize his artistic ideas for competitions, exhibitions, and journals.
With his predilection for collage, in its focus on juxtaposed textures and simple but meaningful shapes, Mies joins a roster of Knoll designers who took the medium to unprecedented ends—from the paste-up planning method of Florence Knoll to the wry photomontages of Herbert Matter. The designers all used the visual language of cut-and-paste to express the rich possibilities of collaboration. "In all his collages, Mies used reproductions of works by artists he was friends with," writes the Ludwig Forum, "those he highly appreciated, whose works he partially actually collected himself, and who obviously had special significance in terms of his aesthetics."
The architect, widely considered one of the founders of twentieth-century modernism and the International style, often designed furniture specifically for his architectural projects, from the elegant cantilevering of the Brno Chair to the timelessness of the Barcelona Collection.
The exhibition will also be accompanied by works of contemporary artists like Thomas Ruff, Mischa Kuball, or Sarah Morris, who have directly engaged with Mies' work or, in some cases, created original works for the occasion. In addition to the exhibition at the Ludwig Forum, the Knoll dealer in Aachen, Mathes, will have a special display dedicated to Mies along with some contemporary products that bear the same mark of refined design, including the Avio Sofa System by Piero Lissoni.