Features
MMQB Announces Knoll New Product Introductions at NeoCon 2016
Knoll in the News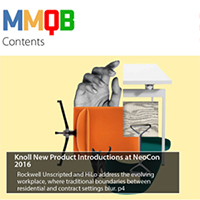 The Monday, May 3, 2016 issue of The Monday Morning Quarterback (MMQB) features the Knoll announcement that it will introduce new products at NeoCon 2016, including designs by Rockwell Group and Box Clever. The products, Rockwell Unscripted™ by Rockwell Group and HiLo™ by Box Clever, "address the evolving workplace—where traditional boundaries between residential and contract boundaries blur, companies thrive by attracting and retaining top talent, and the design of total environments outshines any one particular work element."
MMQB describes Immersive planning, the fifth approach of the company's r/evolution workplace™ planning platform. Immersive planning is an experience-based approach that blurs the boundaries between primary workspaces.
Alana Stevens, Knoll senior vice president, chief marketing officer, is quoted: "Immersive planning creates a variety of experiences in a group-based worspace where the actions of the people themselves define the space. This results in an environment that can transform at a moment's notice and evolve with use."
The press release further describes Rockwell Unscripted and HiLo, as well as additional NeoCon highlights from the company's lines of open plan, private office, activity space, and ergonomic seating.
MMQB prominently featured the story in its News section. Knoll issued a press release on April 25. Read the official Knoll at NeoCon 2016 press release.