Features
Office Insight Features Knoll Installation at Deloitte Montreal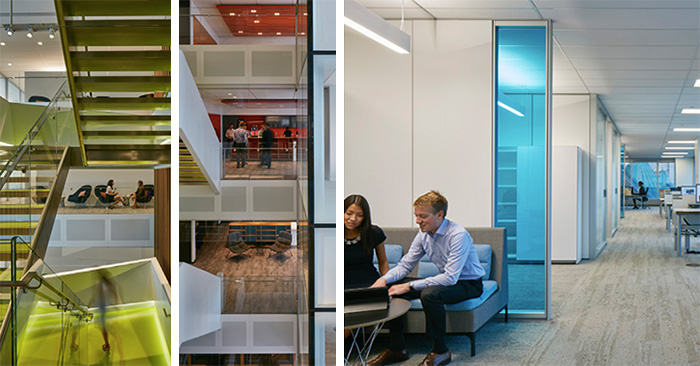 Images of Deloitte's regional headquarters in Montreal, which originally appeared in Office Insight's September 28 issue
The workplace design and furniture publication Office Insight featured Knoll in this week's issue, in a feature on Deloitte's new Montreal headquarters. The 160,000 square-foot space, designed by the London-based design firm Arney Fender Katsalidis, offers employees a varied landscape of workspaces from which to choose. With two distinct "personalities" within the company—tax and audit on the one hand, and consulting on the other—the design challenge was to provide tailored workspaces, meet the needs and expectations of diverse work cultures, and, ultimately, foster innovative and productive work.
Deloitte built a progressive workplace strategy around four areas: visibility for clients, connectivity across all levels, flexibility for future change, and holistic wellbeing. As a key outcome, employees are not assigned to workstations in an "agile workplace" model. Rather, the design firm created 18 workspace types from which Deloitte employees may choose, from sit-to-stand open stations, to quiet refuge spaces, to open seating with a view.
Antenna Workspaces, which acts as a kit of parts and is built around the inherently collaborative table unit, was chosen for its flexibility—not only within each department according to specific needs, but also for the future. At Deloitte, the Antenna system currently manifests in at least three configurations: L-shaped, bench and boomerang.
Womb Chairs and Jehs+Laub Lounge Chairs provide soft seating for Refuge Spaces.