Platner in Paris
The designer's Easy Chair and Ottoman feel at home in Saint-Germain-des-Prés
Saint-Germain-des-Prés, an area of the 6th arrondisement in Paris, has been the epicenter of the French intellectual community since the mid-18th century. After the Second World War, the village abbey served as the staging ground for the movements like Existentialism and La Nouvelle Vague: Its neighborhood cafés were frequented by Jean-Paul Sartre and Simone de Beauvoir, while the cloistered side streets doubled as movie sets for François Truffaut and Jean-Luc Godard.
Today, the neighborhood is more quaint, home to families and lifelong Parisians. For this four-floor townhouse, the principle challenge lay in creating a sufficiently contemporary interior while cultivating a sense of history. The primary residence of the owner, the site also serves as a hôtel particulier during the summer tourist season, catering to itinerant travelers and guests.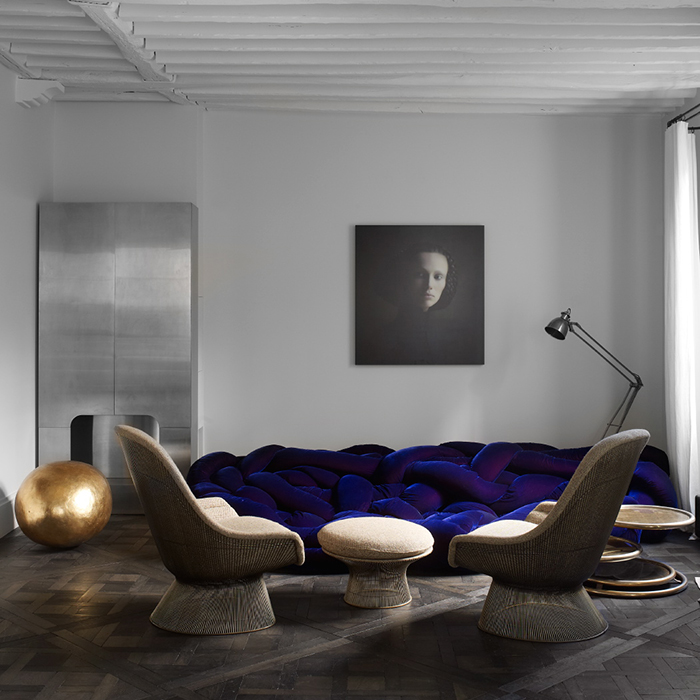 Platner Easy Chair and Platner Ottoman in Saint-Germain-des-Prés, France. Photograph by Richard Powers.
"I love the rich mix of furniture, pictures, periods and materials."

—Elodie Sire
"There was a lot of work to do," remembers Elodie Sire, the project's designer. All four floors were cleared out prior to renovation so that the ceiling and walls could be stripped back to reveal the original beams and stucco. Everything was painted white to amplify available light, while the dark-hued parquetry provides a delicate counterpoint. Set against this neutral palette, furniture assumes the starring role. Two Dynamic-upholstered Platner Easy Chairs—designed by Warren Platner in 1966 and reintroduced by Knoll in 2012—share a single Platner Ottoman, which takes the place of a traditional coffee table. The Platner Easy Chairs fit "the rich mix of furniture, pictures, periods and materials," which Sire says of the living room arrangement. Behind them, the purple-blue velveteen fabric of the interlaced couch forgoes the room's claim to minimalism as brushed-aluminum accents round out Sire's dexterous play of contrasting textures. Notable for its lack of accoutrements, the clustered sitting area cultivates a feeling an intimacy, spurring conversation.
Project Credits:
Design: d.mesure
Photography: Richard Powers