Features
WMF Modernism at Risk Exhibition Opens in Las Vegas
Show Explores Role of Designers in Preserving Modern Landmarks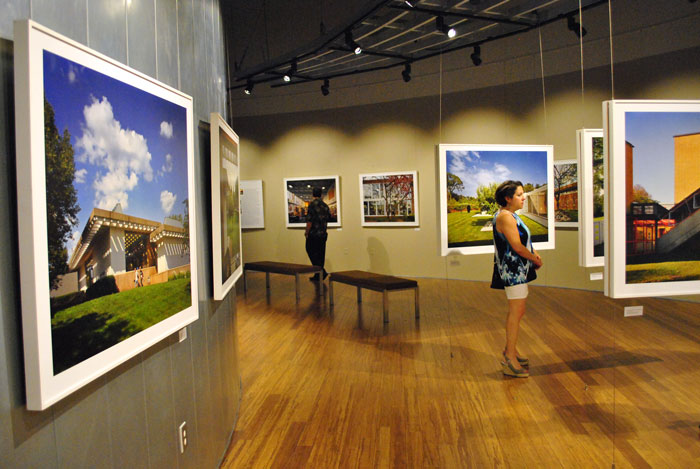 Image courtesy of the World Monuments Fund
Modernism at Risk, an exhibition by the World Monuments Fund (WMF) Modernism at Risk program, opened this month at Big Springs Gallery at Springs Preserve in Las Vegas, Nevada, and runs through September 6. The exhibition explores the advocacy role of designers and architects in preserving modern landmarks. It pairs large-scale photography by the acclaimed photographer Andrew Moore with five preservation case studies: ADGB Trade Union in Bernau, Germany; the A. Conger Goodyear House in Old Westbury, New York (which the WMF saved from demolition in 2001); Riverview High School in Sarasota, Florida; the Grosse Pointe Public Library in Grosse Pointe Farms, Michigan; and the Kent Memorial Library in Suffield, Connecticut. The exhibition also highlights the Zonnestraal Sanatorium in Hilversum, The Netherlands, which received the World Monuments Fund/Knoll Modernism Prize in 2010, and Hizuchi Elementary School in Hizuchi, Japan, which received the Prize in 2012.
Modernism at Risk is an initiative of the World Monuments Fund, with founding support from Knoll, Inc. Established in 2006, the program works to address threats to modern architecture across the globe. Modernism at Risk has been traveling since 2009. Before opening at Big Springs Gallery, the exhibition was on view at The Art Institute of Tampa Gallery, the Preservation Foundation of Palm Beach, AIA New York Center for Architecture, the University of Michigan, Ann Arbor, and the George Brown School of Design in Canada.
The World Monuments Fund/Knoll Modernism Prize was established in 2008 to recognize innovative design solutions in the preservation or enhancement of modern landmarks. The prize is awarded biennially. The 2014 World Monuments Fund/Knoll Modernism Prize was awarded to the Finnish Committee for the Restoration of Viipuri Library in Vyborg, the Russian Federation. Nominations for the 2016 Prize will be open in winter 2016.
Exhibition Details
July 3, 2015–September 6, 2015
Big Springs Gallery, Springs Preserve
10 AM – 6 PM
333 South Valley View Boulevard
Las Vegas, Nevada
702 822-7700