Features
Third Knoll-Sponsored Harvard Design Studio Publishes Work Environments: Space Work
Harvard University's Graduate School of Design (GSD) has released Work Environments: Space Work, a comprehensive report from the third and final of three studios sponsored by Knoll. Work Environments "examines, through research and design, the disruptive transformations that occur globally in environments where work takes place." The studios, the first of which took place in the Spring of 2014, the second in the Spring of 2016, and the third in the Spring of 2017 were all lead by Florian Idenburg, a founding partner of architecture firm SO-IL.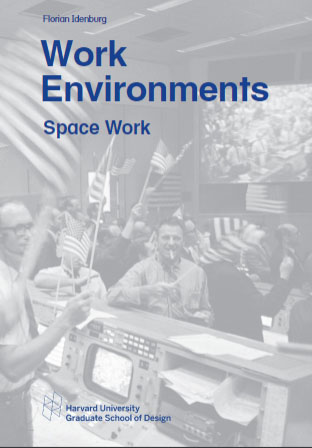 For the third edition, the studio focused on the opportunities and restrictions of the government workspace, specifically on the spatial and organizational structures of the National Aeronautics and Space Administrations (NASA).Known as one of the country's epicenter of innovation and boundary-breaking science, NASA is just as much defined by its' failures as it is by its' wildest achievements. Considering the multi-faceted identity of government work, few agencies better embody the good that government can do and the challenges facing its accomplishments. Drawing on 14 weeks of research on NASA's multiple workspaces, Idenburg notes, "Ultimately, communications between different work environments, and through the interfaces created to operate and manage assemblies in space, define a mission's success."
For the sake of minimizing extraneous complexities, the studio focused on a single NASA space, the Jet Propulsion Laboratory (JPL) located in Pasadena, California. This report presents ten speculative projects that attempt to build on JPL's innovative legacy, "exploring the history of both its physical production and scientific discovery, and the vital role of failure in its conceptual development process," writes Idenburg. The ten projects can be categorized under five key topics of investigation: knowledge, as it relates to constant analysis and information processing; enterprise, as it relates to being both a catalyst for and a competitor against privatized companies; politics, as it relates to the work environment as an alternating domain of collaboration and secrecy; lifestyle, as it relates to the work environment as a testing ground for methods of coping in outer space; and survival, as it relates to NASA's role in addressing climate change and exploring alternate environments to maintain human life.
Benjamin Pardo, Knoll director of design, participated in the studio as a guest critic. "Space Work...focused on the often-marginalized government workplace, and the environment of the National Aeronautics and Space Administration in particular," noted Pardo. In the report's afterword Pardo writes, "Today, the imperative for the workplace to serve a great variety of people and en even broader variety of of tasks sets the stage for immersive environments with an emphasis on the workspace as an experience."
The Spring 2017 publication, Space Work, can be viewed here, while the two prior publications can be viewed below in the "Related Articles" section.