New Products for the Way
You Work
Dial in your workplace with new height adjustable desk options, workstation enhancements and innovative ideas to delineate space. Bring an extra edge to your work environment, and get the advantage now.
As you look to optimize your office, consider these 2019 introductions and enhancements. Discover enhanced Dividends Horizon panel capabilities, check out the ever-growing k. collection with highlights from k. bench and k. stand, and learn about expanded material and finish options for the Rockwell Unscripted Creative Wall.
New & Expanded
The k. collection
---
Introducing k. bench
Maximize your wellbeing at a lower price point. k. bench is a straightforward, height-adjustable benching systems, offering a clean, compact workstation solution with intuitive adjustments.

Slim upholstered, laminate or veneer screens offer variable or fixed visual privacy while managing all of your power and cables.
---
k. stand Enhancements
New base options are now available for the straightforward height-adjustable table - k. stand. These include T-Leg and 90/120 Degree Corner bases. More intuitive switches, additional cable management and upgraded finishes are also new to k. stand.
Leverage these enhancements to create a height-adjustable solution that fits the aesthetic and adapts to the technology needs of your workplace.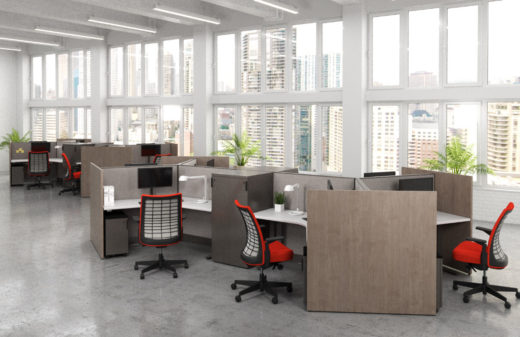 Enhanced
Dividends Horizon Panels
---
A champion of versatility gets an upgrade with new freestanding panels and finish options. With Dividends Horizon freestanding panels you can have robust power and cable management with the minimal aesthetic of another Knoll workstation system.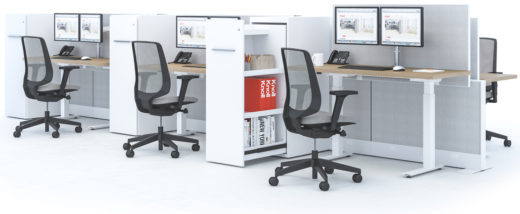 New continuous panels inserts allow you to create a uniform aesthetic across the workplace, while recessed add up glass - also new - provides just the right amount of access to natural light.
New Finishes
Rockwell Unscripted
Creative Wall
---
Create freestanding rooms, give shape to open spaces or simply delineate your space, Creative Wall is poised to turn your space into a streamlined work environment.
New fin options, including glass, markerboard and porcelain, add a whole new range of possibilities with Creative Wall. Add a refined level of transparency with glass or encourage more collaboration with markerboard writable surfaces.
Learn More
With a host of new products and enhancements in 2019 - and more on the horizon - start rethinking your workplace. Cut back on clutter, incorporate a coherent aesthetic and plan for the future of work.