Design Pulse
---
Knolling France
In 1938, Hans Knoll founded H.G. Knoll Furniture Company with the intent of bringing the Modern ideals championed at Bauhaus in Weimar, Germany to America. A third-generation member of a German furniture manufacturing family, Hans immigrated to the United States in search of a new audience. Together with Florence Schust Knoll, who joined the company in 1941, Hans developed an identity for Knoll defined by the clean lines and tubular steel of the Bauhaus as well as the craftsmanship and organic forms of Cranbrook – a synthesis that helped shape the American Modern movement.
With a complementary skill set – Hans possessed a business acumen and Florence an unparalleled sense of style – the two successfully grew their nascent furniture company in America. Their brand ultimately became a symbol for an American modernism in the post-war corporate landscape of the twentieth century. Years later, Hans received his first opportunity to bring back a new kind of modernism to Europe.
Knoll International
In 1951, Hans Knoll accepted an offer from the U.S. State Department in Europe to furnish ambassador housing. Up until this point, a war-torn Europe had not only forced the closure of the Bauhaus, but also led many of the its leading figures - Ludwig Mies Van der Rohe, Marcel Breuer, Walter Gropius - to flee to America. Here, their ideas flourished, playing a significant role in shaping the post-war American Modern movement.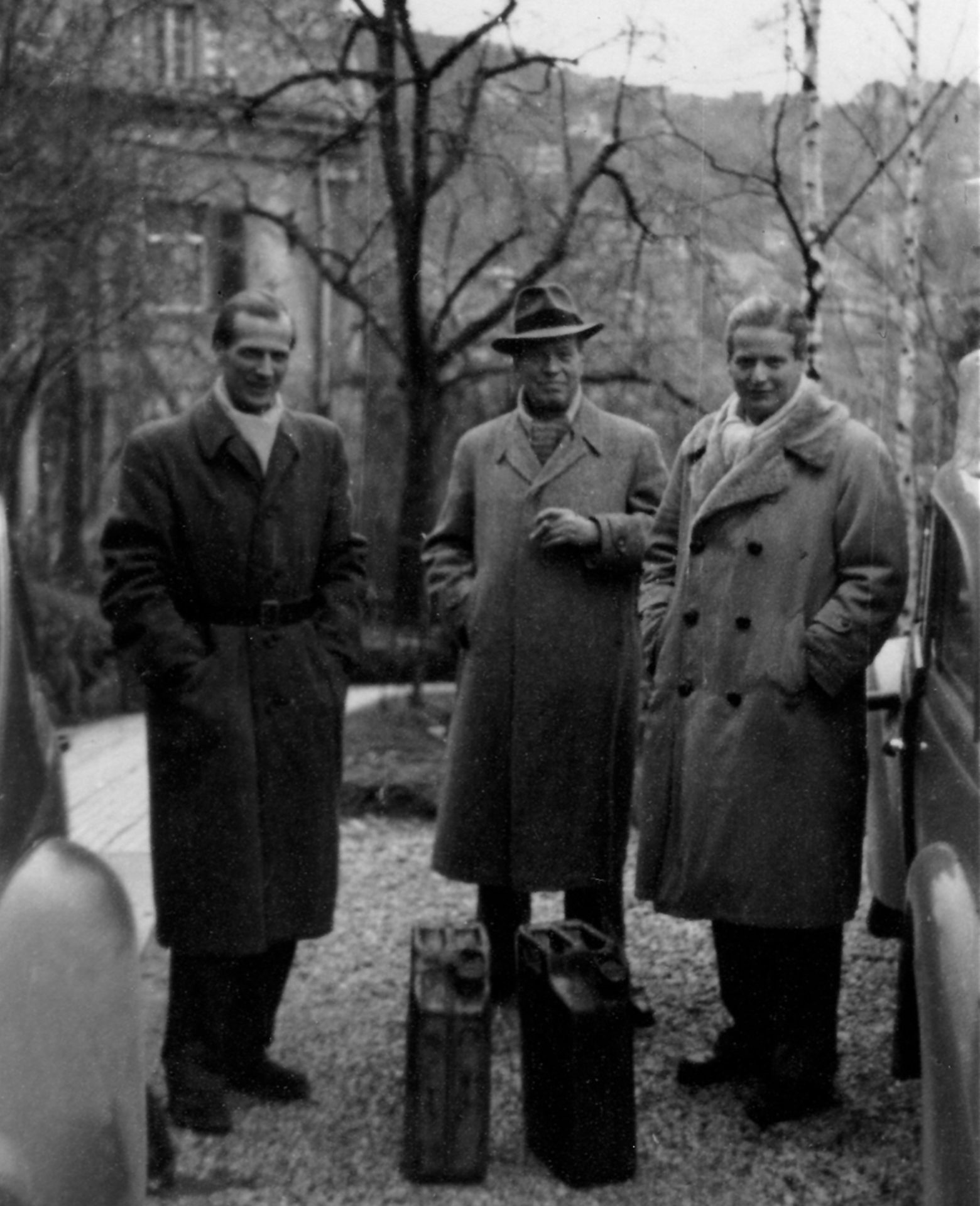 From left to right: Robert, Walter and Hans Knoll in Stuttgart, Germany.
As open floor plans, simple geometries and new, industrial materials became more widely accepted in the commercial and residential spaces of post-war America, Europe continued to fill its spaces with traditional, highly-ornamented styles, from Louis XIV to Queen Anne. Hans and Florence sought to upend the traditional interiors found across Europe.

To support its work with the U.S. State Department, Knoll Associates established its first subsidiaries in Paris, France – the taste-making, cultural center of Europe – and in Stuttgart, Germany – a familiar territory to German-born Hans. Upon arriving to Paris, Hans, "clearly understood that success in Paris translated to symbolic capital, a priceless asset for any manufacturer of modern furniture," writes Cammie McAtee and Fredie Flore, authors of The Politics of Furniture. Hans and Florence were equally drawn to the allure of Paris, where the traditional styles of furniture remained unchallenged.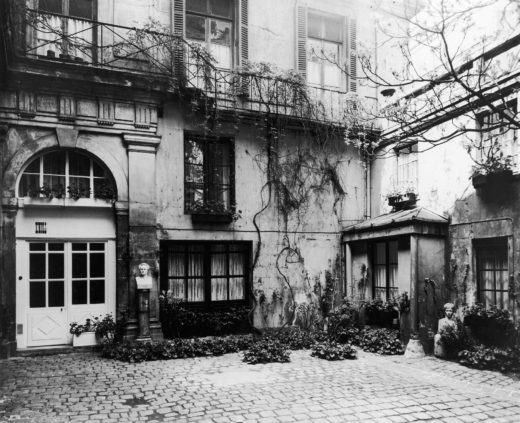 A Parisian Showroom
Knoll Associates established its first international showroom on Paris' Left Bank at 13, rue de l'Abbaye in the 6th Arrondissement. A stomping ground to the artists and intellectual elite during the period, the neighborhood distinguished the Knoll showroom from other traditional Parisian furniture manufacturers. 6th Arrondissement locals were affluent, daring and likely to embrace something new.
Florence designed the space herself alongside Charles Sevigny, who, with his partner Yves Vidal, developed an aesthetic identity that brilliantly juxtaposed Knoll design with traditional French interiors. The garden-fronted showroom exhibited furniture as if the space were a local apartment, incorporating modern artworks that today are considered masterpieces. Radically disruptive to the classical interiors of the time, Florence and Sevigny's showroom design emphasized the livability and functionality of modern furniture. The Knoll Paris Showroom was the first step in a new international identity for Knoll.
To enter the small showroom was to penetrate the petite monde Knoll, which was distinct from everything else that existed.
Yves Vidal joined Knoll Associates in 1952 and helped lead its growth abroad. With Vidal at the helm, the Knoll Paris Showroom became a social hub for the sophisticate, hosting book launches, art exhibitions and parties – all the while showcasing Knoll design. Reflecting on his experiences at the showroom, designer Pierre Perrigault commented, "To enter the small showroom was to penetrate the petite monde Knoll, which was distinct from everything else that existed."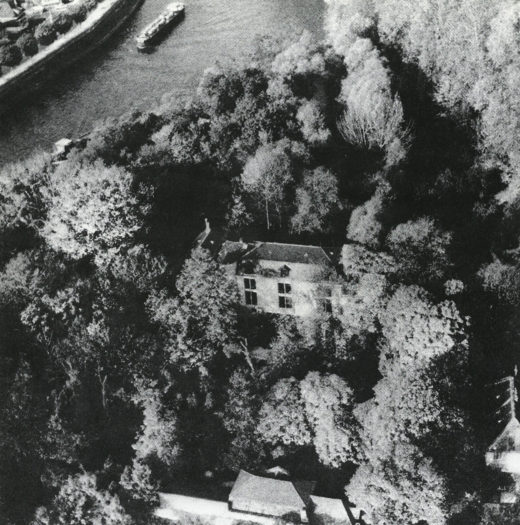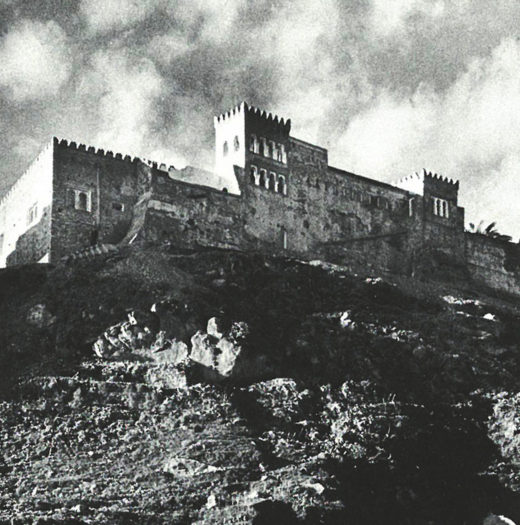 Yves Vidal & Charles Sevigny
Following the passing of Hans Knoll in 1955, Florence appointed Yves Vidal as the President of Knoll International. Despite his lack of expertise – Vidal, a native Frenchman, studied law and medicine before working as a chemist and assistant to fashion photographer Richard Dorner – Florence believed he possessed the assets to catapult Knoll forward on international stage.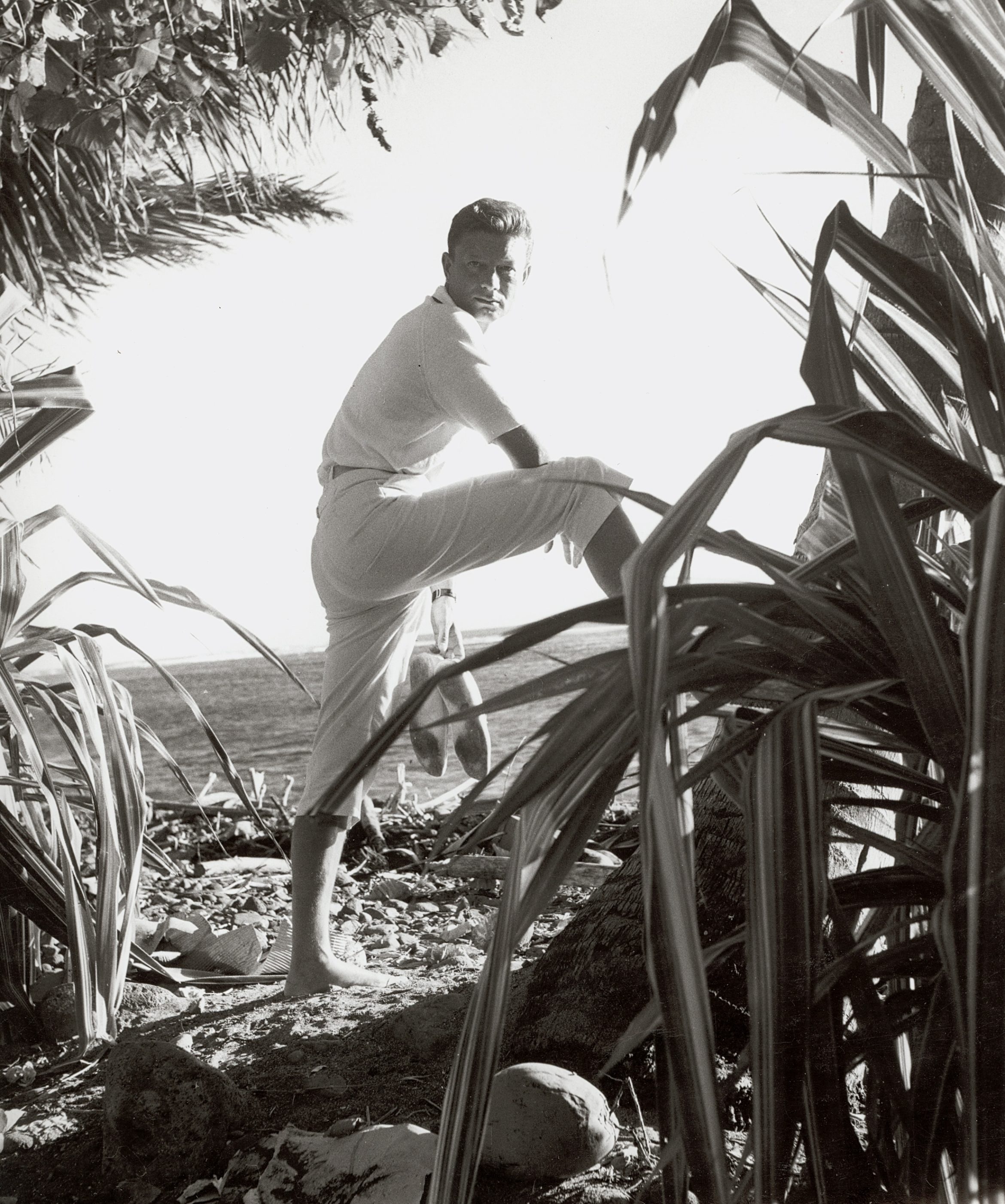 Yves Vidal.
Vidal and Sevigny, who at the time worked for the U.S. State Department acquiring and renovating ambassadorial residences in Europe, together shaped the aesthetic of French post-war interiors. Sevigny admired Knoll furniture and turned to Vidal when he needed to furnish a new embassy or official's home. In a period of post-war rebuilding, the duo introduced Knoll to the avant-garde world of luxury.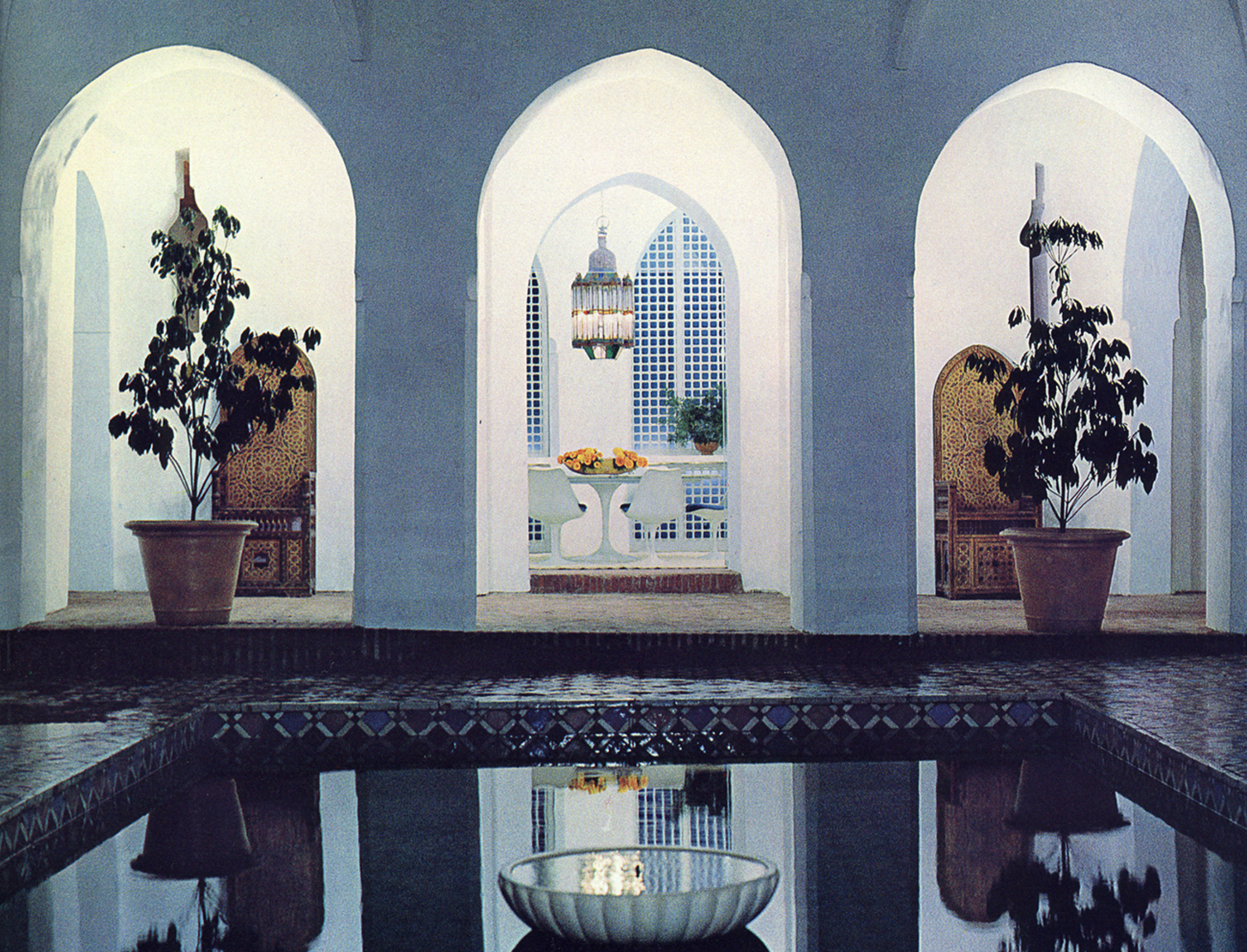 A Saarinen dining vignette staged in York Castle.
The New Look
Over the next fifteen years, Vidal and Sevigny demonstrated a remarkable ability to merge historic elements with modern Knoll designs – forging an unmistakable international identity. Vidal used his two homes – York Castle in Tangier, Morocco and Le Moulin des Corbeaux in Saint-Maurice, France – as living, breathing showrooms. He composed spaces where modern and historic furniture designs coexisted in a colorful, eclectic and luxurious interior.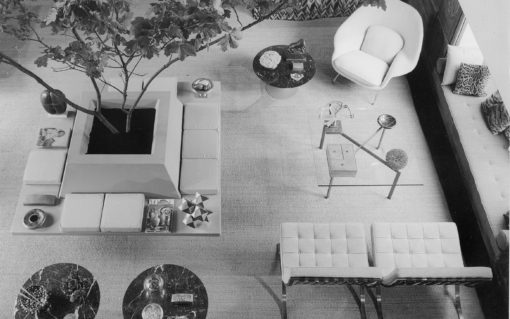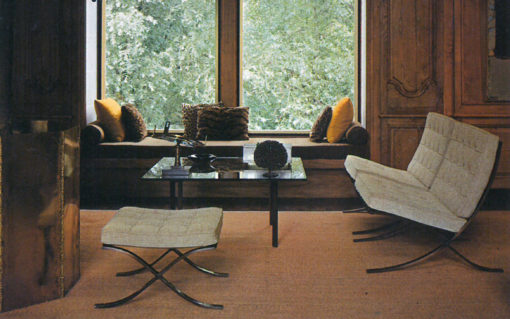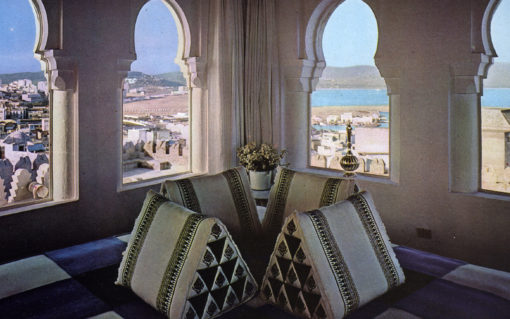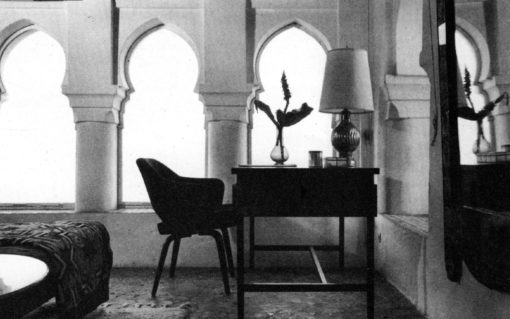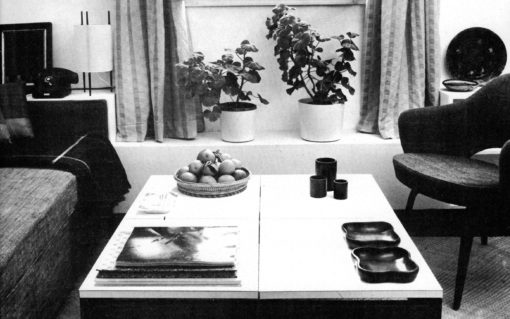 While anything but modern, Vidal furnished his fifteenth century Parisian country home almost exclusively with designs by Mies, Saarinen, Platner and Bertoia. Innovative materials and clean geometries injected a new vitality into a space dominated by dark, ornamented woods. "It was a revelation," Vidal recalled of its reception, "For all the designers, architects, decorators…it was unheard of at the time."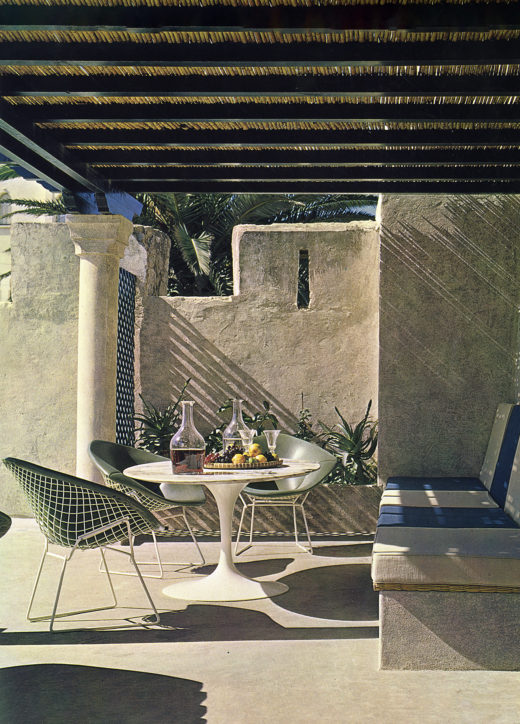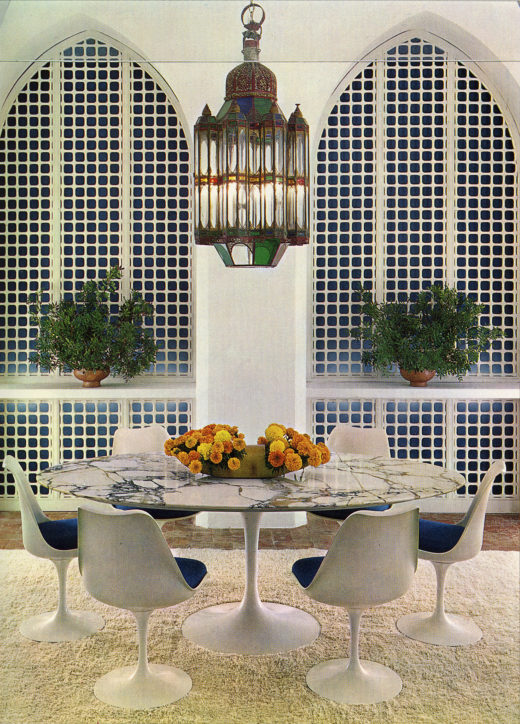 Vidal's second home, an ancient castle remodeled in the early-1960s, represented the nexus of old and new. He placed Schultz and Saarinen pieces against a backdrop of traditional Moroccan architecture. The juxtaposition between the organic vocabulary of Knoll designs and the pointed Moroccan arches was groundbreaking.

In both York Castle and Le Moulin des Corbeaux, Vidal sought to sell a new notion of glamour – one that complemented rather than clashed with an already existing decorative architecture.