Original Design: Saarinen Pedestal Collection
Shop The Saarinen Collection
Design Pulse
---
Original Design: The Pedestal Collection
Eero Saarinen's objective was simple: he wanted to "clear up the slum of legs" underneath tables and chairs. An astute and critical design mind, Eero went through extensive research, revisions and scale-modeling to achieve his goal, only to conclude that the solution to the design problem was simplicity itself. The result is Saarinen's Pedestal Collection designed for Knoll in 1958: a visually pure, sculptural and timeless collection that can be found in the inspired interiors of then and now.
Shu and Eero
Eero Saarinen and Florence "Shu" Schust met during their time studying at the Cranbrook Academy of Art, a place intended for artists to live, learn and collaborate. Florence was the architectural protégé of the school's director and Eero's father, Eliel Saarinen. She became an extended member of the Saarinen family and developed a brother-and-sister-like bond with Eero that would last the rest of their lives.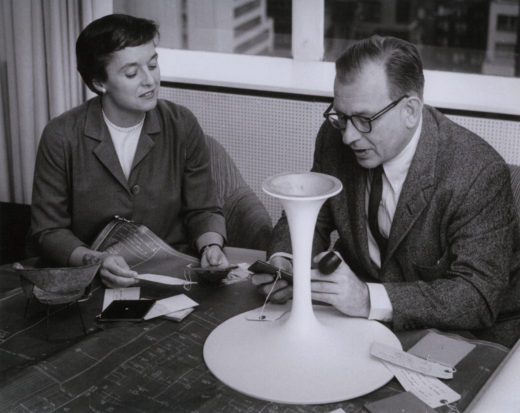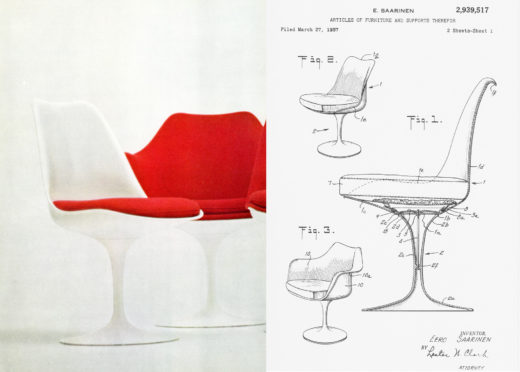 We have chairs with four legs, with three and even with two, but no one has made one with just one leg, so that's what we'll do.
Exemplary of the collaborative discourse that existed at Cranbrook, their relationship carried into their later professional work as well. When Saarinen sought to pursue his innovative designs and Florence was leading a burgeoning furniture company, Knoll was the natural partner to execute his groundbreaking ideas.
The Pedestal Collection
"We have chairs with four legs, with three and even with two, but no one has made one with just one leg, so that's what we'll do," declared Eero to Florence in 1955 of his intention to design a groundbreaking collection for Knoll. Shortly thereafter, a collection of dining, coffee and side tables; arm and side chairs; and stools crafted from Saarinen's specifications became a reality. Each detail – from the flawless selection of marble to the unmistakable profile of the pedestal base – reflects Saarinen's unique Modernist vision.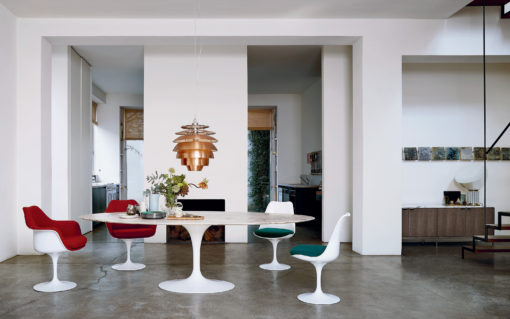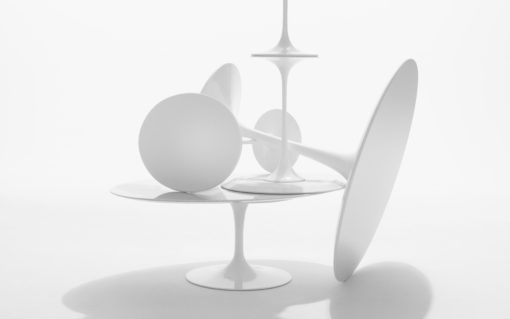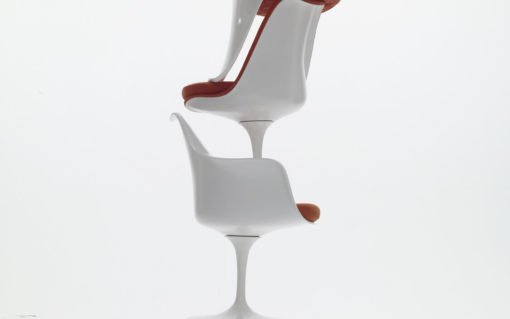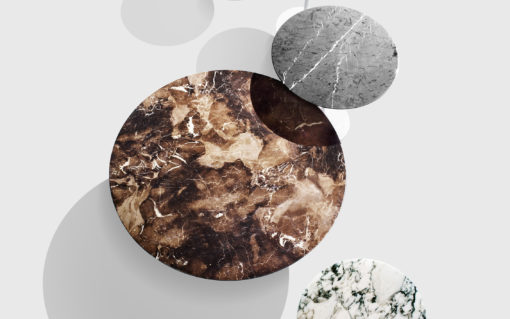 A Master of Modernism
Eero Saarinen believed in total design. Born in Finland to the architect Eliel Saarinen and textile designer Loja Saarinen, Eero was taught and surrounded by design his entire life. "My father always used to say that from an ashtray to a city plan, everything is architecture," reflected Saarinen, "In working out a design, you always have to keep thinking of the next largest thing – the ashtray in relation to the tabletop; the chair in its relation to the room; the building in relation to the city."
Among the greatest architects and designers of the twentieth century, part of Saarinen's success laid in his unique ability to fuse elements of sculpture, design and architecture into one. Before studying architecture at Yale University and returning to Cranbrook to teach, Saarinen studied sculpture at the Académie de la Grande Chaumière in Paris from 1930 to 1931 and it is often alluded to that it was his first love. "After all, Eero was first and foremost a sculptor," as Florence loved to say.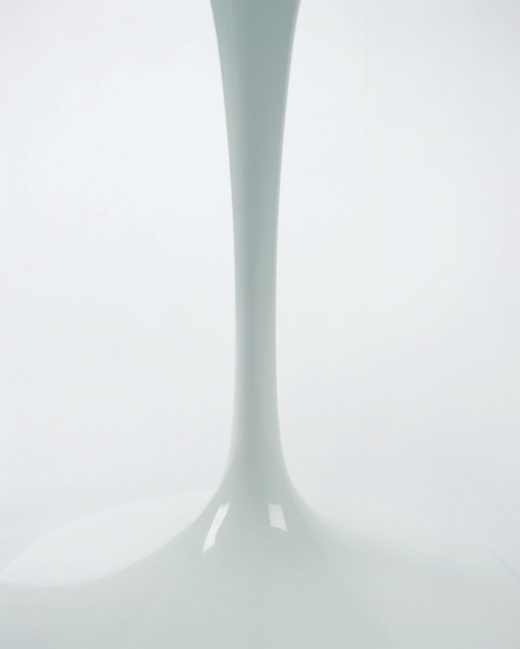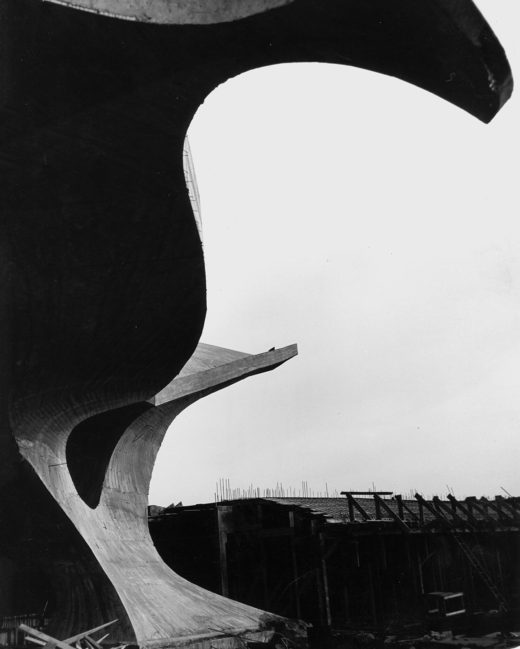 The influence of sculpture on his work is clear in his most renowned works of both architecture and object design: the TWA Flight Center, the St. Louis Gateway Arch, the CBS Headquarters in New York and, perhaps the perfect representation of sculpture and architecture's convergence, the Pedestal Collection for Knoll. A leader of the second generation of Modernists, Eero helped boldly shape our contemporary landscape into what we know today.
The Production
A triumph of art and technology, the Pedestal Collection synthesizes Saarinen's sculptural approach to form and material with his understanding of architecture and total design. "One of the peculiar and interesting things about furniture is that it combines many of the challenges of architecture with the problem of mass production," mused Saarinen on his approach to furniture design.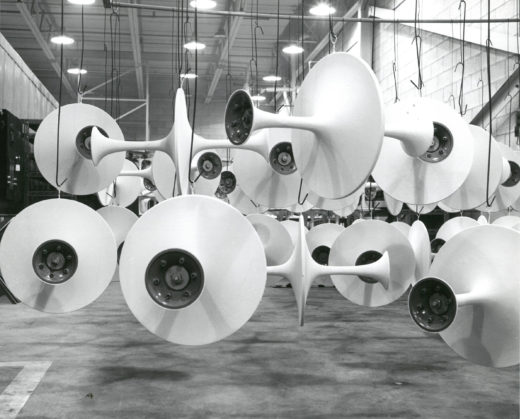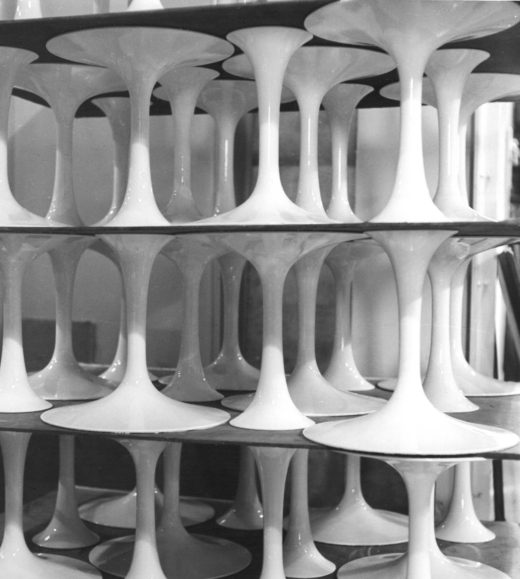 Together, Saarinen's artistic vision and Knoll's Bauhaus-inspired origins solved for artfully crafted furniture in an industrial age. The Pedestal Collection is a result of Saarinen's masterful ability to manipulate material into a singular, gravity-defying form – a reality that would not have come to fruition without the support of Knoll's innovative production techniques.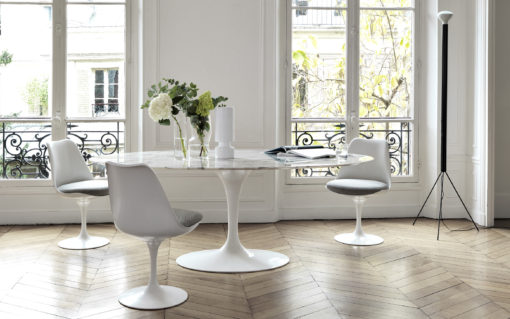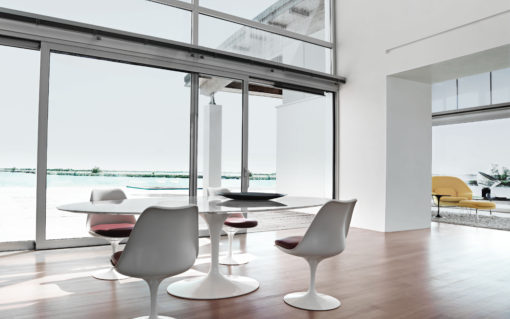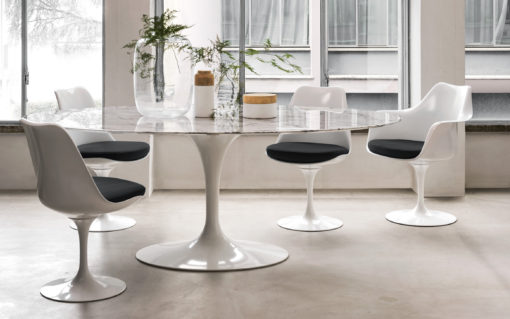 An Enduring Design
Sixty years later, the innovation and visual purity of Eero Saarinen's groundbreaking furniture designs remains unparalleled. Saarinen's Modernist vision, illustrated beautifully and exemplified by the Pedestal Collection, endures, informing any space in which it is set with its inherent timelessness and important place in design history.