LIVING WITH
In Sisilia Piring's Homes, Every Design Has a Story
Light, color, and countless estate sales have inspired Sisilia Piring's Southwest and Southern California homes—the chosen milieu for a roving photographer who travelled 44 states in 2019, collecting and capturing American beauty in a vintage camper. Piring, her husband, and two children have traded their snug 1966 Terry travel trailer, fondly named Lulu, for more generously sized homes in Los Angeles and Albuquerque. In New Mexico, their home incorporates vintage furnishings from their travels out west, imbued with stories and memories of their time on the road. 
We visited Piring in Albuquerque, where she spoke with us about choosing your essentials and designing for spaces of every size.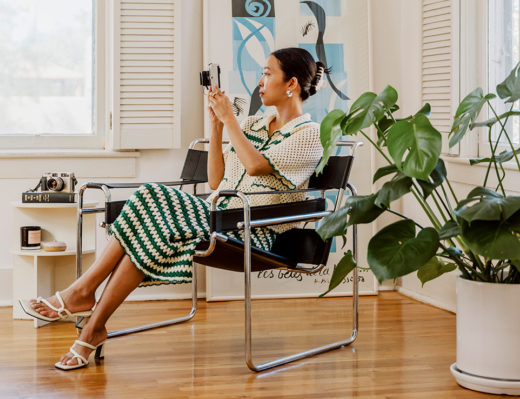 Tell us about your background. Was design an important part of your childhood home? How did your upbringing influence your taste in design?
I was born in Indonesia, but grew up all over LA. My mom is a fashion designer and she had her own boutique, so fashion was big in our house, even though I was a tomboy. My parents picked up the habit of going to estate sales to furnish our home and that's when the wonder of vintage furniture began for me. I was really drawn to how a great sculptural piece can elevate a minimal space. My favorite part was seeing how the homes were decorated—and finding a steal. I remember once my dad found a set of Tulip chairs and Saarinen table and they were my absolute favorite thing in our living room. I own two Saarinen tables now!
You split time between Los Angeles and Albuquerque. How do the West and the Southwest inspire your home?
I think my home is more inspired by the West than the Southwest, especially because of how it was remodeled on the inside. We live in a wonky Victorian home from the 1800s that's been remodeled to have a modern West coast feel that still retains a Victorian charm.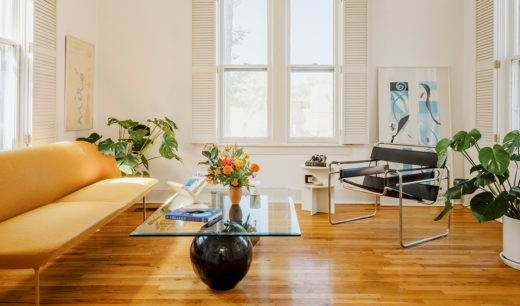 How have your travels influenced your design sense? How does the road enter your home?
I like collecting things found during our trips. A piece holds more of a special meaning when it tells a story of where we got it and how we discovered it. In that way, my style is a mix of just about everything—and most things that enter our home are vintage.
You did some traveling in a vintage camper. What elements did you prioritize to do the most with a small space?
The elements that we prioritized had to be necessities, but we also wanted a few kitschy objects that matched the vintage vibe of the camper like a macrame wall hanging, a small Matisse poster, and gingham tablecloths.
I'm inspired by what's already in the raw space. I look at the light in each space and the feeling I get from it to inspire what type of mood I want to create within it.
You mentioned that you sold many of your things before you hit the road. What choices did you make to distill what you own down to only the most essential objects?
This was the toughest part. You don't realize how much stuff you own until you move or, in our case, until you're completely downsizing to a space as big as a large van. We didn't have the luxury to own too many of the same things, so everything had to be exact. For instance, we only saved a set of four cups, plates, and bowls because there are four of us. We also had to take weight into consideration, because that all matters when you're pulling a camper behind your car: There's a tow capacity. And we left for our trip in January, so we had to make sure we had coats and whatever we needed that would match the season but once we got on the road and as the weather transitioned, we donated our clothes and thrifted new ones that matched the changing weather. 
You balance color and light to create preset filters inspired by different environments. How do you apply this creative philosophy to your space?
I'm inspired by what's already in the raw space. I look at the light in each space and the feeling I get from it to inspire what type of mood I want to create within it. For instance, when we lived in Joshua Tree, we lived in a 1970s home that had a circular fireplace in the middle of the living room that evoked a chalet. We kept with that theme in the living room and added vintage elements that complemented this unique feature.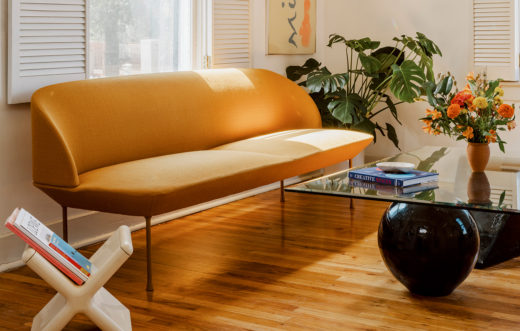 Tell us about Knoll in your home. How did you come to have Cesca and Wassily chairs—were you aware of them and always wanted one, or did you stumble across them?
Most of the furniture and décor in our home has been thrifted or bought second hand from yard sales. We found the Cesca chairs at the home of an architect in Orange County. He had the most amazing furniture with original stickers still attached. We found 12 original Cesca chairs, although most of the cane had to be replaced. 
The Wassily chairs we found in San Diego at a home of a darling older couple with exquisite furniture. We had originally expected to be there for about 5 minutes to pick up the chairs but ended up staying for about 2 hours as they shared their life stories. It was such a special meeting. They even gave us their phone number so we could call them and come visit next time we were in town. I love that these furniture pieces all have a story of how they came to be in our home and love that I know who their previous owners were.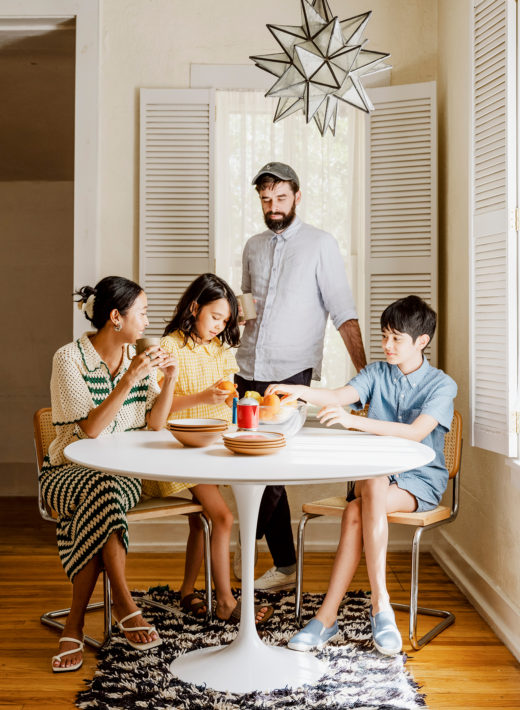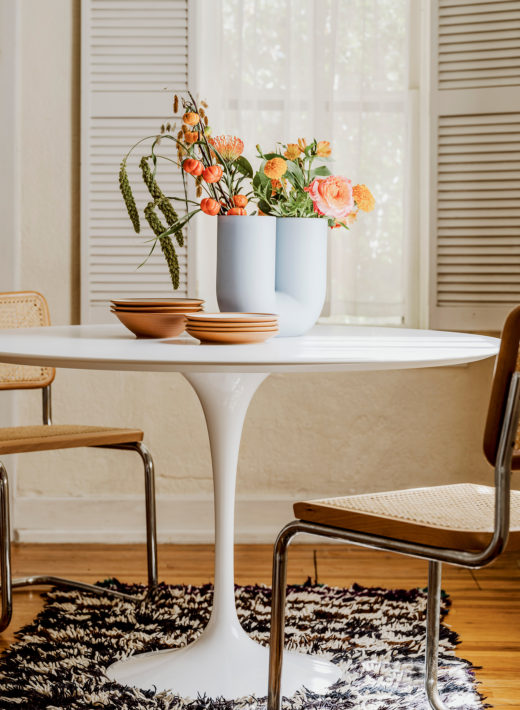 What rooms or designs bring your family together? Which room feels most like "home" to you?
Our main bedroom is where everyone tends to gather, in the morning and in the evening especially. The first thing the kiddos do in the morning is come to our bedroom and cuddle with us and on weekends we have a slower morning.
It's really cozy when everyone is in there. Our bedroom also gets good light from different directions and our dog lays in the sun like a cat. At the end of the day, we sit on the bed and share stories and it feels so special to end the day like that.
Photography by Max Burkhalter