Design Pulse
---
Schultz:
Rain or Shine
Half a century outside and still shining, the 1966 Collection is a testament to Richard Schultz's conviction that outdoor furniture should be enhanced by the elements.
Launched in March of 1966, The Leisure Collection – now called the 1966 Collection – was a "breath of fresh air" for the modern design community. Richard "Dick" Schultz had successfully upended the paradigm for patio furniture by positing that rather than weather the elements, "outdoor chairs and tables should be enhanced by them – wind, sun and rain should pass freely through. They should breathe."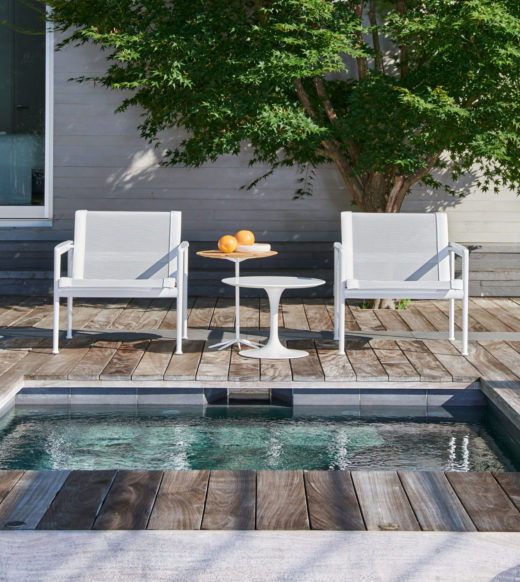 Richard Schultz, a sculptor as well as a designer, joined Knoll in 1951 – a formative time for the company and the young designer. His first assignment was to work under Harry Bertoia on his now-iconic wire collection. Schultz, who helped design the jigs and ancillary production equipment necessary to produce Bertoia's designs, considered "those years more valuable than most of the schooling I've had."  

When the Bertoia Collection debuted in 1952, Schultz submitted his resignation, imagining he would never again be part of something of equal interest or importance. Recognizing the young designer's talent, Hans Knoll asked Schultz if he would consider a position overseeing production of the new collection in Europe. Schultz, whose knowledge of the process was second only to Bertoia himself, agreed, and moved on to his second role at Knoll as a production supervisor for the brand's growing operation in Europe.
Outdoor chairs should be enhanced by the elements - wind, sun and rain should pass freely through. They should breathe.
In 1958, once again considering moving on from Knoll, Schultz received an envelope from Florence Knoll, who had recently retired to Florida. The envelope contained rusted bolts and the letter read, "Why can't we make a chair that actually works?"
The rather terse question signaled an opportunity and a new frontier: modern outdoor furniture that would withstand the elements, season after season. Determined to satisfy Florence Knoll's request and solve the problem, Schultz set about designing an outdoor line of patio furniture that would be both practical and aesthetically clean. It would have to be consonant with rigorous design standards, be equally appropriate both indoors and out, and be as wear and maintenance free as the latest materials would allow. And most importantly, it would have to disrupt a market which was accustomed, "to puddle-collecting, joint-rusting, hot-seat upholstered products."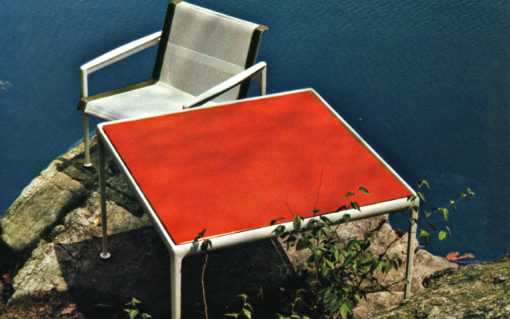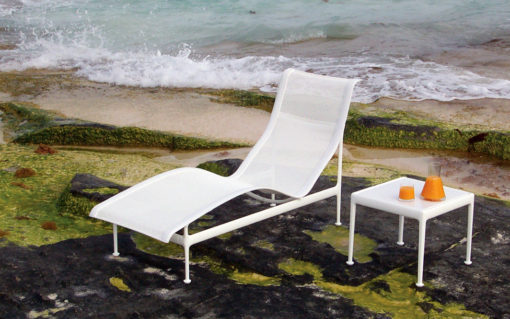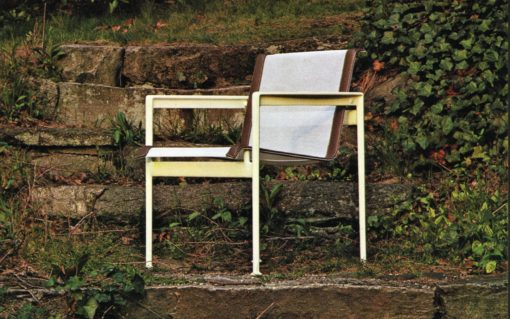 "Most outdoor furniture in those days was designed to look as if it was designed before the French Revolution," Schultz explained of the cultural context, "with stamped-out metal, bunches of flowers and leaves."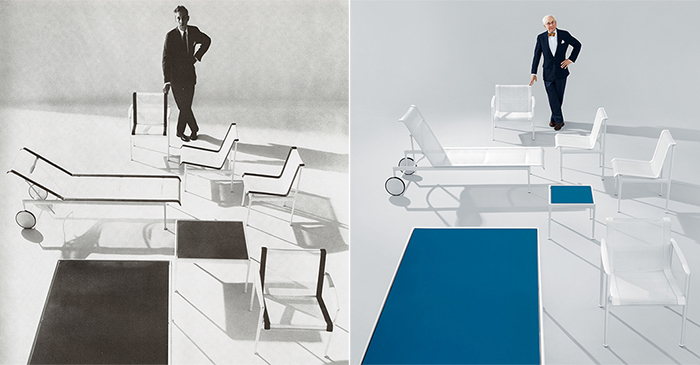 After field-testing many available materials which proved unsatisfactory, Schultz began to experiment with more durable, weather-resistant materials. Numerous iterations later, he arrived at a rough frame made of copper tubing which held promise. Schultz and his small team improved upon the design with seamless aluminum castings, which were coated with multiple layers of plastic paint specifically designed to be maintenance-free and rust-proof. Of his process, Schultz reflected, "My training was very non-professional, so it was all work with materials and tools."
We spent so much time refining it [The 1966 Collection], that's why the furniture still looks fresh
The end result – chairs with specially woven mesh fabric with vinyl supports slung on an aluminum frame, and matching aluminum tables designed to drain – met all of Schultz's, and transitively Knoll's, requirements: cool-to-the-touch, quick-drying, porous and weather-resistant.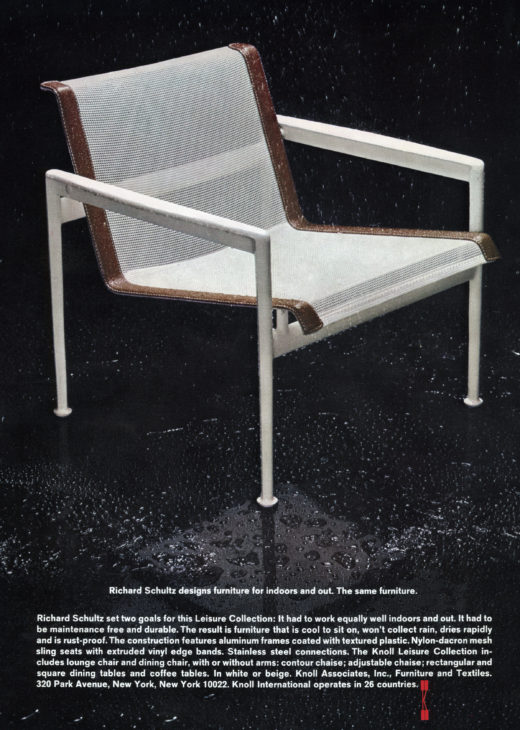 Looking as fresh as it did the day it was introduced, The 1966 Collection continues to set the standard for modern outdoor furniture worldwide.