Farmhouse Chic in Chinon
Well-worn vintage Knoll pieces are at home in a converted barn
When Parisian jewlery designer Marie Monory inherited a once dilapidated farmhouse near the Loire Valley in Chinon, France, she imaged a simple, rough-hewn chateau devoid of precious antiques found in "bourgeois" metropolitan homes. To realize her vision of an ideal weekend getaway, the new owner called on architect and designer Matali Crasset, a friend she's known since 1998, to help her renovate the century-old lot.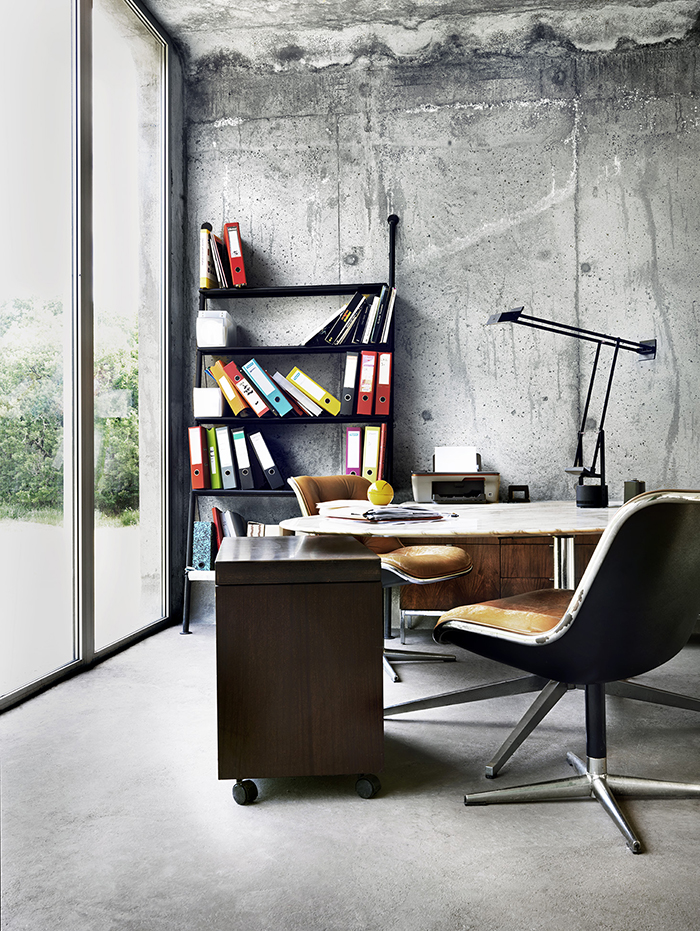 Photograph by Jonas Ingerstedt.
Together, the pair devised a plan to unify the two barns through the addition of a mezzanine above the living room and kitchen, both situated on the ground floor. The mid-level space was designed to be flexible and accommodate different functional demands; it's been used alternatively as a guest bedroom, a lounge area, playpen, and reading nook. With its wide French windows, the home opens up to its surroundings, offering a clear view of the nearby trees, rivers, and fields.
The bunker-like office on the opposite side of the room is situated within a glass-enclosed belvedere that overlooks the property. Vintage Pollock Executive Chairs, replete with dents and scratches from years of use, surround an ovaline marble-topped Florence Knoll Table Desk. Against the back wall, the Florence Knoll Credenza, 4 Position completes Monory's reenvisioning of a 1960s corporate interior.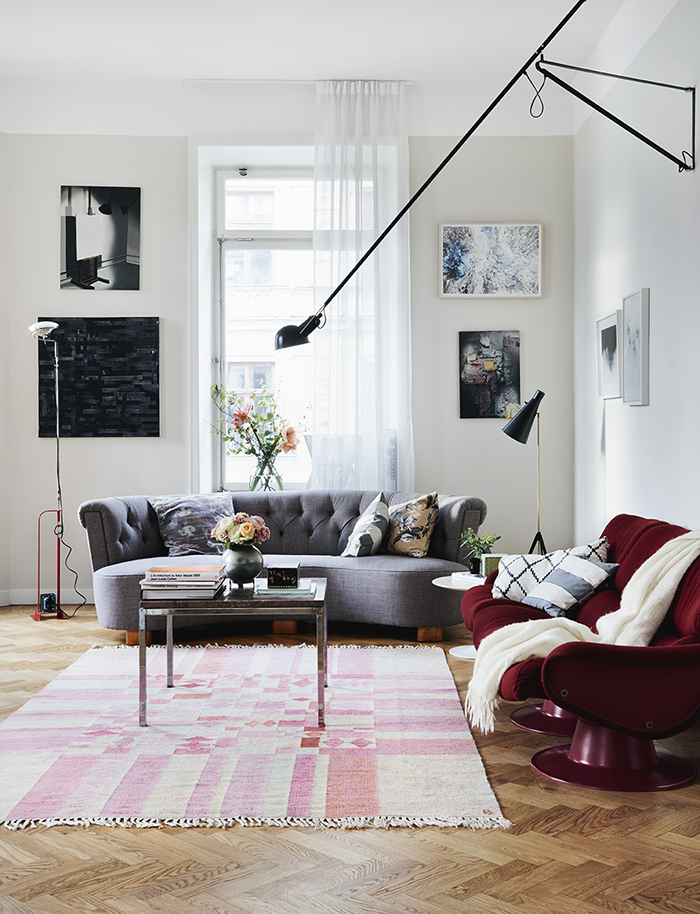 Photograph by Jonas Ingerstedt.
In the den, a Saarinen Side Table peeks out from behind the plush maroon settee, accentuating the sinuous forms of the neighboring couches. The pale pink geometric floor rug and square Florence Knoll Coffee Table introduce hard angles to balance out the room's sculptural lines. The slab of Emperador Dark marble complements the warm tone of the room, punctuated by the Valentino red base of the Toio Floor Lamp.
Project Credits:
Design: Matali Crasset
Photography: Jonas Ingerstedt