New Life in New Canaan
BassamFellows gives a second life to Mills House II
Designed in 1955 by the esteemed architect Willis N. Mills, this International Style house had been all but forgotten when it was stumbled upon by architect Craig Bassam and creative director Scott Fellows. A reflection of the state of many modernist houses, the 4,200-square-foot home had fallen into decrepitude, having far surpassed the expiration date for some much-needed repairs. On account of multiple owners—each of whom left their own indelible mark on the property—the house had begun to resemble a mosaic of disjointed elements: incongruous doors, mismatched handles, and drop-boxed ceilings.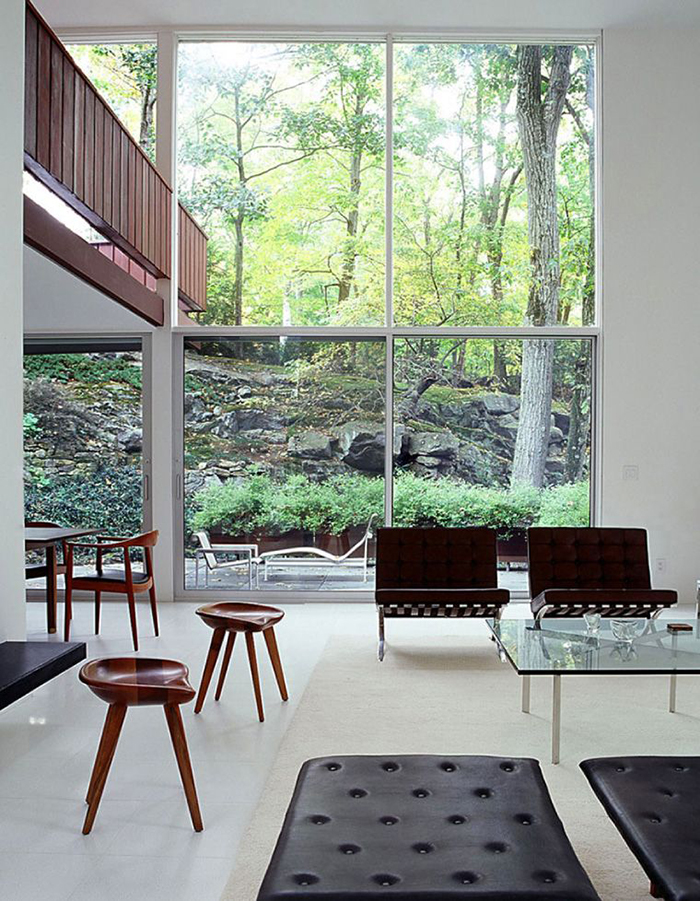 Photograph by Mark Seelen.
Tasked with turning back the clock, BassamFellows returned to the basic foundational structure, stripping away the additive details the home had accrued over time. However, the firm did take advantage of the opportunity to equip the home with some new technological fixings, making it more resourceful and energy efficient. After the structural work, Bassam's team set about integrating the kitchen, living and dining room into a united, contiguous space, reflecting the lifestyle ethos of the 1960s. Bassam hired a number of contractors to help refinish surfaces, source new luxury materials, and refurbish cabinets throughout the home. Intimately familiar with the demands of mid-century modernist homes, Bassam was prepared for the many pitfalls that inevitably come with taking on a house of this age. Given his exacting standards and penchant for perfectionism, he was on location for the duration of the renovation, which took almost four years.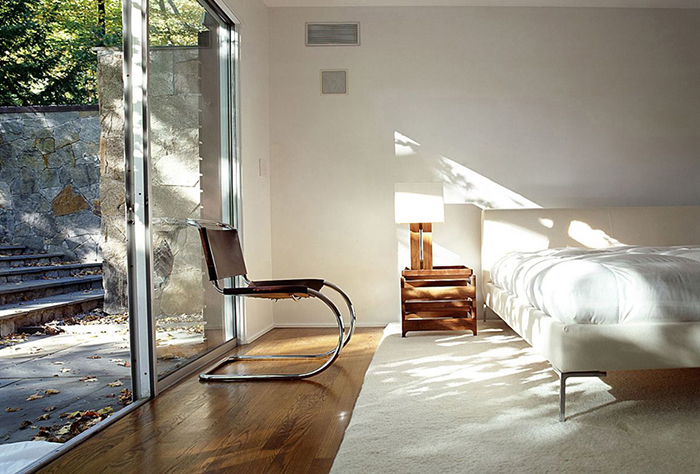 Photograph by Mark Seelen.
Out of deference to the home's heritage, the designers sourced new and vintage mid-century furnishings, "Along with BassamFellows' own 'Craftsman Modern' furniture, Knoll pieces were selected for their provenance, elegance and sense of design integrity." Hans Wegner's PP-503 chairs surround a walnut-veneered dining table. In the living room, a pair of Mies van der Rohe's black and chrome Barcelona Chairs are positioned around a glass Barcelona Table, recalling the iconic arrangement from the 1929 International Exposition. An MR Chair can be found in the bedroom, cantilevered against the sliding-glass door that opens up onto the patio, where Richard Schultz's 1966 Collection can be found. "Like the Mills House itself," Bassam remarks of the collection, "each piece is the perfect blend of modernism and soul."
Project Credits:
Design: Lang Wilson Practice in Architectural Culture
Photography: Mark Seelen / Marc Heldens