Features
Harry Bertoia at Salone Internazionale
Knoll Europe celebrates the centennial of Harry Bertoia
Knoll Europe honors the centennial of Harry Bertoia's birth with an exhibition "Celebrate Harry Bertoia" at the company's showroom in Milan during Salone Internazionale del Mobile, which runs April 14th through 19th. An installation, designed by OMA, frames the collection of works by the equally prolific and multi-disciplinary artist, guiding the visitor through a multimedia experience of the designer's entire corpus—spanning furniture, sculpture, jewelry, and drawings.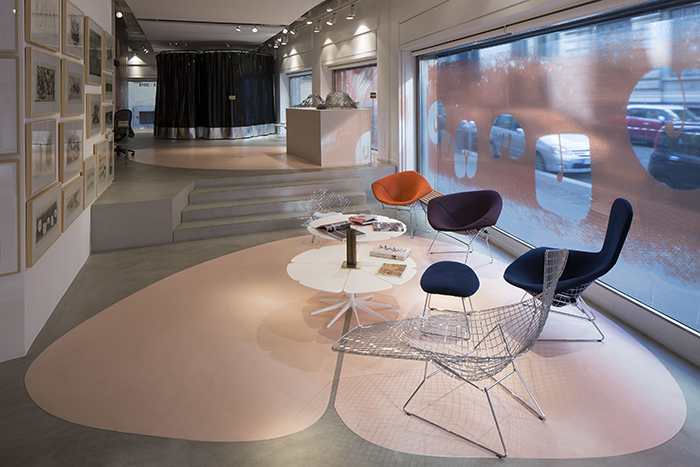 "Celebrate Harry Bertoia" at Salone Internazionale del Mobile, 2015.
The exhibition design by OMA—the studio co-founded by the Dutch architect Rem Koolhaas—recontextualizes works from Bertoia's vast creative output. Additional spatial demarcations by Petra Blaisse—who founded the studio "Inside Outside" —contribute to this nuanced representation of Bertoia's life's work, complementing the integrated experience of light, sound, and space within the exhibition.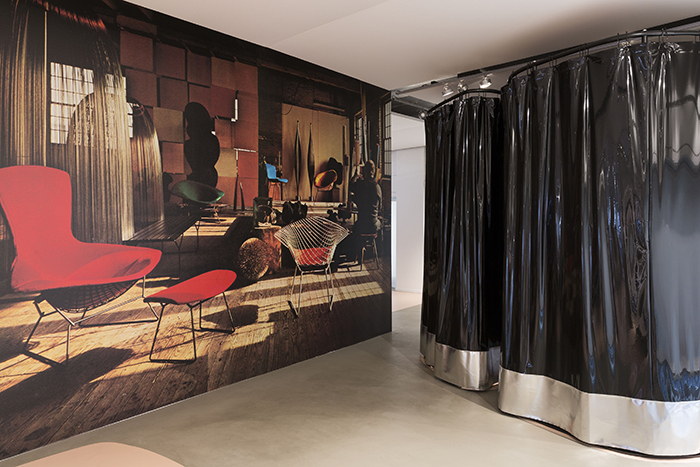 "Celebrate Harry Bertoia" at Salone Internazionale del Mobile, 2015.
OMA describes the exhibition's configuration as follows: "Linoleum carpets in the form of a gong, directly based on the Monotype series of drawings by Bertoia, are used to indicate the different sections of the show. Areas set aside for reading, video and audio narrate his life and works, combining a retrospective of archival films and recordings with more contemporary analysis and reinterpretation of his iconic design. His jewelry, another art form he explored, again underlines the wide range of materials used by Bertoia, always in pursuit of new interpretations of what is offered by nature."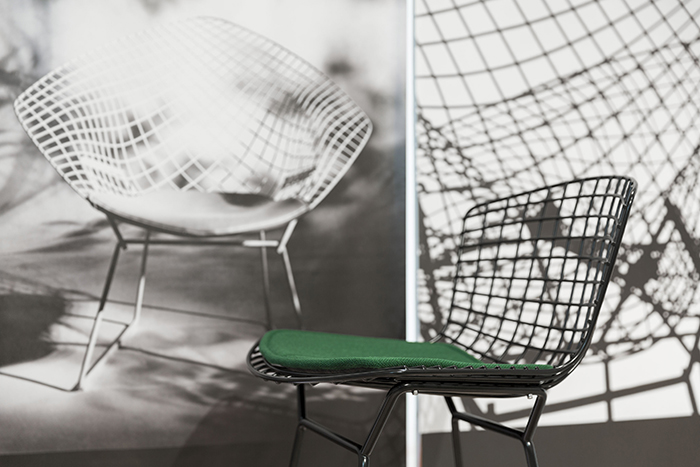 "Celebrate Harry Bertoia" at Salone Internazionale del Mobile, 2015.
A primary focus of the exhibition is Bertoia's iconic Diamond Chair, which anchors the neighboring booths and supplementary material generously provided by Cecilia Bertoia. Viewed by many as the pinnacle of Bertoia's many achievements, the chair is as much a sculptural work as it is a piece of furniture. In Bertoia's own words, "If you look at those chairs, they are mainly made of air, like sculpture. Space passes right through them." Ever committed to the latent potential of a line, Bertoia used a wide variety of media to explore various its various instantiations, furthering his equally fundamental and modernist concern with realizing its purest expression. In this respect, the exhibition draws a continuous thread through Bertoia's entire career, culminating in the creation of the chair.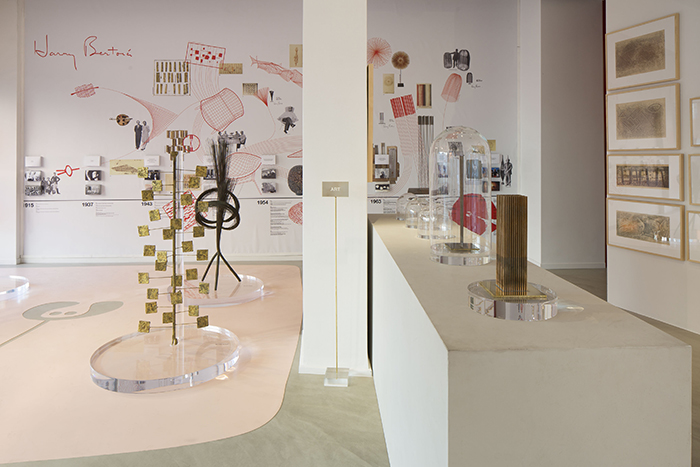 "Celebrate Harry Bertoia" at Salone Internazionale del Mobile, 2015.
For more information on Harry Bertoia's career and the centennial celebration of his birth, please click here to read the Knoll Inspiration article on the designer and his legacy.