Trees Grow in Brooklyn
RKLA transforms a fallow yard into an urban garden
The backyard of this Brooklyn Heights townhouse, located in the neighborhood's historic district, was in desperate need of an overhaul. Overgrown and seemingly fallow, the landscape consisted mainly of dirt and and loose gravel. Robin Key Landscape Architecture was responsible for modernizing the home's posterior appearance. Starting with the native flora, RKLA took an conservationist's approach, working hard to preserve what was already there. A representative of the firm explains, "the trees served as the framework for the garden while providing significant screening." The firm's resourcefulness extended to the salvaged bluestone, which was used to build the terrace and found on-site.
"Particular attention was given to the material selection, as a way to balance old and new garden elements." An exterior porcelain tile patio includes a kitchen island and built-in grill for summer barbeque season. The overgrowth creates a feeling of enclosure that encourages intimacy during social events, while the home's sliding glass doors provide easy access to the yard along with a beautiful view of the owners' carefully cultivated gardens.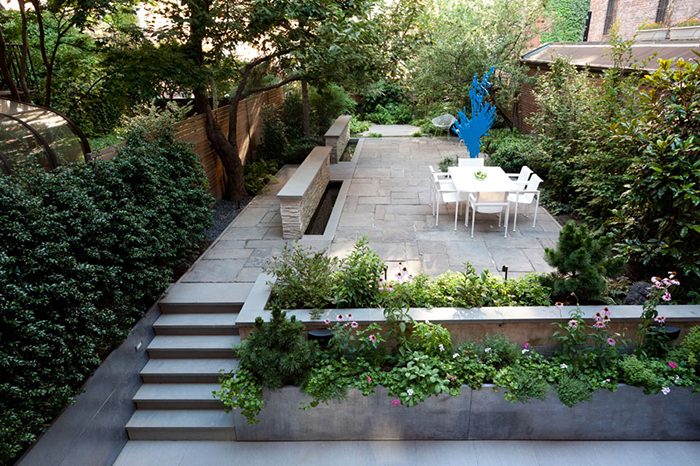 Photograph by Francine Fleischer.
A partner firm, SPG Architects, was responsible for sourcing furniture for the new patio. A set of Richard Schultz's classic 1966 Collection appears light and airy, porous to both rain and snow. Ideal for entertaining guests or serving the occasional outdoor meal, the place setting represents a locus for gathering.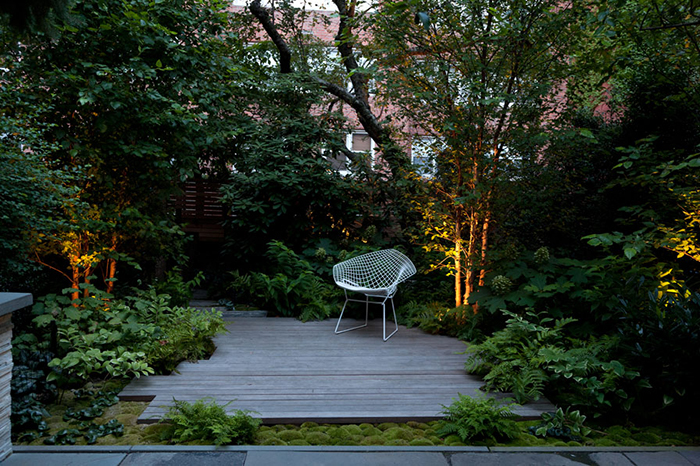 Photograph by Francine Fleischer.
Meanwhile, the off-center positioning of the Bertoia Diamond Chair caters to the occasional need for solitude. Nestled amidst the dense foliage and natural vegetation, the lone chair occupies a permanent spot on a raised wood deck that doubles as a reading nook.
Taken together, "the classic forms of the Richard Schultz 1966 Collection and the Bertoia Diamond Chair assume a sculptural quality against the layered plantings, salvaged stone terraces, and elegant water feature that define this lush, urban garden."
Project Credits:
Design: Robin Key Landscape Architects
Interior Design: SPG Architects
Photography: Francine Fleischer