The Ship
A nautical-inspired neo-dive bar in New York unfurls its sails
The Ship is one of a half dozen relatively new tippling establishments that aims to cash in on the current obsession with mixology while migrating away from the novel-length menus, top-dollar real estate locations, and two-hour waits that have become status quo within subsections of the industry. Founded by two alumni of PDT and Little Branch, Cervantes Ramirez and Joseph Schwartz respectively, The Ship is representative of what many have termed the "neo-dive" with a decidedly less fussy feel than other Manhattan-based cocktail emporiums.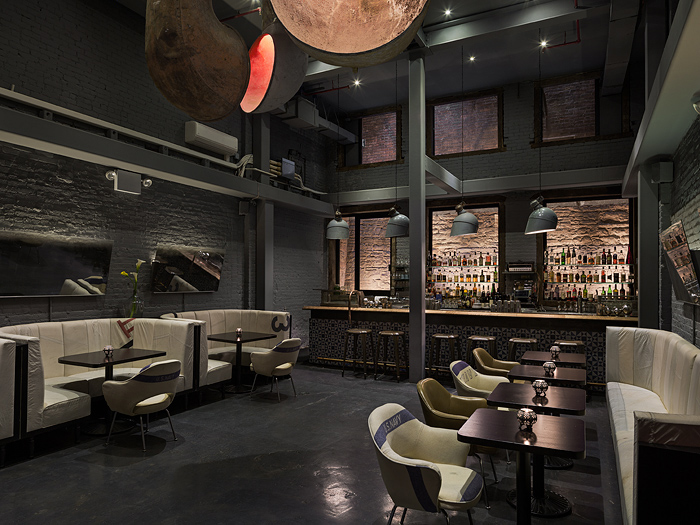 Photograph by Sam Oberter.
Designed by Robert Jamieson, The Ship's nondescript and off-the-beaten-path entrance precedes a two-floor subterranean descent. The ceiling is intermittently punctuated with inverted funnels, smokestacks, and ventilation shafts from retired ocean liners that have been converted into lighting displays. "The project relied heavily on the use of reclaimed and repurposed materials and artifacts," Jamieson explains, gesturing toward the against-the-wall seating, "the booths, for instance, are upholstered with reclaimed patchwork sailcloth."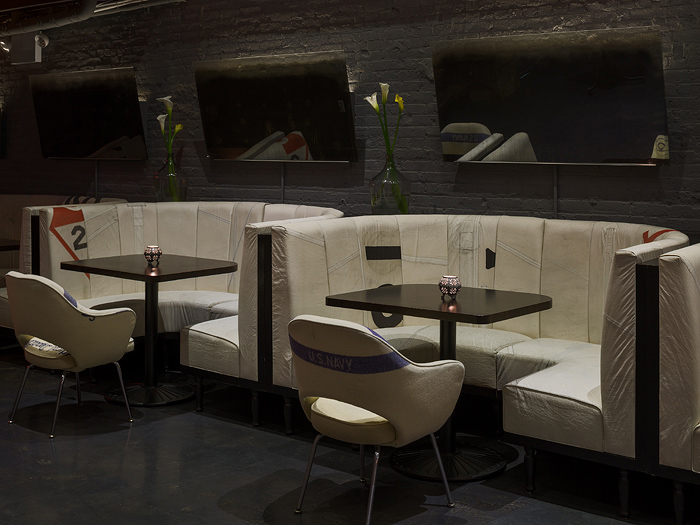 Photograph by Sam Oberter.
Surrounding the nestled dining area, Saarinen Executive Armchairs appear nigh unrecognizable, camouflaged in salvaged U.S. Navy fabric. "I've always loved the Saarinen Executive Armchairs," Jamieson interjects, "but like everything in the space we gave them a unique twist by covering them in vintage Navy blankets." Overall, the dim-lit environment recalls the atmospherics of a submarine; even behind the bar, glass windows open up to a rock façade, testifying to the bar's unusual depth.
The drinks run the gamut from variations on classic cocktails to spice trade-inspired concoctions. The Burrapeg, a colonial-inspired recipe whose name translates to "a double," is a silent but deadly killer that calls for scotch, ginger, and three types of bitters (peach, chocolate, and angostura). Drink up.
Project Credits:
Design: Studio Robert Jamieson
Photography: Sam Oberter