Cory Buckner in Crestwood Hills
An architect restores a 1940s progressive home to its original luster
In the 1940s, Crestwood Hills was the site of a utopian housing project spearheaded by the Mutual Housing Association, a cooperative that enlisted a team of architects (including A. Quincy Jones and Whitney R. Smith) and engineers to design middle-class housing that catered to the emerging Los Angeles market. However, of the five hundred single family homes originally planned, three hundred were eventually built, and now only thirty three remain.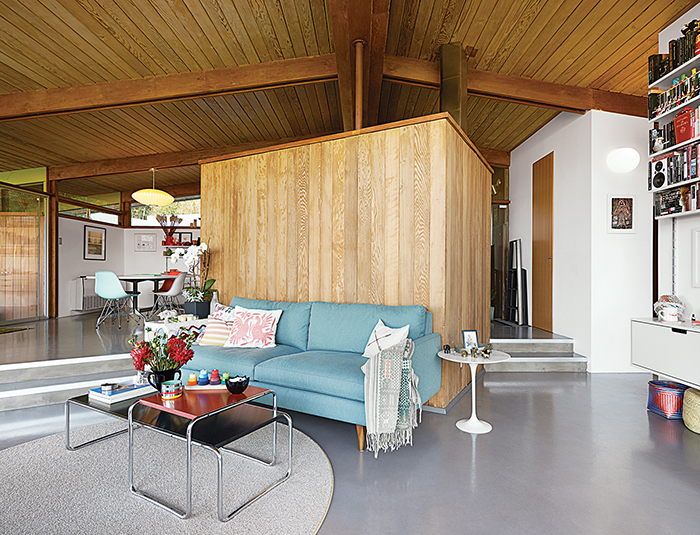 Photograph by Spencer Lowell.
Recognizing the area's architectrual pedigree and the homes' historic importance, Elise Loehnen and Rob Fissmer jumped on the opportunity to purchase one the remaining properties. The house was in rough shape, and the two tapped Cory Buckner to help them restore it to its original luster.
Conscious of the architecture's inherent beauty, the couple did their best to incorporate furnishings in a way that would not distract from the structural details of the house, pulling their furniture away from the original walls and naturally veneered finishes. The new homeowners are longtime fans of Modernism and have collected pieces by Charles Eames, Eero Saarinen, and Marcel Breuer over the course of their lifetime. In opting for a lived-in environment, the couple chose a mix-and-match approach to interior design, pairing these acquired, heritage pieces with more recently purchased retail furnishings. Marcel Breuer's Laccio Coffee Table & Laccio Side Table accompany a teal-hued couch, flanked by a white marble Saarinen Side Table. Other nods to mid-century modern design include the Dieter Rams-designed modular shelving unit and George Nelson pendant lamp.
Photograph by Spencer Lowell.
Project Credits:
Design: Cory Buckner Architects
Photography: Spencer Lowell