Features
Creative Boom and Communication Arts Feature Knoll Works 2020
Creative strategy-focused magazines highlight premium print publication and partnership between Knoll and Gretel
Creative Boom, a UK-based magazine dedicated to creative and branding industries, featured Knoll Works 2020 as well as the partnership between Knoll and Gretel in its September editorial feature "Gretel and Knoll reinvent the furniture catalogue as a high-end magazine." The editorial highlights the Company's innovative shift to moving detailed product information digital and creating premium print product for an editorialized brand statement. "The result is a delightful fusion of high-end editorial design, strategic branding insight and technical detail, striking a balance between inspiration and information to highlight Knoll's wide range of design-focused furniture," writes Creative Boom contributor Tom May.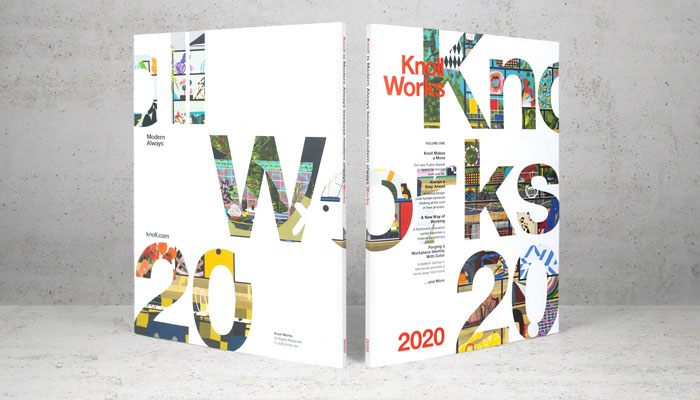 May heralds the existing features signature to the Knoll brand identity—vast and vivid color palettes, Modernist typography and rational layouts—that, in Knoll Works 2020, are rendered with a reinvigorated dynamism. "Each type of content has its own look and feel. From the letter from the editor to short stories, feature stories, product pages and Q&As, you feel the change as you move throughout the book," Gretel Head of Design Dylan Mulvaney tells Creative Boom. "On top of that, each feature story has its own custom color palette, type treatment and layout logic."
Commenting on the goal of the project, David Bright from Knoll, says, "Knoll Works explores opportunities for change, showcasing our constellation of brands and workplace planning capabilities. The range of editorial content not only informs and inspires our diverse audiences but also identifies catalysts for innovation."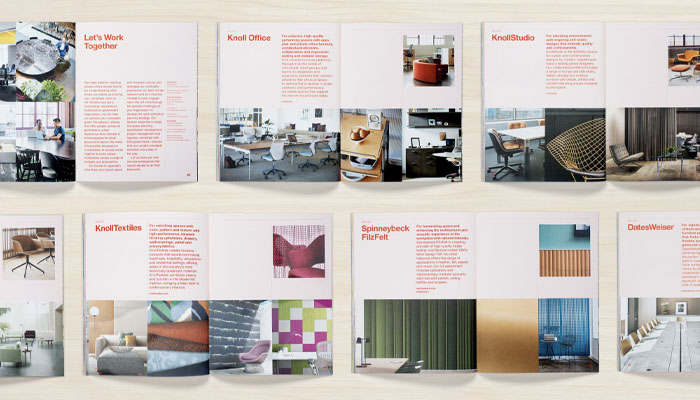 In addition, Communications Arts, the largest international trade journal of visual communications, featured Knoll Works 2020. Commenting the work, Communications Arts, notes that Knoll Works blurs the lines between a magazine, a look book and catalog, illustrating, "the breadth of the Knoll's expertise in product solutions for the modern workplace."
The piece focuses on the goal to present a vision for spaces where people can do their best work, offering a new perspective on our distinctive brand heritage and how it deliver a dynamic, approachable and decidedly contemporary design, specifically in print, that reflects the Knoll brand heritage and history of celebrated printed publications.
Knoll Works, the first-ever print editorial publication by Knoll, debuted in February 2020, showcasing how the Company's constellation of workplace brands and planning capabilities create inspiring workspaces where people can do their best work.