Film & Furniture
Paula Benson, founder of
Film & Furniture
, rounds up Knoll design on the big screen
Whether it's a Platner Arm Chair in Quantum of Solace or a Brno Chair in Batman v Superman, furniture can often hijack the attention of the audience, away from the action and dialogue of a film. A well-chosen sofa, chair, or wallcovering can subliminally tell us more about a character's personality than many pages of script.
In light of the recent awards season, Knoll Inspiration asked Paula Benson, founder of the design blog Film & Furniture, to recount her favorite furniture cameos in modern cinema. A resource for design and film buffs alike, Film & Furniture discusses these inanimate stars in detail. And when it comes to the Oscars or the BAFTAs, it is no surprise that Benson is more interested in the production design and set decoration nominations than those of best actor or actress. For Film and Furniture, the chairs and tables have always been the stars.
Knoll designs feature prolifically in the movies, having appeared in both contemporary and classic cinema. When a production designer needs to convey a character's good taste and discerning style or when they simply need an extremely handsome piece in a domestic or office setting, we'll often spot a Knoll. Below are a few classics that have graced the big screen.
The Barcelona Chair
Barcelona Chairs in Tron: Legacy (2008), Walt Disney Studios Motion Pictures.
Sexy as hell, an icon of the modern movement and one of my personal favourites, the Barcelona Chair, designed by architect Ludwig Mies van der Rohe, is a star performer in digital world 'safehouse' of Tron: Legacy. It's one of the countless films that this stunning chair has been featured in, which includes a Bond or two.
It was an interesting choice by production designer Darren Gilford and his team in their mission to create the digital-age decor for Tron, given that the chair was designed for the 1929 German Pavilion at the International Exposition in Barcelona. This is testament to the fact it's a timeless classic and a genuine icon of modern furniture. The white Barcelona beauties seen in Tron complement the fact that everything in the safehouse glows, including the floor, which bears more than a passing nod to Kubrick's 2001: Space Odyssey.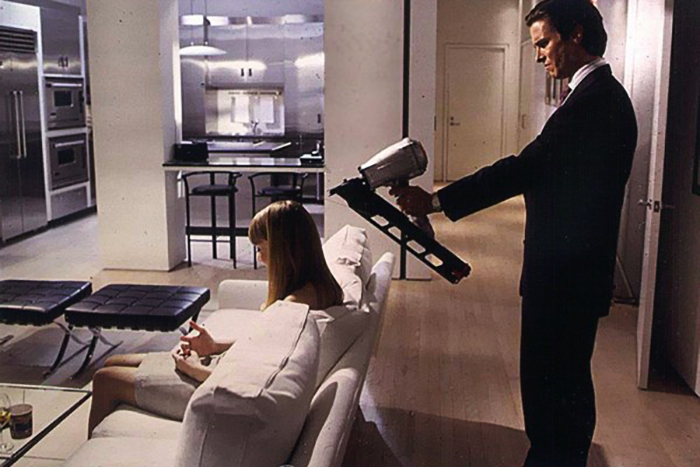 Barcelona Stools in American Psycho (2000), Lionsgate Films.
Known for their sleek silhouettes and luxurious leather, Mies van der Rohe's 1929 designs have since become associated with lifestyles of a certain glamour. In the black comedy classic American Psycho (2000), we find a pair of Barcelona Stools in the stylish apartment of banker-turned-serial-killer Patrick Bateman, about to bear witness to a particularly gruesome encounter.
The Brno Chair
In Batman v Superman: Dawn of Justice, Bruce Wayne's new lakeside house appears to be a carefully researched modernist homage to both Mies' Farnsworth House in Farnsworth, IL as well as Philip Johnson's Glass House in New Canaan, CT. The sleek, glass and steel abode features several Brno Chairs around his Corbusier dining table and at his walnut wood-topped desk.
Designed by Mies van der Rohe in 1930, the handsome Brno Chair has a solid steel cantilever frame supporting a luxurious leather seat. It was a true innovation when first designed for the Tugendhat House, representing all the hallmarks of the Bauhaus, where Mies served as the third and last director before its forced closure in 1932. Batman's Brno Chairs have the flat bar base and, fittingly, black leather seats.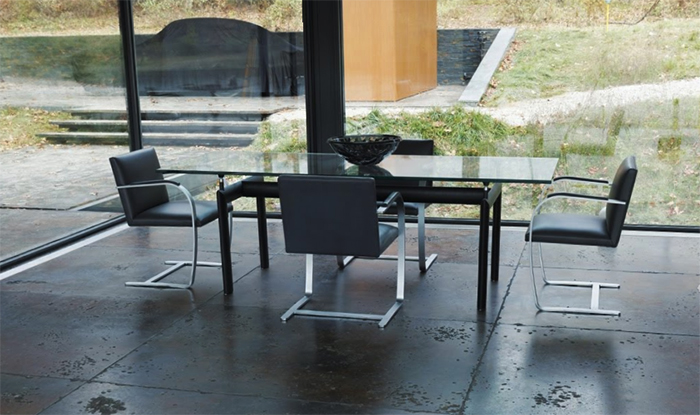 Brno Chairs in Batman v Superman: Dawn of Justice (2016), Warner Bros. Pictures.
Also in Bruce Wayne's modernist glass house, we spotted two Barcelona Chairs and a Barcelona Couch, accentuating the aura of mystery that surrounds the caped crusader. The furniture is upholstered in a sumptuous, dark shade of distressed leather.
The Platner Arm Chair
Designer Warren Platner worked on some of the twentieth century's most magnificent structures. During his time in the office of architect and fellow Knoll designer Eero Saarinen, Platner worked on the interior of the iconic TWA Terminal at JFK Airport and was partly responsible for completing the soaring Saint Louis Gateway Arch after Saarinen's untimely death. Going it alone, Platner designed the Windows on the World restaurant at the top of the World Trade Center in New York, but it is his furniture designs for Knoll for which he will be best remembered.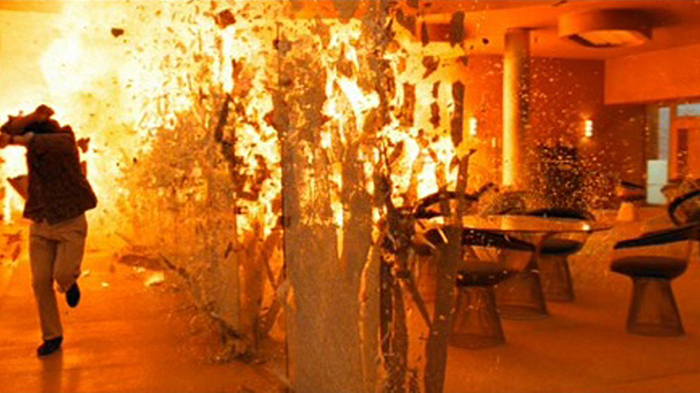 Platner Dining Table and Arm Chairs in Quantum of Solace (2008), Metro-Goldwyn-Mayer & Columbia Pictures.
Surprisingly, it took quite a few Bond films until a Platner design took centre stage–and that finally happened in 2008, with Quantum of Solace . Deep in the Bolivian desert stood a hotel-come-hangout for Bond's latest nemesis. Platner Arm Chairs and Dining Tables made their appearance in the hideout's restaurant. It did not end well, however, for these intricate filigrees of steel rods, glass tops and leather upholstery, as they were all sent hurtling across the screen in true Bond explosive style.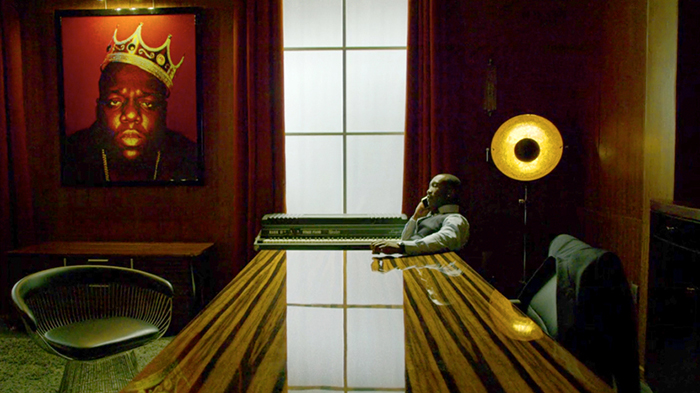 Platner Arm Chairs in Luke Cage, a 2016 web television series for Netflix.
Proving its status as a classic, Platner furniture has found its way into recent television as well. In Marvel Comics' Luke Cage, a 2016 Netflix series, the office of Cornell Stokes aka Cottonmouth reflects his need to cement authority and command respect. Amongst some rather bling choices we find a very tasteful set of furniture—black and silver Warren Platner Arm Chairs. In 1966, the Platner Collection captured the "decorative, gentle, graceful" shapes that were beginning to infiltrate the modern vocabulary, deviating from the rigid lines of modern design in favor of the sculptural.
The Meier Chair & The Wassily Chair
Marcel Breur's infamous Wassily Chair has oft been referenced for its appearance in the steamy 1986 flick Nine and a Half Weeks, but it's the chaise lounge and chair from the Richard Meier collection which I remember more distinctly from the film's classic '80s monochrome bachelor pad.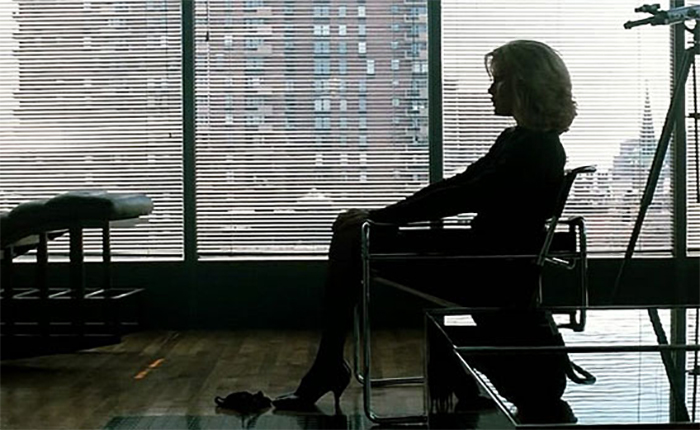 A Wassily Chair and a Richard Meier Chaise in 9 1/2 Weeks (1986), Metro-Goldwyn-Mayer.
The furniture pairing speaks to a real world connection—Richard Meier worked for Marcel Breuer before founding his own practice in 1963. Among the most celebrated second-generation modernists, Meier approached Knoll with a chair he had initially designed for the Guggenheim reading room. The resulting collection incorporated Meier's own philosophy of design with the influence of twentieth-century masters like Frank Lloyd Wright and Charles Rennie Mackintosh. Not surprising, then, that we also see a Mackintosh Chair in the very same scene.
The Womb Chair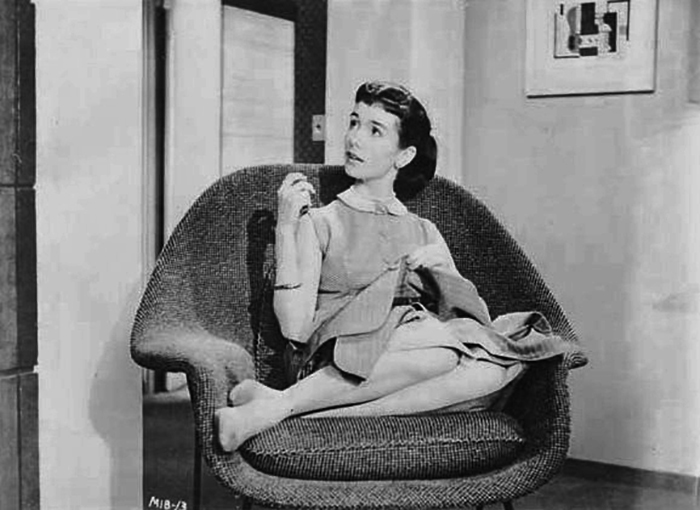 A Womb Chair in The Moon is Blue (1953), United Artists.
This scene, and indeed the whole dashing apartment of the architect in The Moon is Blue (1953) would be much less iconic without the inclusion of Eero Saarinen's Womb Chair, designed for Knoll in 1948. The groundbreaking Womb Chair was designed as a response to Florence Knoll's request for "a chair that was like a basket full of pillows," something she could really curl up in. The mid-century classic supports countless sitting positions and provides a comforting sense of security, hence the name.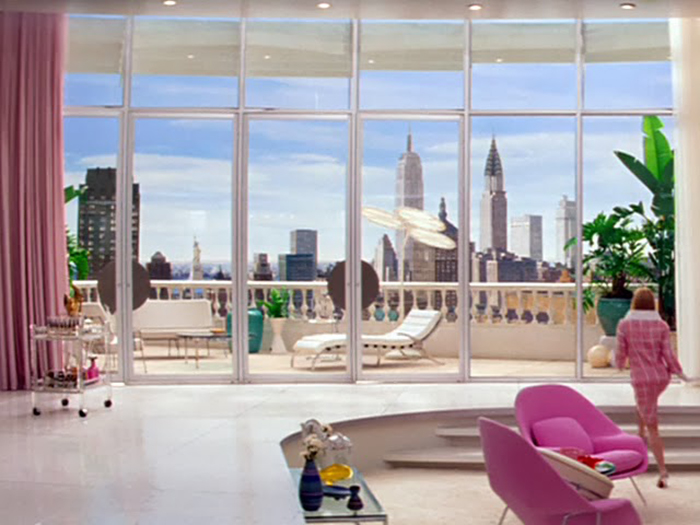 Womb Chairs in Down With Love (2003), 20th Century Fox.
In the more recent film Down with Love (2003), Renée Zellweger's character Barbara Novak also has two beautiful, pale pink Womb Chairs in her fine Manhattan apartment, which is teeming with great choices of decor and furniture that evoke the movie's 1960s setting. In fact, all the sets in the film are stylish and packed with inspired design—proof of set decorator Don Diers' eye and attention to detail.
The Saarinen Executive Chair
A Saarinen Executive Armless Chair in A Clock Work Orange (1971), Warner Bros. & Columbia Pictures.
Still on a Saarinen tip, the 1950 Executive Arm Chair makes an appearance at the writers' desk in Kubrick's A Clockwork Orange. Still in production from Knoll, the Clockwork Orange version has chrome legs—but comes without the sinister undertones favored by the acclaimed director.
The Cesca Chair
The design and set decoration of Pedro Almodóvar's films are always a visual delight and his latest film, Julieta, is no exception. Production designer Antxon Gómez is a longstanding collaborator with the internationally acclaimed Spanish film maker. In a pivotal scene where the brokenhearted Julieta confronts the pain of her memories in a letter to her estranged daughter, she pens her story while seated on a Cesca Chair.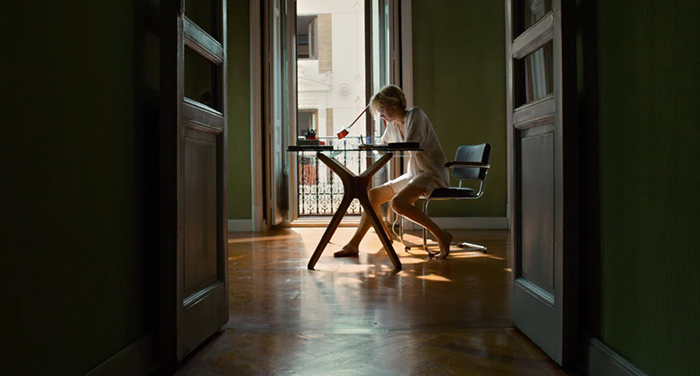 The Cesca Chair in Julieta (2016), Warner Bros., Pathé and 20th Century Fox.
Designed in 1928, Marcel Breuer's Cesca Chair (named after his daughter Francesca) combines traditional craftsmanship with industrial methods and materials, making it another Knoll design classic. The woven cane version of this cantilevered tubular steel chair is more familiar to many, but here we see the newer version with a fully upholstered seat and back.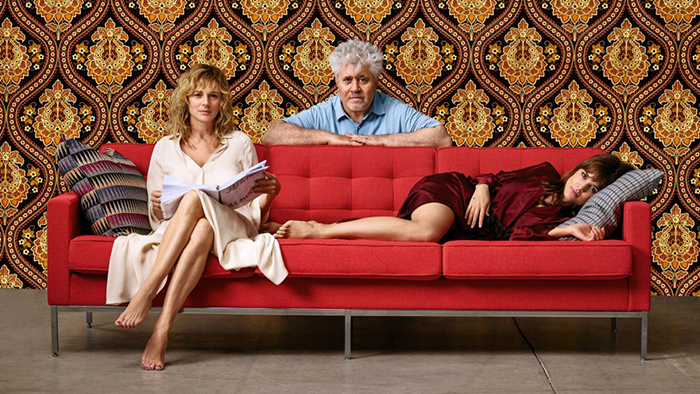 A Florence Knoll Sofa in Julieta (2016), Warner Bros., Pathé and 20th Century Fox.
Almodóvar aficionados are likely to spot Knoll designs in many of his critically acclaimed films, which often appear amidst the rich, vibrant interiors of zany characters. Even in the promotional photograph for his latest film, he poses with actresses Emma Suárez and Adriana Ugarte around a Florence Knoll Sofa.
The Bertoia Diamond Chair
A Bertoia Diamond Chair in La Proie Pour L'ombre (1961), Les Films Marceau.
Telling a tale of adultery and art, La Proie Pour L'ombre (1961) provides a glimpse into the architecture and aesthetics of 1960s Paris. The Cine Tourist alerted me to the fact that Knoll France collaborated on the movie and, unusually, was credited in the titles. Here, we see a Bertoia Diamond Chair taking pride of place, signifying a shift in the design sensibilities of the Parisian public that was, in large part, born from the efforts of Knoll Europe and its director, Yves Vidal.
While usually considered secondary to the main plot, furniture in film is often more than just a prop. It can indicate the state of mind or the aspirations of a character, accentuate or alter the tone of an environment. And when it comes to Knoll design, chairs and tables often symbolize an unabashedly modern sensibility, making it the favored choice for production designers from the 1950s all the way up to the present day.