Around Knoll
Florence Knoll Bassett, Design Pioneer and Guiding Light of Knoll, Dies at 101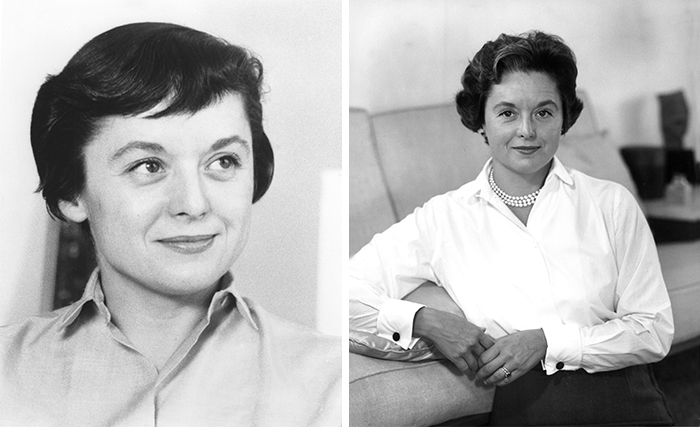 Florence Knoll Bassett, a design pioneer and the guiding light of the company that bears the name of her first husband and close collaborator, died on January 25, 2019 in Coral Gables, Florida. She was 101 years old.
Born Florence Margaret Schust on May 24, 1917, in Saginaw, Michigan, she was the daughter of Frederick Schust, who ran a family baking company. Known throughout her life by her friends as "Shu," Florence Knoll Bassett's rise to the top of the design world began in tragedy, when she was orphaned at age 12. Fortuitously, her guardian brought her on a tour of possible boarding schools, among them the recently opened Kingswood School for Girls in Bloomfield Hills, Michigan. The school was designed by Finnish architect Eliel Saarinen; at the time, he was also headmaster of the associated Cranbrook Academy of Art. The young Florence Schust was struck by the school's beauty and instantly decided it was the place for her.
At Kingswood, Ms. Knoll Bassett developed an interest in architecture, and she caught Eliel Saarinen's attention. Over time, Ms. Knoll Bassett became an extended part of the Saarinen family, which included the son Eero Saarinen, who would go on to become a distinguished architect. The Saarinens invited her to join them on trips to Europe and summer visits to their home outside of Helsinki, and Ms. Knoll Bassett and Eero Saarinen became lifelong friends. She would later commission him to design a collection of groundbreaking furniture for Knoll.
Upon graduating from Kingswood, Ms. Knoll Bassett stayed on in Bloomfield Hills to study at the Cranbrook Academy of Art, at Eliel Saarinen's recommendation. It was the beginning of her years of serious design training. In 1935, she enrolled in the planning program at Columbia University's school of architecture. She returned to Cranbrook the following year and went on to study at the Architectural Association in London. The outbreak of World War II brought Ms. Knoll Bassett back to the United States where she completed her formal training in Chicago at the Armour Institute of Technology, now the Illinois Institute of Technology. During her advanced schooling and extended travels, Ms. Knoll Bassett met many of the leading architects of the time, including Alvar Aalto, Marcel Breuer, Walter Gropius and Ludwig Mies van der Rohe. Some of these early mentors would come to figure prominently in her future work at Knoll. But it was Mies who had perhaps the clearest influence on her signature approach to design: rigorous and methodical.
In 1941, aiming to pursue work in architecture, Ms. Knoll Bassett moved to New York City and met Hans Knoll. Hans Knoll was the third generation of a Stuttgart-based furniture manufacturing family who had come to the United States a few years earlier, and he was beginning to bring European Modernism to a new audience. Seeking to build business for a new chair, he called on the design firm where his future wife and partner happened to be working. Hans Knoll was, by all accounts, a natural born salesman: the pair began working together, and soon Ms. Knoll Bassett was taking an increasingly significant role in the company's aesthetic development, in addition to her official role designing office interiors. Before long, the two were business partners, and in 1946 the pair married—and renamed the company Knoll Associates.
There Ms. Knoll Bassett became inextricable from the company's advances in the industry. She quickly established the Knoll Planning Unit, solidifying her role as a shaper and not just a decorator of space. She also broadened the company's existing array of furniture offerings to eventually include the work of some of her Cranbrook colleagues as well as the prominent Modernist figures who had influenced her education and shared her critical eye; these pieces became icons of corporate interiors of the post-war period and remain timeless designs to this day.
Today, the Knoll Planning Unit, which set the standard for the mid-century Modern interior, is widely recognized as groundbreaking. The Knoll Planning Unit provided a uniquely efficient and "total design" approach, and Ms. Knoll Bassett further distinguished herself during this period as an influential woman in a male-dominated industry. Ms. Knoll Bassett's meticulous methods of assessing a client's needs and patterns of use were prized by the most prominent corporate clients of that period, including CBS, GM and IBM.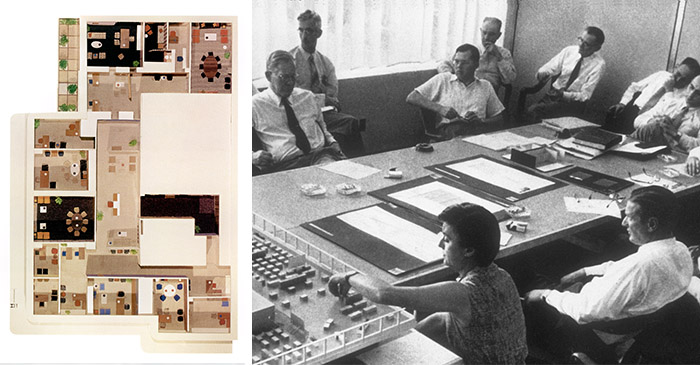 A paste-up for the 1962 Cowles Publications Building, left. At right, Florence Knoll and Hans Knoll, both in the foreground, discuss an interior.
Throughout the 1940s and 1950s, Ms. Knoll Bassett also designed individual pieces of furniture—foils to the more sculptural designs she commissioned with her exacting taste from the likes of Eero Saarinen, Harry Bertoia, Isamu Noguchi and George Nakashima. Responding to direct needs encountered while working on particular interiors projects, and finding the market lacking, Ms. Knoll Bassett designed seating, tables and case goods. Over the years, Florence Knoll designs, which she had conceived as background architecture, have proven to be design classics all their own.
In addition to expanding the furniture line through her own designs and a series of commissions from the period's leading designers, Ms. Knoll Bassett launched a textile program to fill another gap she perceived in the market. The program, the beginning of KnollTextiles, brought Ms. Knoll Bassett to another advancement in industry practice. Her use of small fabric swatches in client presentations led her to develop a tagged sample and display system that became an industry standard.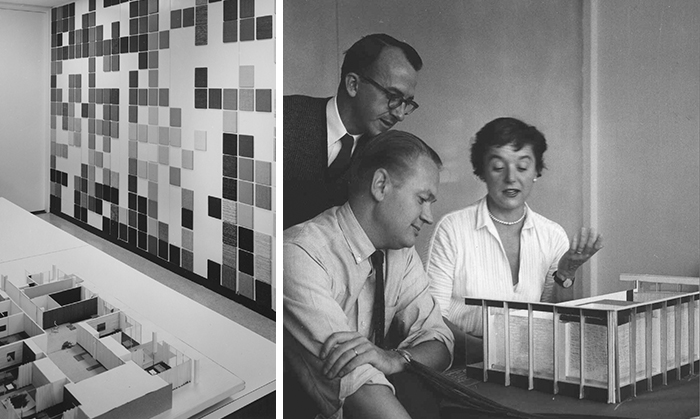 Left, a textiles swatch wall that would become standard in the industry. Right, Ms. Knoll Bassett reviews a Planning Unit model.
In this period, Hans Knoll's global vision of the company was coming to fruition, as Knoll expanded with offices in Belgium, Canada, France and Switzerland. Under Ms. Knoll Bassett's vigilant stewardship, the company also developed a distinctive graphic identity, working with Herbert Matter, who designed everything from advertisements and stationery to the company's mark. And because Ms. Knoll Bassett was determined that the company's design approach be seen as accessible and broadly applicable, Matter-designed ads appeared in general interest publications like The New Yorker and Fortune, expanding awareness of Knoll outside the industry.
Ms. Knoll Bassett's influence on the "total design" sensibility of Knoll cannot be overstated. In 1955, her life was struck by a second tragedy when Hans Knoll was killed in an automobile accident. Ms. Knoll Bassett suddenly found herself as Knoll's sole owner. Despite initial speculation that the groundbreaking efforts of the company would diminish as a result of so great a loss, Ms. Knoll Bassett continued to run the Knoll Planning Unit and oversaw all design related aspects of the company, including showroom designs, marketing and advertising.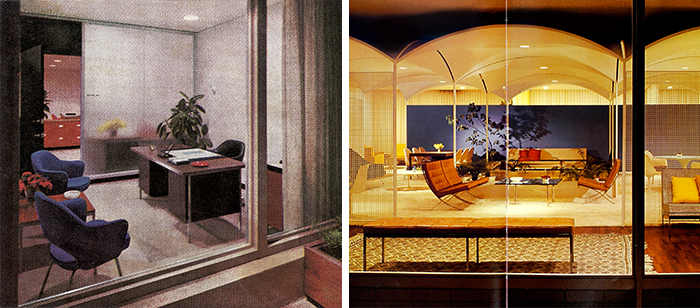 An executive office in the First National Bank, 1957, and, right, the Los Angeles Knoll Showroom, 1960, both designed by Ms. Knoll Bassett.
In 1957, under her direction, the Knoll Planning Unit began work with the First National Bank of Miami. She married the bank's head, Harry Hood Bassett, the following year. Mr. Bassett died in 1991. Until 1965, Ms. Knoll Bassett commuted between Knoll's New York headquarters and her husband's base in Miami, first in her capacity as Knoll's president and later as its director of design; she sold the company to Art Metal Construction Company in 1959. Even after her departure from Knoll, the company continued to be inspired by her synthetic view of design and rigorous standards. Today Knoll is a publicly held company (NYSE:KNL.)
Knoll director Kass Bradley, who served as president and COO of Knoll North America, recalled: "The design precepts Florence Knoll pioneered, focusing on the nexus between residential and office design, grounded in observational and quantitative research, continue to guide a new generation of design professionals."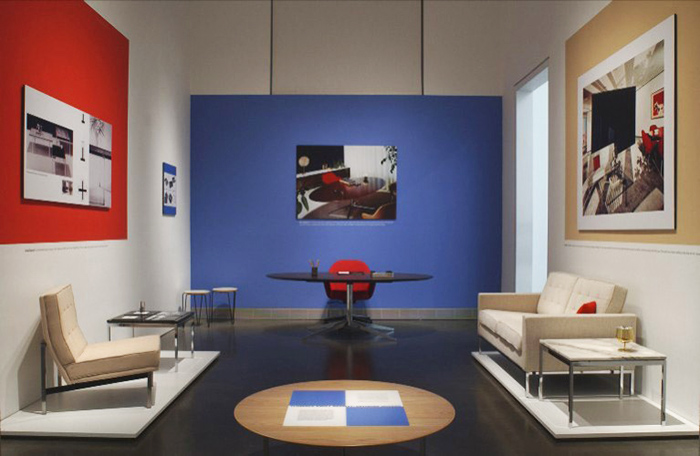 The 2004 exhibition "Florence Knoll Bassett: Defining Modern" at the Philadelphia Museum of Art showcased Ms. Knoll Bassett's designs.
Like her teacher and friend Ludwig Mies van der Rohe, Ms. Knoll Bassett's attention to detail was all-encompassing, relentless, and, over time, the stuff of legend. Even at 87, working with curator Kathryn Hiesinger to prepare an exhibition of her work at the Philadelphia Museum of Art, her instructions were precise and painstaking. "Nothing was left to chance," Ms. Hiesinger recently recalled, describing her admiringly as a "perfectionist." Even though it was a small show (one room), Ms. Knoll Bassett made her own "paste-up" cardboard model of how she envisioned the space. The paste-up—a visual planning technique that she had used while designing at Knoll—featured folding walls and drawings of the furniture she selected and fabric samples of the upholstery, all accompanied by detailed notes that covered every aspect of the exhibition design. She traveled from Miami to New Haven to approve printed materials and, more than once, to Philadelphia to check on installation details. However, she did not attend the exhibition opening. "She was not interested in public performance of that sort," said Ms. Hiesinger.
In another example, Ms. Knoll Bassett even designed her own archive when she donated her papers to the Archives of American Art in 2000, organizing the entire contents into custom-made boxes and color-coded files.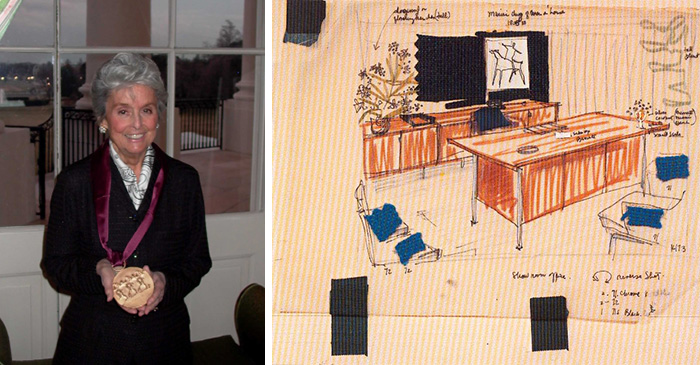 Ms. Knoll Bassett received the National Medal of the Arts in 2002 for her achievements. Right, one of her planning sketches while at Knoll.
The discipline of her practice and the inspired arrow of her ideas were lifelong attributes. In 2002, Ms. Knoll Bassett was awarded the National Medal of the Arts, the highest honor for achievement in the field presented annually by the President of the United States to individuals or groups "deserving of special recognition by reason of their outstanding contributions to the excellence, growth, support and availability of the arts." It is only one of a countless array of honors and awards bestowed on her during her lifetime.
Perhaps Charles Eames, a friend of Ms. Knoll Bassett's from Cranbrook, summed up her contributions best when he wrote to her from Los Angeles in 1957, after visiting one of her projects. He wrote: "Each time I go East I see something you have done. It is always good, and I feel grateful to you for doing such work in a world where mediocrity is the norm."