Features
Dorothy Cosonas Visits Knoll Los Angeles Home Design Shop
The Director of KnollTextiles presented the latest designs from Knoll Luxe
Dorothy Cosonas, Director of KnollTextiles, visited the Knoll Los Angeles Home Design Shop for a trunk show to present her latest collection for Knoll Luxe, the line of textiles she founded in 2008 to serve as high fashion for inspired spaces. Cosonas spoke with guests about the 10th Anniversary Knoll Luxe Collection at a reception, organized in collaboration with local publisher LALA Magazine, following a day-long trunk show that attracted design industry insiders and enthusiasts. Cosonas described the collection's inspiration derived from the colors, materials and concepts – from playful fringe to abstract florals – in ready-to-wear and high fashion collections.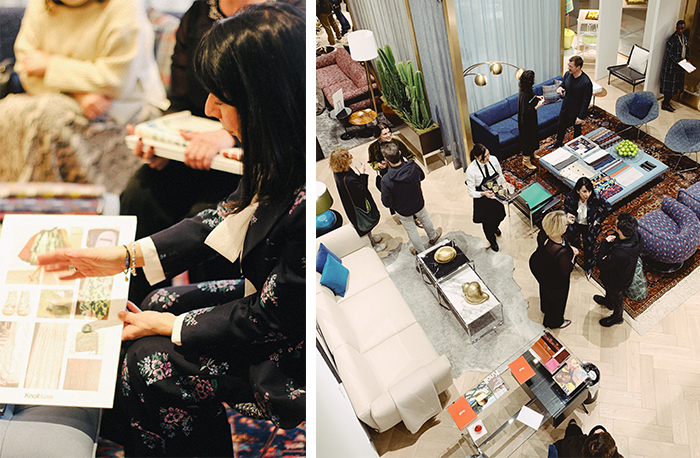 Left: Dorothy Cosonas details the inspiration behind the Knoll Luxe 10th Anniversary Collection to guests. Right: Cosonas speaks with the Los Angeles design community in a reception following a day-long trunk show.
Each Knoll Luxe collection brings the bespoke elements of textile design to residential, hospitality and workplace interiors, combining hand craftsmanship with innovative technology and custom color palettes. Commenting on the brand's tenth anniversary, Cosonas said, "Knoll Luxe is a laboratory of design innovation, offering cutting-edge textiles that are accessible while pushing the limits of embellishment and weaving techniques."
Recently redesigned in an expression that continues to reimagine modern living, the Knoll Los Angeles Home Design Shop set the stage for the event, bringing together the local design community and design enthusiasts. The new space features iconic furniture designs upholstered in the most recent additions to the KnollTextiles portfolio – the Knoll Luxe 10th Anniversary Collection and the Renaissance Collection and the Atmosphere Collection by Trove for KnollTextiles – combining rich color palettes and textures in a fresh way.