Features
The Newson Aluminum Chair Featured by Dezeen
Marc Newson's design for Knoll is listed among eight of the best contemporary office furniture pieces from NeoCon 2018
Recapping product launches from NeoCon 2018, Dezeen identified what they saw eight of the best contemporary office furniture designs. Dan Haworth, Dezeen editor, selected Marc Newson's Aluminum Chair for Knoll as one of the eight. The Newson Aluminum Chair is also a winner of an Interior Design HiP Award for Guest Seating and a #MetropolisLikes Award.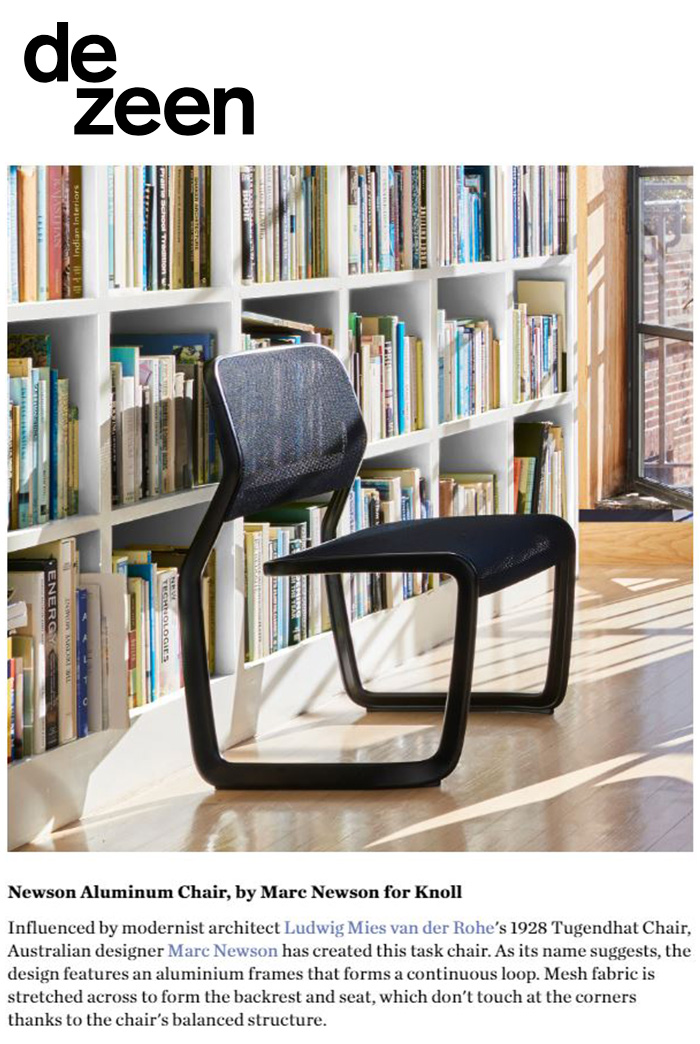 With its forward-looking design that synthesizes simplicity, material and precision the Newson Aluminum Chair is a worthy addition to the contemporary workplace. Dezeen highlighted Newson's source of inspiration: Ludwig Mies van der Rohe's 1928 Tugendhat Chair and the deeply rooted Knoll heritage of tubular steel construction. Howarth notes the sleek, continuous form and Newson's harmonious use of materials, writing, "Mesh fabric is stretched across to form the backrest and seat, which don't touch at the corners thanks to the chair's balanced structure."
Introduced by Knoll in April 2018, the Newson Aluminum Chair was exhibited in June at the Knoll NeoCon 2018 Hospitality at Work showroom. This year's showroom focused on solving for the increasingly mobile workstyles that lift limitations on where work is done. In response, the workplace has taken on a new life, incorporating elements of residential and hospitality design to add comfort, functionality and aesthetics for employees to collaborate, ideate and socialize. The Newson Aluminum Chair is a welcome addition to the Knoll portfolio of side seating, bringing a futuristic aesthetic to both the workplace and home.