Features
Dezeen Features Rockwell Unscripted®
The most commented design site in the world breaks down the latest furniture collection from Knoll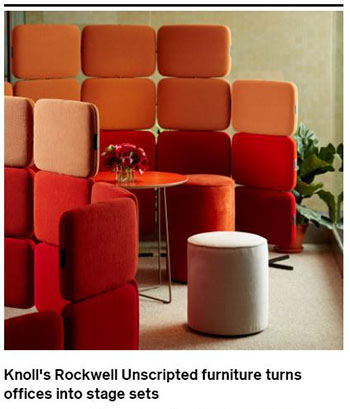 Rockwell Unscripted, the latest workplace furniture collection from Knoll, landed a spot on Dezeen's November 3 home page. One of the world's most popular and influential architecture and design magazines, Dezeen seized the opportunity to feature the groundbreaking collection and share it with the architecture and design community. The digital magazine is aimed at sharing a carefully edited selection of the best architecture, design and interior projects and news from around the globe. Launched in November of 2006, Dezeen has grown rapidly,amassing an audience of over 2 million.
Among many themes, Dezeen spoke to the collection's sense of theater, with its ability to create different "scenes and experiences" across the workplace. David Rockwell, in conjunction with Knoll director of design, Benjamin Pardo, found that even though group meetings and activities still take place in the office, there is a growing portion of employers that are executing their tasks remotely. In an effort to marry the functions of the workplace to the functions of the individual user, Rockwell and Knoll developed a collection of furniture that is easily adaptable and multi-functional.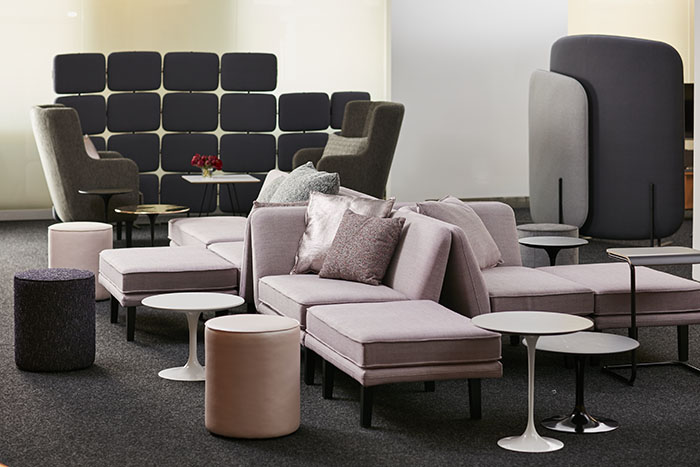 Dezeen concluded the article with a quote from Benjamin Pardo that really speaks to some of the core ideas behind Rockwell Unscripted. "There's a lot of joy in the objects," said Pardo. "They represent the figure - a person - and so are the dramatic elements in this play that we call work"
Dezeen also featured Rockwell Unscripted on their Instagram account. Below are some snapshots of people's positive reaction to the company's new collection and direction.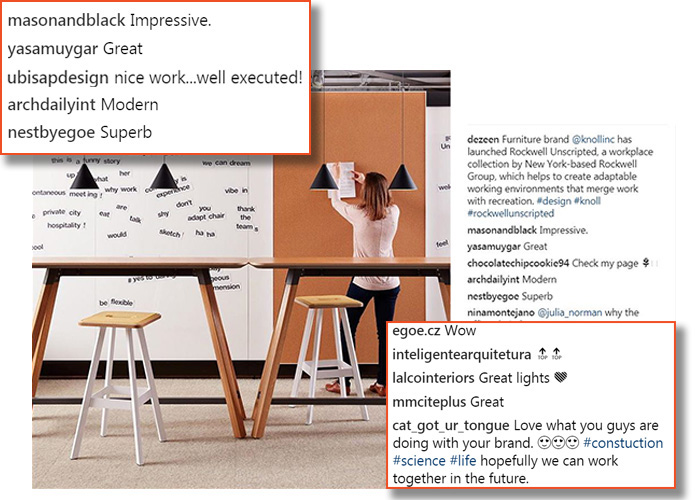 Rockwell Unscripted features a comprehensive, eclectic array of freestanding, architecturally grounded and movable elements that can be used to create a variety of experiences, from gathering spaces to quiet retreats. Creative Walls and Steps evoke the energy of performance, while the lounge elements conjure the atmosphere of a hotel lobby. Tables become a stage for work, conversation and celebration. Modular and mobile storage elements evoke the causal feeling of a workshop.
Check out Dezeen's feature of Rockwell Unscripted here.